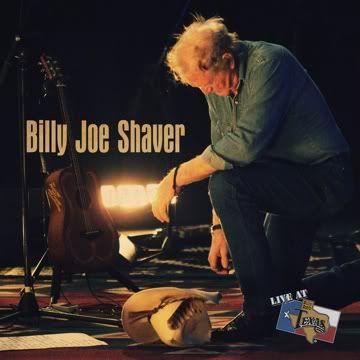 Billy Joe Shaver hasn't recorded much since his 2007 arrest for shooting a guy in the face outside of a Texas bar, but he's got an entertaining CD out now — Live at Billy Bob's Texas.
The album features 20 of Shaver's greatest songs and throws in a couple of newbies to boot — "The Git-Go" and "Wacko From Waco," which tells Shaver's side of his aggravated assault story.  The song doesn't go into much detail other than to say (1) Shaver doesn't start fights but he'll damn sure finish them, and (2) he's crazier than hell so you'd best not mess with him.
Sounds reasonable.
Another old outlaw, Willie Nelson, pitched in as a co-writer on Wacko. (Nelson testified as a character witness at Shaver's trial.)
The mixing and mastering are dicey on some of these Live at Billy Bob's albums, but the Shaver effort comes off well. The drum and bass are mixed a bit hot in comparison to the lead guitar, but Shaver's voice is the most important thing, and here his vocals are crisp, strong, and more authentic than ever. His a cappella version of "Star In My Heart" really shines.
Not bad for a guy who's missing a couple of fingers and a whole bunch of brain cells after a wild honkytonk life that's stretched more than 70 years.