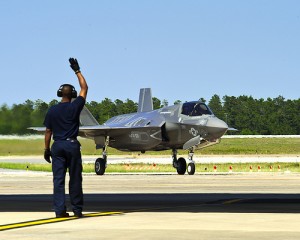 A Star-Telegram story from yesterday quoted a defense consultant and Lockheed spokespersons as shrugging off concerns that striking machinists will have any impact on the production of F-35 jets, the most expensive — and possibly most complicated — plane ever built.
The story comes a few days after a Star-T columnist happily declared that unions have gone the way of the dinosaur, and uses her experience at newspapers and Barnum and Bailey's Circus to illustrate that point.
Sure, unions are responsible for the creation of a few workplace safety laws, like ones that prevent the exploitation of children, columnist J.R. Labbe says, but who needs them? Obviously not Lockheed, since its spokespersons have assured everyone that the less experienced, substitute workers are doing just as good a job as the striking machinists who have spent years working on a jet so complicated that its costs have become exorbitant even by Department of Defense standards.