Men in Black III (PG-13) The fizz that made the 1997 original so much fun is completely gone in this third installment, which has Agent J (Will Smith) trying to save Agent K (Tommy Lee Jones) by traveling back in time to the 1960s to prevent an evil alien (Jemaine Clement) from assassinating the young K (Josh Brolin). A few scattered jokes hit, and there's a nice supporting performance by Michael Stuhlbarg as a sweet-natured alien who sees all possible versions of the future at once. Yet director Barry Sonnenfeld's slime-joke aesthetic is long stale, and Smith can't duplicate the comic chemistry with Brolin (doing a pretty good Jones impression). The tired hijinks here make 1997 seem like a very long time ago. Also with Emma Thompson, Mike Colter, Alice Eve, David Rasche, and Bill Hader.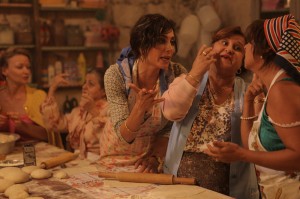 Moonrise Kingdom (PG-13) This luminescent children's fable from Wes Anderson is about 12-year-old kids in love (Jared Gilman and Kara Hayward) who run off together to live in the woods, launching a massive childhunt on the New England island where they live. The director's scrupulously composed visuals keeps things from becoming too syrupy. The kids take their wilderness adventure matter-of-factly, but their deeper emotions come out in oblique ways, such as a great montage with the openings of their letters to each other over the hellish moments of their lives. Anderson's style is at its most scrupulous and typically Anderson, but it's secondary to the delicate love story he crafts about two children carving out a space in the world where they can be themselves. The paradise they create is bewitching. Also with Bruce Willis, Edward Norton, Bill Murray, Frances McDormand, Jason Schwartzman, Tilda Swinton, and Harvey Keitel.
Prometheus (R) Returning to the Alien series after 33 years seems to have jolted Ridley Scott out of his torpor. This prequel to the 1979 classic stars Noomi Rapace as a scientist leading an expedition to a distant planet to find the human race's origins. Scott conjures up some glowering, volcanic, cloud-topped scenery for the planet as well as some moments of awe-inspiring beauty. (You'd do well to pay for the 3D upcharge.) The script doesn't match the visual beauty, with too many ends left hanging. Still, the movie does have the rapport between the hyperintense Rapace and the inhumanly calm Michael Fassbender as an android on the mission, and there's one scene involving a robot surgeon that matches the skin-crawling power of the original. The movie falls short of Alien in terms of thematic material, but its ambition makes it stand out amid the summer blockbusters. Also with Charlize Theron, Logan Marshall-Green, Idris Elba, Sean Harris, Rafe Spall, Patrick Wilson, and Guy Pearce.
Rock of Ages (PG-13) The cast is a better selling point than the music in this adaptation of the Broadway musical built around 1980s glam-rock hits. Julianne Hough and Diego Boneta are aspiring rock singers in love in 1987 Los Angeles, and even though the angelic-looking Boneta is a find, they're part of a story that's spread too thin among too many characters. The songs don't lend themselves to Broadway-style dance, either. Alec Baldwin and Russell Brand turn "Can't Fight This Feeling" into a goofy gay love duet, but the only time the movie ignites is when Tom Cruise shows up as a charismatic rock star who sings "Wanted Dead or Alive" and "Pour Some Sugar on Me" and uses his fame to indulge in lunatic behavior. Cruise is perfectly cast, and when he's on the screen, you can't look anywhere else. Also with Catherine Zeta-Jones, Mary J. Blige, Paul Giamatti, Malin Akerman, Bryan Cranston, Will Forte, T.J. Miller, Debbie Gibson, and Constantine Maroulis.
Snow White and the Huntsman (PG-13) First-time director Rupert Sanders turns the old fable into a big, dull swords-and-shields epic livened by some really cool visual touches. Charlize Theron (overacting with all her might) is the evil queen, Kristen Stewart is the imprisoned princess who escapes her clutches into an enchanted forest, and Chris Hemsworth is the hunter who's sent into the forest to bring her back. Sanders gives us an anthropomorphic mirror, warriors who turn themselves into flying shards of black glass, some beautifully rendered fairies, and a breathtaking interlude with the spirit of the forest. Yet the dialogue is witless and the momentum dies way too often. Good-looking though this is, it goes in the loss column. Also with Ian McShane, Bob Hoskins, Ray Winstone, Sam Claflin, Eddie Marsan, Nick Frost, and Toby Jones.
Something From Nothing: The Art of Rap (R) Ice-T's documentary about rap music offers up no archival footage, historical context, or material about music stardom. The rapper just sits down with a murderer's row of hip-hop giants past and present and discusses the craft of rap music with them. Inevitably, some of his guests are more entertaining or enlightening than others. We don't spend too much time with any one rapper, and the deleted scenes from this movie might well be a treasure trove. There may be better documentaries about rap, but Ice-T's focus on the rhymes and the sheer heft of the musicians he brings in front of the camera make this a valuable document. Also with Kanye West, Dr. Dre, Ice Cube, Mos Def, Snoop Dogg, Common, Nas, Afrika Bambaataa, Chuck D, Doug E. Fresh, Big Daddy Kane, KRS-One, Q-Tip, Raekwon, Redman, Xzibit, and Eminem.
That's My Boy (R) Merciful God, please grant me the sweet release of death. Adam Sandler stars as a man who, having fathered a child at age 13 with his schoolteacher, turns up at the wedding of his now-grown son (Andy Samberg) to beg for money. Even though the dad has turned into an alcoholic sex maniac, the movie still frames his childhood tryst as something romantic and awesome. Then again, this movie does so many hideous things that making light of child molestation actually counts as one of its lesser sins. Everything that happens in the last half hour will make you want a hot shower. Is this worse than Jack and Jill? It just might be. Also with Leighton Meester, Milo Ventimiglia, Eva Amurri Martino, Vanilla Ice, Meagen Fay, Tony Orlando, Will Forte, Rachel Dratch, Nick Swardson, Ana Gasteyer, Rex Ryan, James Caan, and Susan Sarandon.
What to Expect When You're Expecting (PG-13) Heidi Murkoff's pregnancy guide becomes this omnibus comedy about a bunch of expectant couples in Atlanta. Director Kirk Jones stocks the roster here with comics and lets them ad-lib at will, with some funny results from Rebel Wilson as a baby-store employee, a pack of swaggering married dads, and one couple (Ben Falcone and Elizabeth Banks) suffering from inferiority complexes. The rest of the movie is perfectly predictable, and you can time down to the second when the celebrity fitness guru (Cameron Diaz) is going to suffer her first bout of morning sickness. The movie's share of nifty wisecracks can't disguise the rampant mediocrity on display. Also with Jennifer Lopez, Anna Kendrick, Chris Rock, Rodrigo Santoro, Matthew Morrison, Thomas Lennon, Wendi McLendon-Covey, Chace Crawford, Rob Huebel, Amir Talai, and Joe Manganiello.
DALLAS EXCLUSIVES:
Hysteria (R) Tanya Wexler's comedy stars Hugh Dancy and Maggie Gyllenhaal as a 19th-century British doctor and a female suffragette who invent the vibrator. Also with Jonathan Pryce, Felicity Jones, Ashley Jensen, Gemma Jones, Kim Criswell, Anna Chancellor, Tobias Menzies, and Rupert Everett.
Peace, Love & Misunderstanding (R) Jane Fonda stars in this comedy as an unreconstructed hippie farmer who's visited by her uptight daughter (Catherine Keener) and teenage grandchildren (Elizabeth Olsen and Nat Wolff). Also with Chace Crawford, Kyle MacLachlan, Rosanna Arquette, and Katharine McPhee.
Where Do We Go Now? (PG-13) Nadine Labaki (Caramel) directs and co-stars in this drama about a group of Lebanese women trying to defuse tensions between Christians and Muslims in their village. Also with Claude Baz Moussawba, Layla Hakim, Yvonne Maalouf, Antoinette Noufaily, Julien Farhat, Ali Haidar, Kevin Abboud, and Petra Saghbini.