There's been a lot of "jumping up and down" about that, said William Hartung, the author of Prophets of War: Lockheed Martin and the Rise of the Military Industrial Complex.
Hartung pointed out that both the U.S. and China have had nuclear weapons for decades and that the U.S. spends four to six times as much on its military as China does.
"The idea that we would get into a war with them with dogfights –– I think it's highly unlikely," he said. "It's an arms race argument."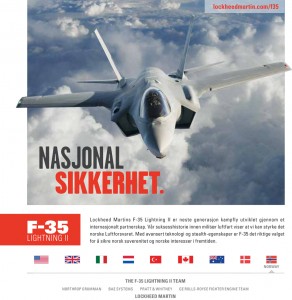 Perhaps more importantly, China has been quite active in persuading countries around the world to grant them preferred access to natural resources, including African countries rich with minerals and oil. China's leaders have excelled in gathering economic partnerships that could place the U.S. at a disadvantage, Hartung said.
"It's almost like we're playing the wrong game," he said.
Discussing the plane's usefulness gets messy real fast, with seemingly endless arguments about whether the F-35's stealth capabilities actually make it undetectable by enemy radar and whether those enemies have the weapons to shoot down American jets, either old or new.
To Tom Engelhardt, who runs the progressive online news magazine TomDispatch, it looks "like an immensely overcomplicated Cold War weapon."
"The last American plane was shot out of the sky either in the Gulf War or Bosnian War," Engelhardt said. "Our planes without stealth don't get shot down. In other words, what in the world would you need this plane for?"
It's needed, among other reasons, to overcome the increasingly sophisticated ground-to-air missiles built by countries that want to prevent stealth aircraft from entering their borders, according to Air Force leaders.
"These capabilities give our leaders the ability to hold any target at risk, anywhere in the globe, at any time," said Maj. General Noel T. Jones, the Air Force's director for operation capability requirements. "I think it is important for any adversary to understand that we possess those capabilities and intend to continue the development."
 ********
The U.S. isn't the only country that will have F-35s on hand.
From the outset, eight partner countries have helped pay for the plane's development, with the intent of buying them. The United Kingdom, the Netherlands, Italy, Australia, Turkey, Canada, Denmark, and Norway all contributed.
Japan and Israel have expressed interest in buying the planes, as has South Korea.
"Right now our international partnerships are very strong," Quincy said.
As the plane's costs have risen far above Lockheed's initial estimates and as U.S. officials begin to question its performance, some of those foreign governments may be getting cold feet.
The partner countries have steadily reduced their planned purchases. This month, Lockheed Martin puts foreign orders at 660 planes, down from 730 last year.
Many of those countries are facing budget shortfalls and enforcing austerity measures that cut into social programs, making large defense purchases increasingly unpopular.
In May, Australia pushed back purchases of the plane for two years. Italy and the Netherlands have cut back orders. The Canadian government has come under fire for allegedly misleading the public about the true costs of the F-35 and manipulating a bidding process to ensure that Lockheed got the contract.
In a surprise for the beleaguered program, Norway placed its first firm order — for two planes — earlier this month.
If prices continue to climb, as critics like Wheeler and Hellman expect, and the global recession deepens, as most economists expect, then countries will further reduce their orders or cancel them entirely, which in turn could raise per-plane production costs yet again.
Though some countries may back out, F-35 advocates like Thompson hope the number of foreign orders will ultimately exceed the number of planes purchased by the U.S. military. Thompson called it a boon to the economy.
"This is going to be a big export," he said.
One possible problem, Hartung said: At that point, the only competition for the U.S. in military air superiority will be "after we sell them to other people."
That was part of the justification for building the disastrously expensive F-22, he said –– that the wildly popular F-16 was in the hands of dozens of other governments. "The rationale was that other countries had the F-16, so we needed a better plane," he said. "It was a little bit like an arms race with ourselves."
Thompson denied the possibility that exporting America's top warplane could be dangerous. The foreign buyers are firm allies, he said, and if things change, "We understand this plane better than they ever can."
Of course, today's allies can become tomorrow's enemies.
Egypt enjoyed decades of foreign aid under dictator Hosni Mubarak, but now U.S. officials worry about the Islamists who are taking control of the government. The Egyptian Air Force owns hundreds of American-made F-16s.
********