Hey, Dez, we wanted you to break records, not become a broken record.
Character questions have long dogged Dez Bryant, but the Dallas Cowboys couldn't resist the wide receiver's incredible size and physical skills when they drafted him in 2010.
Since then, Bryant has talked a big game but underachieved on the field and stumbled in the real world — unpaid loans, droopy pants, nightclub altercations, and saying "ummmm" too much.
So FOX Sports probably should have known better than to publish a story on Sunday indicating Bryant's blossoming readiness this season.
"This season seems to be headed down a better path for Bryant," wrote FOX contributor Jon Machota. "Having a full season to work with the Cowboys strength coach Mike Woicik, arguably the best in the business, Bryant has admittedly gotten 'a lot stronger.' "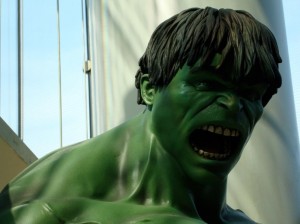 Bryant wasn't kidding about getting stronger. He's the freaking Hulk. Just ask his mother. Of course his mother is no saint. Who knows what was going down that day between mom and son.
FOX's headline on Monday: "Cowboys WR Dez Bryant arrested."
And today's headline is even more to the point: "Dallas Cowboys should consider trading Dez Bryant after domestic violence charge."
But, wait, this season seems to be headed down a better path for Bryant!
Most of Bryant's off field altercations have been minor until this one involving his mother. And he's shown flashes of brilliance on the field. I'm not ready to give up on him yet. But he makes it harder to support him with each one of these incidents.
And he still says "ummmmm" a lot.