The contentious meeting was winding down; a church official and architect were wearying after listening to neighbors vent frustrations for an hour. Fort Worth's Christ Chapel Bible Church is big and getting bigger, expanding farther into the adjoining Arlington Heights neighborhood. "Bully," "arrogant," and other descriptive words echoed inside a room in the huge white stone church where thousands of people gather on Sundays to seek inspiration in the Bible's message.
Two dozen residents preached their own sermon. In a nutshell: Back off, pal.
Few Arlington Heights residents attend the church. Most of the members come from other parts of the city.
Birchman Baptist Church sat at the site for many decades and blended in easily with the neighborhood.
"The church was small, extremely quiet — you kind of didn't know they even existed," said Deborah Roszek, who has lived nearby for 20 years.
Birchman moved to a larger lot near I-30 and Las Vegas Trail in the late 1970s. In 1980 a small group of locals created an independent, self-governing Bible church. They met for three years at the Texas Girls Choir building, and the church grew from 60 to 350 members, according to the church's website. Many members were well off, and they raised $200,000 in a month, bought the old Birchman Baptist building, and moved in on Jan. 1, 1984. Less than two years later, the church paid off the $480,000 remaining on the note and owned the property free and clear.
Neighbors started howling more than 10 years ago after the church began buying up whole blocks of houses and tearing them down or moving them to make way for more church buildings and infrastructure.
Now the church looks like a holy mega-mall, highly visible to I-30 motorists passing near the Montgomery Street exit. About 50 houses spread out over four blocks are gone, taken down to make way for church expansion. The campus has grown from about four acres to 10 over the years. At the heart of the current argument with the neighborhood is another 1.5 acres of residential property that the church owns and wants rezoned from two-family residential to "planned development specific use," like the rest of the campus, to be used for another parking lot.
Property owners can typically get a demolition permit with ease to tear down a house. City staff said the church could ask for a special exception and build a parking lot without a zoning change. The church, however, isn't budging. Residents worry that zoning changes open the door for future commercial development. It's like the camel's nose that gets under the tent — the body will soon follow. The next owner might more easily upgrade the zoning to commercial and plop a big discount store on that corner.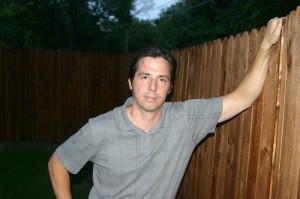 Mega-churches are a phenomenon that neighborhoods across the country are struggling with. People living near them complain of traffic, parking congestion, lights, honks, squeals, and other noises and a general feeling that brotherly love and concern don't extend to them.
Christ Chapel is among the largest churches in Tarrant County, both in membership and acreage. And it wants more. Church leaders are making way for a new parking lot even though the church already offers 1,000 spaces, a two-story parking garage, and plenty of on-street parking.
Surrounding residents say their quality of life and sense of community are being harmed, not to mention their property values. More than 50 of them signed up with the city to oppose the zoning change and parking lot construction.
Comparing church leaders to a wrecking crew of strong-arm bullies is one way to make a point, especially at a meeting in the church.
Church folks deflect the barbs with subdued but firm rebuttals.
"We don't strong-arm people; we offer them fair market value," spokesman Rick Neves said.
The church has blossomed in size and scope because people enjoy the spirit of the place, its message, and the brotherly love, its members say. Christ Chapel boasts more than 7,000 members, with about 5,000 regular attendees and another 5,000 visitors each year.
"It's a testament to the success of this church," said local architect Tom Galbreath, who described the latest expansion project to the skeptical crowd — and mostly bit his lip at the flurry of criticisms.
Zoning Commissioner Nick Genua was a guest at the meeting, and he suggested the neighborhood form a steering committee and meet with church officials later, to try to come up with a plan that everyone could live with. And with that, the meeting was officially… .
Not so fast.
Diana Wiley's eyes grew steely. Her brow furrowed underneath bright red hair. She stood and declared the meeting not over at all.
"Your letterhead says that you are a church without walls," she said. "Of course there are no walls — you knock them all down. By my count, and I could be wrong, this makes 40 homes you have bought and removed from this neighborhood."
She paused for effect.
"What I see now is a Christian cult deciding that they can have anything they want and let the rest of us be damned."
********