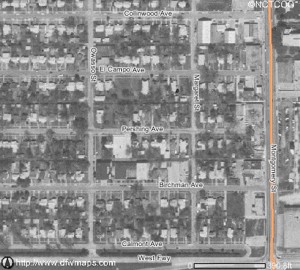 A blissful snooze was ended by the ear-splitting sound of a backhoe demolishing the house next door. "They were knocking down posts and walls and crashing through windows," Kevin Peters recalled of that early Saturday morning in July.
The doomed house sat behind his backyard fence, about 30 feet from his bedroom window. It had served as a buffer between his house and the towering Christ Chapel. Now it lay in a heap of wood and nails.
Peters wasn't aware of the troubles between the church and the neighborhood when he and his wife — local TV news reporter Arezow Doost — moved into a brand-new home in the 3700 block of El Campo Avenue earlier this year. The house is part of a cozy, tree-lined neighborhood that attracts families who appreciate living near the Cultural District, the lively development on West 7th Street, and downtown. Peters didn't reveal what the couple paid for the house, but it's listed on the Tarrant Appraisal District tax roll at $300,000.
"We weren't familiar with the history of the church and what happened back in 2004," he said. "We didn't realize there were greater plans to add a parking lot or do further development."
What happened back in 2004 was the last round of church expansion, when blocks of houses were torn down to make way for new buildings and parking ("A Wide Bible Belt," Sept. 17, 2003). Church membership had jumped from several hundred in 1990 to about 1,800 by the early 2000s. The congregation felt cramped. Onsite parking was scarce. The church built a temporary building in 1998 and established overflow rooms where members could watch services on a live video feed. Other improvements included a children's building, new choir practice hall, and several temporary buildings for education purposes.
The church had money to spend. Members included many well-off families from West Fort Worth and around the city. Contributions jumped from less than $500,000 in 1990 to $800,000 in 1995 and more than $2.5 million in 2000. Two years later, annual contributions topped $3.5 million.
Church literature reveals one method of solicitation — a hard sell seasoned with religious fervor. Financial campaigns with names such as "In Step With Our Needs" and "Securing Our Future" were held over the years. By 2003, the "Time To Build" campaign was in full swing. Literature included helpful tips on how to more easily let loose of the greenbacks by "determining God's Will."
"Begin by praying every day, 'Lord, I want to give cheerfully and I want to give sacrificially. Please lead me and show me how to give a gift that will stretch my faith,' " Senior Pastor Ted Kitchens and finance campaign chairman John Robinson wrote in a letter to members back then.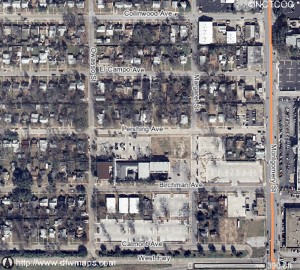 At the same time, the Arlington Heights Neighborhood Association was re-energizing after a stretch of dormancy. Neighbors worried when the church sought a zoning change to tear down houses and replace them with a parking lot near Birchman and Calmont avenues and Margaret Street. Church officials said they wanted to ease congestion from on-street parking, but neighbors then and now said they would rather have a few hours of busy streets every Sunday than to see more houses torn down.
"Parking lots are never good neighbors," Peters said. "At best it might be benign, but at worst we're looking at increased noise, especially on Sunday mornings. We're also worried about our property values."
Christ Chapel was entering mega-church territory, a phenomenon whereby tax-exempt religious organizations begin looking and acting like a business, gobbling up properties, erecting new buildings with classrooms, day-care centers, theatrical performance halls, and gyms. And yet donations to such entities are untaxed, and the churches pay no income taxes or property taxes to offset the city services they require. The U.S. Congress long ago enacted special tax laws for religious organizations to maintain the separation of church and state.
Zoning rules help control the growth, but there is only so much power a city can wield when any landowner, but particularly a church, wants to build.
 ********
Christ Chapel applied for a zoning change in 2003 to allow it to establish surface parking on nine lots that were zoned residential. By that time, the church had bought about 30 residential properties. Houses and trees were going down.
Upset neighbors distributed fliers, rallied the community, and even picketed outside the church. Some began parking their cars at the curb on Sundays instead of in their driveways to inconvenience the churchgoers and writing "We're taking back our neighborhood" on their windshields in white shoe polish.
"This is not about religion," Dave Anderson told Fort Worth Weekly in 2003. "It's about respect for a neighborhood of hardworking, tax-paying citizens and the arrogance of a church that's forgotten Christ's commandment to 'love your neighbor as yourself.' "
Dealing with pesky neighbors wasn't high on the church's priority list. The church strategy was to seek concessions quietly through the zoning board and city council. Without much incentive to deal with residents, the church mostly ignored them. That became more difficult after then-city councilman John Stevenson took an interest. Stevenson, a prominent businessman with deep ties to the city's downtown power crowd, intervened on the neighborhood's behalf, asked for more communication, and got the council to delay its rezoning.
The neighborhood association asked the church to provide site plans and to communicate with neighbors about any future construction projects. Church leaders began meeting with neighbors and established an improved if still wary relationship. Neighbors weren't thrilled to hear about plans for a 60-foot-tall sanctuary with a 40-foot steeple. The church had swallowed up four blocks bounded by Montgomery Street on the east, Owasso Street on the west, I-30 on the south, and Pershing Avenue on the north. Members were told of a plan to raise almost $10 million for new improvements.
By 2004, negotiations climaxed in a bittersweet agreement: The church would enlarge its footprint, including a two-story parking garage, but agree to a seven-year moratorium on further expansion.
The church, however, didn't stop its acquisitions, nor did it keep the neighborhood in the loop about future plans. It scooped up more houses and lots — somewhat secretly, since it asked sellers to sign nondisclosure agreements.
Now church leaders are tearing down or moving some of those houses and seeking city approval for a new parking lot on Pershing Avenue to hold about 150 cars.
The names and faces of some neighbors have changed since 2003, but the criticisms haven't. They still complain that church leaders haven't been open. Residents would rather the church seek an exception and build the lot — if it must — on land that's zoned for residential use.
The proposed parking lot would be environmentally friendly — a grassy field with sand and gravel underneath to support cars, dotted with trees to provide parking space on Sundays and a neighborhood-friendly green space the rest of the week.
Peters, like many of his neighbors, isn't on board. The church wants to park cars five feet away from his back fence. "That's too close," he said. "That's not what we envisioned when we bought this house. It's very quiet around here."
Peters and his wife might still have purchased their new house even if they knew that a parking lot was going to be built behind them, but they wouldn't have paid as much for it, he said. He estimated that the parking lot and its early morning activity on weekends could reduce the value of his house by up to 8 percent.
If Wal-Mart or another big-box retailer came along and tried to buy whole blocks and tear down houses and trees, they would face a public outcry. Churches, however, seem to have carte blanche in spreading their wings, Peters said.
"People in this country are tired of religious bullies that [act like] just because you have the word 'Christ' in the name of your organization you can do what you want, when you want, how you want, with little care or regard for your neighbors," he said. "That's just wrong. A good neighbor, instead of doing everything it can to build, build, build and buy up property in our neighborhood, would look at other alternatives."
Other alternatives suggested by neighbors include staggered service times, a taller parking garage, and shuttle service from outlying areas.