Those suggestions landed with a thud at the recent meeting at Christ Chapel.
Neves said the church had considered staggered and expanded services to dilute the number of visitors at one time, but "that's not the way we operate here," he said.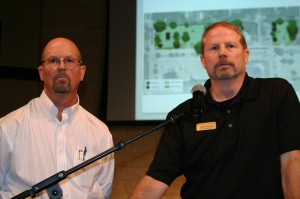 Members enjoy coming together in one large group on Sundays. And the church isn't advertising for new members. "It's the spirit of God driving them here," Neves said.
Galbreath said a bigger parking garage was too expensive.
"Everything is a function of economics — churches are no different than a business," he said.
Besides, Neves said, a taller garage wouldn't look right.
"We built it the size that it is right now because it was compatible with the building that we have here," he said.
Church members often shun off-site parking areas like the ones across Montgomery Street at the antique mall and instead choose to park curbside in the neighborhood.
"It's human nature to want to park close by," Galbreath said.
Fine, neighbors responded, then let them park along the curb — but don't cram more parking lots down our throats.
"We're unified," Peters said. "We have solidarity. The people here don't want this. The church has never even attempted to try to solve their parking issues by any other fashion than by building more parking lots. They are tunnel-focused on building these parking spots. We're saying, 'Hey, let's slow this down and look at other alternatives.' "
Few churches in town have as many parking spaces per members as Christ Chapel. For instance, Glenview Baptist Church and its 4,000 members make do with about 800 adjacent surface parking spaces and no remote lots.
Christ Chapel might be huge in scope, but it's also a landmark building standing at a major gateway to the Cultural District, Neves said.
"We have a beautiful piece of architecture here that was designed to accommodate the city and to accompany the museum district," he said.
He didn't mention blending with the neighborhood.
Regardless, nobody forced the neighbors to sell their houses to the church.
"We offer market value for a home, and we feel like we're not running anybody off," Neves said.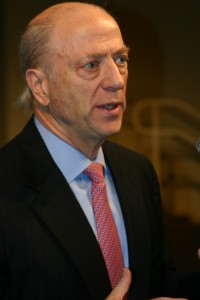 The proposed parking lot might be the last bit of expansion into the neighborhood. Church leaders plan to handle future growth by establishing satellite campuses, Executive Pastor Bill Egner said.
"We know we need to be looking at other places to plant some churches," he said. "That's going to offload some people and their automobiles. We know that's what we need to do."
Neighbors hear the words but don't know whether to believe.
 ********
Andrew Swartzfager knows a thing or two about negotiating. He's worked in real estate and understands the housing market. When the church approached him about selling his house on Pershing Avenue in the early 2000s, he took his time. He found a bigger house for sale nearby — but not too close.
"I wanted to get away from them," he said. "That's why I didn't buy one a block away, I bought one five blocks away."
Give me enough money to buy the new house, he told them, and I'll give you my old house.
"I was more schooled in the way to do it," he said. "I knew the number I had to reach. It took a long time to get the church to that number, but eventually they did."
Disney and other church officials insist on nondisclosure agreements when buying properties, but Swartzfager refused to sign one. He said the church gave him $150,000.
"They bargained very hard about everything, but they stick to their agreements, and they are honest," he said. "They have followed to the letter the agreement."
Not everyone is as savvy as Swartzfager.
Maria Duran and her family have lived on Pershing for 12 years. The church has made offers on her house over the years, and Duran finally agreed to sell in May. She doesn't speak English, and she talked to the Weekly through an interpreter.
"They offered a little more than it was appraised for," she said, but wouldn't reveal the price.
The Durans have until December to move out. But they're discovering that the amount of money they received from the church isn't enough to find a comparable house nearby. The church negotiated fairly and did not pressure them to sell, Duran said, but now she sees that she made a mistake. She worries she'll have to move to a new neighborhood and put her children in new schools.
"I like it here," she said.
So why did she sell?
Other houses on her street had already been sold, a parking lot was coming, and she worried that her house's property value would plummet.
Two lots down, Al Ramirez told a similar tale. He recently sold to the church for fair market value but discovered he didn't make enough to cover the cost of buying another house nearby and moving all his stuff. He never wanted to sell in the first place, but "everybody is selling, and I don't want to be next to all the parking," he said. "I should have let them find me a house. It's too late now."
If he could do it over, he would find a replacement house first and ask for more money, he said.
Perception of the church isn't all bad. Roszek, who lives a block away, doesn't attend the church, but she sometimes attends the free concerts and theatrical productions there, including secular shows such as The Lion King and The Music Man.
"They have top-notch musicians and singers," she said. "They are just the most incredible productions that you can find for free anywhere."
Free  shows  are good for the community at large, but "that doesn't mean they are a good neighbor," she said. "I think of the old Joni Mitchell song, 'Pave paradise and put up a parking lot.' "
Christ Chapel's property acquisition methods are unethical, said Gil Ferrell, who for many years was in charge of new church development with the United Methodist Church. In 2004 he wrote a letter to the Fort Worth Star-Telegram questioning Christ Chapel's expansion.
"No one wants to live smack up against a big-box church anymore than a big-box Wal-Mart or Target," he wrote. "So, one house is bought and demolished, and the next in line has no salability except to the church."
He hasn't softened his stance. Contacted at the Fort Worth retirement center where he now lives, Ferrell said he still has negative feelings about churches pushing deep into neighborhoods.
"Christ Chapel goes in and buys property, knowing the property adjacent will be devalued, and therefore they are the only potential purchaser," he said.
While working in church develop-ment, Ferrell said he sought sites that had enough vacant land to accommodate future growth, a consideration Christ Chapel ignored when it bought the old Birchman Baptist Church site.
"Christ Chapel ought to have gone to an area where [open] property already existed and they could have bought eight or 10 acres, which would have been adequate," he said. "But to go into an old neighborhood and buy an old church property and begin expanding — that has ethical issues and economic issues for people who are affected by it."
Peters lives a block north of the church. Now, instead of having Ramirez and Duran as neighbors in houses with trees and yards, he'll live next to a parking lot. You can't borrow a cup of sugar from a parking lot, he said. And parking lots owned by churches don't generate taxes, whereas homes with families in them create a steady stream of revenue for the city. Peters counted 11 homes that would be cleared out to make way for the church's latest expansion plan.
"My property tax bill is $8,500," he said. "You could add 11 houses at $8,000 a year each. That's $90,000 that could go to the city. That's two teachers, two firefighters, a police squad car. But right now the city gets nothing from those lots."
Churches enjoy an unfair advantage, he said. Paying no taxes means they have more money available to reinvest in property and keep growing.
"Churches make great de facto real estate holding companies," Peters said. "They can acquire property, keep it off the tax rolls, and then they can sell the property when it appraises at a much higher amount, five, 10, 15 years down the road."
Fueling the neighbors' suspicion is the fact that Galbreath of Dunaway Associates — the church's architect — also represents Wal-Mart in similar situations. Most recently, Galbreath spoke for Wal-Mart when the super retailer sought controversial zoning variances on West Berry Street. Arlington Heights residents wonder what might happen if the church gets its large lot zoned commercial and then decides to move to a new location one day.
"It would be pretty attractive for them to bundle all that land together and sell it," Peters said.