Sandwich
Readers' choice: SandBurg's, 130 NW Newton Dr, Burleson
Critic's choice: Magnolia Motor Lounge, 3005 Morton St, FW
As big as your face, the County Line sandwich features breaded fried bacon, country ham, an onion ring, mayonnaise, and a fried egg atop a juicy breast of bird. The chicken's juiciness, the ham's sweetness, the bacon's saltiness, the onion and egg's earthiness, and the mayo's creaminess harmonize as sweetly as some of the singers who often grace Magnolia's stage.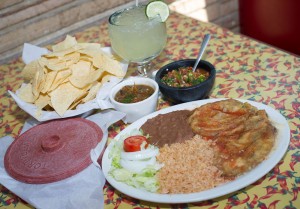 Sausage/Hot Dog
Readers' choice: Mixed Up Burgers, 510 Av K, Grand Prairie
Critic's choice: Sassy Hot Dogs
It's no surprise that a food truck would get the nod for best hot dog, because food trucks are everywhere, and the totally tubular frankenmeats are probably best associated with street-side carts. But where your ordinary cart offers a few types of dogs/brats/sausages next to buckets of sauerkraut and a couple of mustard bottles, Sassy's menu is a riot of variety and colorful takes on everyone's favorite competitive-eating item. There's the awesomely gluttonous WTF (Wrap That Frank, a deep-fried flour tortilla packed with two dogs and a fried egg) and the Texas Jane (a quarter-pound beef frank with bacon slices and pastrami). Not to mention to eyebrow-raising inventions like the Pot Head Dog (a quarter-pound frank topped with pulled pork and potato chips) and the chili-and-tamale garnished PMS Dog. If you haven't slipped into a coma after finishing off one of these monsters, try the fried marshmallows.
Greasy Spoon
Critic's choice: La Media Naranja, 961 W Magnolia Av, FW
As you're driving down Magnolia, keep a sharp lookout for this tiny slice of Mexican comfort in a rundown little strip center, sitting in open defiance of the gentrification all around it. La Media's interior fits the divey pattern, but staffers are always smiling, and the food is as cheap as it is authentic. Particularly yummy are the breakfast burritos. Pick cactus as one of your stuffings. Trust us.
Soul Food
Critic's choice: Damian's Cajun Soul Café, 185 S Watson Rd, Arl
This family-owned, cafeteria-style lunch spot shuts down as soon as it runs out of food. That can happen early on weekday afternoons, since word has gotten around Arlington about Damian's stellar fried pork chops, barbecued pork ribs, smothered beef tips, smothered cabbage, and homemade mac-'n'-cheese. Get in line and marvel at the terrific flavors in this hearty soul food fare.
Fast Food
Critic's choice: Taqueria San Luis, 1901 8th Av, FW
If nothing else, San Luis steals the show with its fast and (despite the potential language barrier for you gringos out there) friendly service. But, oh man, San Luis' tortas demand nothing less than unholy acts of face-stuffing — sloppy bites, moans, bloating, et cetera. We recommend anything here with chicken in it.
Pasta
Critic's choice: Nonna Tata
The pasta here is homemade. Big deal, you say. Pasta is pasta. Not true. Fresh pasta has much more flavor than the store-bought stuff, and chef/owner Donatella Trotti dresses up her pastas in so many inventive yet traditional ways –– the arrabbiata is scrumptious –– that you'll never even look at an Olive Garden again.
Bakery
Readers' choice: Stir Crazy Baked Goods, 106 E Daggett Av, FW
Critic's choice: The Black Rooster Bakery, 2430 Forest Park Blvd, FW
Fort Worth is lousy with pastry shops but doesn't have much in the way of bakeries devoted to artisanal bread. While the scales might tip in favor of pastries at The Black Rooster, the cozy bakery on the corner of a Forest Park strip mall boasts an enviable line-up of hearty breads as well. Baked daily from dough fermented for up to two days, the whole-wheat and five-grain loaves are complemented by a slew of specialty varieties flavored with fruit, nuts, cheese, olives, and herbs. Take a loaf home or have a sandwich at the shop — this bread is meant to be eaten fresh.
Desserts
Readers' choice: The Cheesecake Factory, 3811 S Cooper St, Arl
Critic's choice: Blu Crab Seafood House & Bar, 6115 Camp Bowie Blvd, FW
Offering what must be the crustiest pies and tarts in the city, this elegant restaurant next to Ridglea Theater presents a small but impeccably produced menu of desserts made in-house. These include a sprightly key lime pie and a devastating chocolate cake. Go for a bite of sweetness after a concert or hit this place earlier and don't bother with dinner.
Ice Cream
Critic's choice: Chadra Mezza and Grill
For those of us who must (it's really an obligation) end delicious dinners with equally scrumptious desserts, Chadra Mezza and Grill offers some of the best –– and most unconventional –– ice cream flavors in Cowtown. For two bucks, you can have a scoop of rosewater, tamarind, Turkish coffee, spice cream, or (our favorite) pomegranate. Better yet, try them all with the $9 ice cream flight.
Frozen Yogurt
Readers' choice: Yogurtland, 2600 W 7th St, Montgomery Plaza, FW
Critic's choice: Yogolait Frozen Yogurt, 3250 Hulen St, FW
This is not your toddler's yogurt. For starters, Yogolait offers three kinds of tart yogurt — classic, Italian (super) tart, and California (extreme pucker) tart. The menu is augmented with a rotating list of unusual and exotic flavors, which may include a decadent and delicious dark chocolate, Tahitian vanilla, or cinnamon roll. Want more fruit? Pomegranate, raspberry lemon cake, and strawberry lemonade flavors often make their way onto the list. Seasonally, the little shop near Central Market also floats out odd and exotic flavors like pumpkin or Japanese pear.
Wine List
Readers' choice: Winslow's Wine Cafe, 4101 Camp Bowie Blvd, FW
Critic's choice: Zambrano Wine Cellar, 910 Houston St, Ste 110, FW
Ceferino Zambrano's wine list tops 300 selections by the bottle –– 18 pages long, with lots of stuff you've never heard of. From a $35 pinot noir to the $1,000 Colgin Napa Valley cabernet, there's a wine in every price range. The wine bar celebrated its fifth birthday this year, having survived a massive road construction project on Houston Street that killed other restaurants. And Zambrano's amethyst-topped bar is a swanky, sexy place to experiment with one, or several, of the 50 wines by the glass.
Soup
Critic's choice: Duck, shrimp, and andouille gumbo, Lucile's Stateside Bistro, 4700 Camp Bowie Blvd, FW
Granted, it's a bit of a stretch to call this substantial creation "soup," but it's no stretch at all to call it delicious. The marquee ingredients are combined in a filé gumbo broth with tomato, bell pepper, and those classic gumbo ingredients of okra, onion, and celery. If this ain't good, then grits ain't groceries.
Wings
Critic's choice: Buffalo Bros., 3015 S University Dr, FW
Buffalo Bros. is chef Ed McOwen's way of bringing a little bit of his native Buffalo, N.Y., to the Fort. At the TCU-area joint, you get wings "made the right way," McOwen said. Although there are only six flavors (no Hawaiian pineapple here), the juicy little wonders are fresh, flash-cooked in canola oil, and loaded with flavor. At less than a buck apiece, they can do a lot of damage to your waistline without denting your pocketbook. And these wings are probably as close as most of us will get to the original product at Buffalo's Anchor Bar.
Appetizers
Critic's choice: Sapristi! Bistro and Wine Bar, 2418 Forest Park Blvd, FW
Sapristi! is the quintessential neighborhood café. But what sets it apart from other cool, cozy restaurants is that the menu boasts an impressive assortment of starters that beg to be shared with friends over a glass of wine. It's one of few places that offer fresh mussels prepared in a variety of styles. The rotating menu includes a tapas plate loaded with brilliant little bites. There's nothing more satisfying than getting to sample as many of chef Carlos Cavazos' creations as possible. And the best way to do that is to order as many appetizers as you can handle, get a good bottle of wine or two, and make an evening of it.
Fries
Critic's choice: Magnolia Motor Lounge
The perfect fry is a subject of much debate. First, it must have some skin in the mix. And it must be crispy. Texans accept flaccid fries about as cheerfully as a dead-fish handshake. Finally, it needs a good salting — but not too much. Such are the ever-loving taters granted to us at Magnolia Motor Lounge. Grab some, and thank the nice folks for cooking this ubiquitous tuber exactly right.
Salad
Critic's choice: Café Modern
It's fitting that the Café at the Modern Art Museum of Fort Worth serves as something of a gateway to avant-garde cuisine in town. An example of this is the experimental but still accessible summer salad, which is primarily cucumber, watermelon, and yellow tomato. The disparate ingredients have one crucial quality in common: a cool, refreshing, and quintessentially summery taste. But even the house salad here has some spark, thanks in large part to the freshness of the locally sourced greens.
Spicy Dish
Critic's choice: What's Up Roll, Sushi Axiom, 4265 Donnelly Av, FW
Sushi is such a delicate food art that it can become bland in the wrong chef's hands. Not so with the What's Up Roll at this location of Sushi Axiom, which combines spicy tuna, spicy crab, and spicy salmon with a nice top layer of fire-breathing wasabi cream sauce and a generous squirt of hot! hot! hot! red sriracha sauce. Even with all the warnings, this one sneaks up on you.
Carb-loading
Critic's choice: Stir Crazy Baked Goods
In a world suddenly crowded with cupcakes, Stir Crazy's tiny storefront near South Main is full of unusual delights. The menu features vegan cake options (no small trick to make tasty cake without dairy). The flourless chocolate cupcake with butter cream frosting won't make you mourn the gluten. Stir Crazy produces 60 flavors of cake, including an excellent Red Velvet and a tangy tequila lime. Though the sweet far outweighs the savory, the menu includes three kinds of Rahr beer bread. Plan ahead with two days' notice and get what you like, or show up early one morning and be surprised. The little bakery's mission is to provide a tasty destination in the gap between old downtown Fort Worth and hip Magnolia Avenue.
Place to Buy Fresh Fruits and Veggies
Readers' choice: Central Market, 4651 W Fwy, FW
Critic's choice: Cold Springs Farm CSA, 3309 W 4th St, FW
Weatherford-based Cold Springs Farm isn't the only purveyor of local produce in town, but unlike the Far Westside farmers' market and Greenling's home delivery service, it has the distinction of serving up a sense of community along with fresh vegetables and fruits. Nestled into a leafy neighborhood near the Cultural District, the farm's CSA, or community-supported-agriculture venture, sets up its own mini farmers' market on Saturday mornings, often flanked by Stir Crazy Baked Goods and others selling meat and eggs. A full share in an eight-week season costs $40 a week, which nets you a set of five types of produce chosen by Cold Springs and another set of five you can pick yourself.
Place to Buy Ethnic Food
Critic's choice: Euro-Indo-Mideast Market, 5340 Trail Lake Dr, FW
Ethnic grocery stores can be daunting, especially if you're not from the communities they cater to. But the Euro-Indo-Mideast Market, one of the newer additions to the scene, has a welcoming vibe. Usually on hand to run the register and help patrons, owner Tony Shihabeddin has a disarming sense of humor and a friendliness you simply don't encounter at the big chains. True to its name, his shop specializes in Middle Eastern groceries with aisles of Indian and Pakistani essentials rounded out with random finds from Eastern Europe. As a final touch, there's a takeout counter in the back with Middle Eastern fast food like falafels and gyros made on demand — and cheap.
Kids Dining Venue
Readers' choice: Chuck E. Cheese's, 7750 Scott St, White Settlement
Place to Dine Al Fresco
Readers' choice: Joe T. Garcia's Mexican Restaurant, 2201 N Commerce St, FW
Critic's choice: The Woodshed Smokehouse, 3201 Riverfront Dr, FW
At the end of a long jog or bike ride along the Trinity Trails, there's nothing quite as rewarding as a hoppy beer and tasty barbecue in the wide-open space of The Woodshed's patio. Overlooking the Trinity River, the 'Shed feels both pleasantly full of people and intimately rugged, with plenty of sky, a huge stage for live music, and dim lighting. When the guitars start strumming, a plain ol' weekday feels like a Saturday night.
Food Truck
Readers' choice: Salsa Limon
Critic's choice: Holy Frijoles!
Holy Frijoles! appears at first glance to be just another taco truck. However, a look at the menu reveals that, in addition to the authentic Mexican fare, this rolling bistro includes a distinctly gourmet element. With menu items like crab crakes served with capers, a black olive remoulade, and a zucchini blossom quesadilla, Holy Frijoles! is a one-of-a-kind gem.
Host or Hostess
Readers' choice: Bernard Tronche, Saint Emilion
Critic's choice: Amara Turner, Del Frisco's Double Eagle Steakhouse
Turner makes the ultimate first impression at one of Fort Worth's swankest eateries. She's a welcome sight, with beauty, effortless grace, and an easygoing charm. Del Frisco's seems almost stuffy by comparison.
Atmosphere
Critic's choice: The Woodshed Smokehouse
Love Tim or hate Love, you have to admit that his new restaurant sits in a pretty charmed location –– which a lot of other restaurateurs would have liked a chance to bid on, of course. The large space on the Trinity is lovely, but wait until the temps drop below 95 degrees to visit. Horseshoe pits and tables along the river make for laid-back fun. Drop in after a bike ride or walking the dog –– The Woodshed seems to appeal to hipsters, families with children, long-time Westsiders, and nouveau condo dwellers.
Place to Dine Alone
Critic's choice: Café Modern
What are modern art museums about if not the individual experience? Café Modern offers a cozy weekend lunch or Friday night dinner setting for artistically inclined loners who want to fill their tummies after they've fed their souls with great art. The fare includes sophisticated but reasonably priced soups, salads, sandwiches, and omelets made with seasonal ingredients. Prop open a giant art book and enjoy.
Place to Buy Car Food
Critic's choice: Carshon's Deli
OK, you're ready to hit the road. Gas? Check. Oil change? Check. Road food … uh-oh! Well, relax. Fort Worth has plenty of places with good road food. But if you're on the South Side, there's only one choice: the oldest deli in town, Carshon's, opened in 1928 and the only kosher deli in these parts. Grab a corned beef or pastrami on rye or pumpernickel. Feeling exotic? Try the chopped liver or tongue on wheat or egg bread or a bagel. There also are soups, lox, and pickled herring. Take your pick, then fill up any remaining space in your cooler with sides: potato or macaroni salad, coleslaw, sauerkraut, great kosher dills, Greek olives, artichoke salad, and more. And don't forget the homemade desserts. Now you're ready.
Meat/Seafood Market
Critic's choice: (tie) Country Meat Market, 6899 E Lancaster Av, FW; Central Market
If you're on the East Side and hankering for beef, head straight for Country Meat Market, whose hand-cut rib-eyes rule. In fact, all the meats sold in this little independent shop are top-notch, and service is helpful if a tad brisk. The market offers a limited selection of seafood, but fish isn't their thing. For that (and for meat too if you're on the West Side), you can't beat the perennial favorite, Central Market. Pricey, yes. But the fresh, high-quality proteins and the staff's devout attention to detail make it worth every dollar. The myriad choices will ignite your imagination. Fire up the grill!
Wait Staffer
Readers' choice: Emilie Petry, Spiral Diner
Critic's choice: Clancy Manuel, Café Modern
She's charming, efficient, knowledgeable, and conscientious. More importantly, Manuel is the perfect ambassador for chef Dena Peterson's globally inspired menu. If service is an art, Manuel is a modern master.
Chef
Reader's choice: Tim Love Critic's choice: Jon Bonnell,
Critic's choice: Bonnell's Fine Texas Cuisine, 4259 Bryant Irvin Rd, FW
Jon Bonnell's namesake Fine Texas Cuisine just celebrated its 10th anniversary last year. The restaurant has become a go-to place for business lunches and celebrations –– if the chef knows it's your birthday, he might deliver a dessert with your name inscribed in raspberry coulis. Bonnell was one of the first local chefs to plan menus using locally sourced and seasonal items whenever possible. That philosophy will extend to his new "Fort Worth fancy" seafood restaurant, Waters, where in 2013 Bonnell will bring sustainable and eco-friendly seafood to landlocked North Texas. And he is perhaps the most generous restaurateur in the Fort. Bonnell's is ostensibly closed Sundays and Mondays, but the chef often opens to host local charities. Although he's been cooking as long as he can remember (he and his siblings took turns with "kids cook" nights), his first career was as a math and science teacher. And his love of teaching is still apparent: He's got a no-secrets kitchen. If you want a recipe, just ask.
Restaurant
Readers' choice: Shinjuku Station
Critic's choice: Saint Emilion
Saint Emilion gets everything right, down to the last detail. The menu features classic French dishes such as escargot and roasted duck, and the quaint décor and candlelit dining room create a relaxed, upscale atmosphere that, while unflinchingly elegant, is never stuffy. The service is ghost-like: unobtrusive and efficient. The kitchen executes timeless dishes with surgical precision, allowing its top-notch ingredients and rich, bold flavors to flourish. Simply put, it is the best all-around restaurant in Fort Worth.
New Restaurant
Readers' choice: Thailicious
Critic's choice: Next Wood Fired Bistro & Vino Bar, 5003 Colleyville Blvd, Colleyville
From the outside, Next Wood looks like a generic fast-food restaurant. But walking through its doors is like stepping through the wardrobe into Narnia. The chic dining room looks as if it had been torn out of the pages of Gourmet magazine. The real attraction, however, is the food. Chef/owner Ying Aikens' menu features classic Mediterranean-inspired dishes with American nouveau flourishes. The kitchen isn't afraid to push the culinary envelope, and its creations are as interesting as they are delicious.
Revival
Critic's choice: Aventino's Italian Restaurant, 5800 Lovell Av, FW
When Aventino's closed its doors a couple of years ago, the Fort lost a bit of its soul. After all, the decidedly old-school family-owned restaurant had been open for the better part of 30 years and set the standard for upscale Italian cuisine for generations of Fort Worth diners. Its reopening was met with such enthusiasm that even Jon Bonnell and other chefs were promoting its re-launch. The menu features all of the comforting classics, still prepared with the care and joy that Aventino's customers have grown to expect.
Presentation
Critic's choice: Blue Sushi Sake Grill
Among colorful foods, sushi, with its easy symmetry, makes for a visually and gastronomically pleasing meal. Few sushi peddlers present this trendy ocean-crossing cuisine with as much gusto as Blue Sushi, where plates of the rotund treats often come ornamented with pastel flowers and fruits. There's something delectable about munching on the petals of an edible orchid while a giant pink sunflower with a lemon base watches over the rows of fish.
View
Critic's choice: Reata Restaurant, 310 Houston St, FW
If you're in need of romantic coaxing, nothing beats the view on Reata's rooftop patio, four stories above downtown. There are actually several "decks" — and views — from which to choose: You could gaze at the classic architecture of Fort Worth's older skyscrapers or at the setting sun. The architecturally interesting air-conditioned dome in the center of the main patio was recently rehabbed and provides diners with most of the joys of dining al fresco without the mosquitoes and humidity. Best of all, unlike in some downtown high-rises, admission to the rooftop isn't subject to a hefty membership fee. Unless the Sunset Deck is booked for a party, the views are yours for the price of a cocktail.
Restaurant Serving Locally Sourced Food
Critic's choice: Potager Café, 315 S Mesquite St, Arl
Nearing its fourth year in Arlington's "downtown," Cynthia Chippindale's Potager Café remains the best place to get a meal sourced from locally and regionally grown food. The restaurant specializes in charming but unpretentious French home cooking, all of impeccable quality. The food is served up continuously, usually consisting of meat and vegetarian entrées, a salad, quiche, freshly baked bread, and dessert. And if you like what you ate, you can mosey a block down the street to Potager's Other Stuff, a mini-grocery store and food co-op that sells products from many of the farmers and businesses that supply the restaurant.
Field of One
Critic's choice: Potager Café
There's nothing else quite like Potager in our market. The ingredients used in its made-from-scratch rotating menu are all locally sourced and organic when possible. The prices aren't set, so you pay whatever you feel the meal was worth. The vibe is quirky and cool, the staff warm and welcoming. It's a truly remarkable restaurant that's as much about social consciousness as it is about the food.
Best-Kept Secret
Critic's choice: World Café, 249 Thornhill Dr, FW
Hidden away inside the Catholic Charities building in South Fort Worth is a pretty remarkable restaurant. The World Café is part of a new trend in restaurants, along with Potager Café and others, in which social consciousness is a key ingredient. The rotating menu uses organic and local ingredients when possible. And, perhaps more remarkably, its generously portioned, creatively prepared lunch plates are only $6.50. Maybe some of that do-gooding from the charity down the hall is rubbing off on the folks here.
Newbie
Critic's choice: Trader Joe's, 2701 S Hulen St, FW
The grocery store that makes gourmet affordable has officially arrived. And yeah, it's pretty awesome. Fresh flowers, impressive produce, just-baked bread, a "tasting station," and food for vegans and vegetarians alike make Joe's a beacon for even the most discriminating palates. You name it, Joe's has got it –– and at prices that even a writer can afford. And it carries 78 wines for $5.99 or less. We'll drink to that.