Breakfast
Readers' choice: Ol' South Pancake House, 1509 S University Dr, FW
Critic's choice: Hemphill's Restaurant, 3508 Hemphill St, FW
Places like Hemphill's belong on these sorts of lists because they don't try too hard. This decades-old, locally owned joint serves up simple food par excellence — heaping, hot, unpretentious, and criminally cheap. The morning menu features a wide swath of comfort-food favorites from both sides of the border, but its Mexican breakfast staples will send you home with a hankering for a siesta.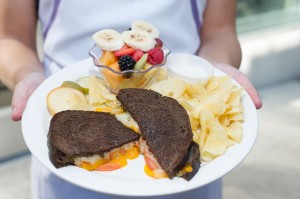 Mexican Breakfast
Critic's choice: Esperanza's Mexican Bakery and Café, 1601 Park Place Av, FW
Even if you're a diehard fan of Joe T. Garcia's, you may not have heard of its sister establishment, Esperanza's. And that's unfortunate, because Esperanza's doesn't pander so obviously to gringo tastes. There's no shortage of egg options here: huevos rancheros, huevos con papas, on a plate, in a burrito. The migas come with chicken; vegetarians might try the chilaquiles (fried tortilla strips with eggs and cheese). Wash it all down with a tall order of agua fresca, some of the best and sweetest fruit juice you'll find in town.
Coffee
Critic's choice: Arabian Days Blend, Caffé di Angeli, 954 W Rosedale St, FW
This isn't just another cup of joe. Caffé di Angeli's baristas infuse this elixir of life with cardamom and cinnamon, giving the blend exotic notes. Also, at less than $2 per cup, Arabian Days doesn't cost as much as unicorn blood. In our social-climbing-by-coffee culture, it's hard to argue with that.
Coffeehouse
Readers' choice: Avoca Roastery and Espresso Lounge, 1311 W Magnolia Av, FW
Critic's choice: Avoca
It's in the sweet spot of Magnolia, a place where hipsters, neighborhood residents, weary hospital workers, and students can relax in comfy chairs and drink some of the best coffee available. You may not care that the coffee is fair trade and well-roasted, but the guys who own Avoca do, and they'll be happy to discuss their buying, roasting, or brewing practices if you're interested. Ask the barista about off-menu specials like the New Orleans iced coffee: coffee pressed overnight, double strength, with cream and simple syrup. It doesn't hurt that the joint now shares space with Dude, Sweet Chocolate, either.
Brunch
Readers' choice: Blue Mesa Grill, 1600 S University Dr, FW
Critic's choice: Café Modern, 3200 Darnell St, FW
Although we're still mourning the loss of Lambert's all-you-can-eat brunch, we like Chef Dena Peterson's Modern take on that leisurely weekend meal. Menu items have included Red Velvet pancakes, a caprese eggs Benedict with a basil-and-olive oil-infused hollandaise sauce, and bacon jam grilled cheese. Peterson's philosophy is simple: Use fresh, locally sourced ingredients when possible and cook from scratch. As a result, even if the peach melba French toast is no longer on the menu when you go, it likely will have been replaced by something equally fabulous. If you call for reservations, ask for a window seat, where you can look out at the reflecting pool, one of the Modern Art Museum of Fort Worth's best works of art.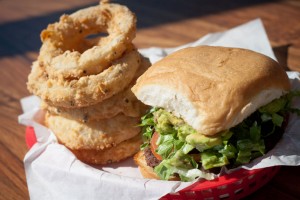 Homecooking
Readers' choice: West Side Café, 7950 Camp Bowie Blvd W, FW
Critic's choice: D Jay's Kountry Grill 1023 Woodhaven Blvd, FW
As everyone knows, your mom's gravy/fried chicken/pork chops/etc. is the best, but if you can't get to your folks' place for stellar, rib-stickin' home fixin's, head to the East Side and keep your eyes peeled for D Jay's. With a huge variety of home-cooked delights, the soul food mainstay on Woodhaven Boulevard is sure to bust your gut with mouthwatering comfort food: okra fried to an absolutely perfect texture, fork-tender chicken-fried chicken, crispy fried catfish, meatloaf that's deliciously juicy — and all the plates give you three sides made from fresh ingredients. Can banana pudding be hearty the way a pot roast can? Probably not, but the version at D Jay's is so full of 'nilla wafers and banana, it's almost a meal in itself.
Buffet
Readers' choice: Terra Mediterranean Grill, 2973 Crockett St, FW
Critic's choice: Chadra Mezza & Grill, 1622 Park Place Av, FW
Chadra's buffet changes every few days, but even if it stayed the same, there'd be enough diversity. From the hearty Lebanese fare — roasted and stuffed vegetables, all manner of dips and tabouli, roasted lamb, and more — to the pizzas and fresh fruit, it neatly captures the mélange that Chadra has to offer.
Deli
Readers' choice: Carshon's Deli, 3133 Cleburne Rd, FW
Critic's choice: Oliver's Fine Foods, 415 Throckmorton St, FW
Part mini-mart, part fine winery, part butcher and bakery, and part short-order restaurant, Oliver's offers a wide, weird variety of deli-style food. You can get your Reuben sandwich, egg salad, or hummus, of course. But because it's Fort Worth, you can also get biscuits and gravy, migas, or a breakfast burrito. There's a staggering array of meats, cheeses, wines, and chef-prepared food to take away. Or you can eat there, watching the downtown action through the big windows.
Indian
Readers' choice: Bombay Grill Indian Restaurant & Bar, 4625 Donnelly Av, FW
Critic's choice: Rasoi Indian Kitchen, 1002 Av C, Denton
Great restaurants housed in gas stations are becoming a tradition in North Texas, and Rasoi now joins that short list. The owners had always wanted to open a restaurant but couldn't get a loan to build one. They did manage to get financing for a gas station, though, and began funding the restaurant operation out of the proceeds, eventually phasing out the pumps. Extremely affordable, the food is mostly like what you'd eat in a North Indian household: nothing too fancy or heavy, nor overly spiced or oily.
Cajun
Readers' choice: Razzoo's Cajun Cafe, 318 Main St, FW
Critic's choice: Boo-Ray's of New Orleans, 7255 Boat Club Rd, FW
Nearly two years after opening, the second location of Boo-Ray's (the original is in Weatherford) shows no sign of a sophomore slump in service or its fantastic N'awlins-inspired food. We never thought we'd crave fried alligator until Boo-Ray's came along. The restaurant also serves stellar etouffée, jalapeño catfish, and delectable shrimp brochette.
Tex-Mex (under $10 entrée)
Readers' choice: Fuzzy's Taco Shop, several locations
Critic's choice: Paco & John's Mexican Diner, 1116 8th Av, FW
There are no Mexican food clichés here. Everything is fresh, inventive, and, like the location and décor, understated. Open for breakfast and lunch most days, this little joint on the edge of the Hospital District is a gem. Look for the daily specials and lovely soups.
Tex-Mex (over $10 entrée)
Readers' choice: Mi Cocina, 4601 W Fwy, FW
Critic's choice: Casa Rita's Mexican Grill, 6600 N I-35, FW
Why pay 10 bucks for an entrée, you ask, when you can feed three people for the same money at a food truck down the street? With all due respect to our four-wheeled gems and, in another price direction, to Lanny's Kitchen, Casa Rita's does date-night Tex-Mex exceedingly well, with colorful flavors and creative specialties. And the lovely, dark, modern décor is right up there with that of even the fanciest West 7th eateries.
Lunch Bargain
Critic's choice: Sweet Tomatoes, 2901 W 7th St, FW
Heaven, thy noontime name is fresh, leafy spinach salad. With broccoli. And yellow peppers, red onions, and a big scoop of those green peas on top. And creamy pasta. Oh, yes, and soups, lots of soups. And … mmm … pizza. Oh, and don't forget the blueberry muffins for desert. All you can eat, all for under $10. Amen. Pass the muffins, please.
Italian
Readers' choice: Nonna Tata, 1400 W Magnolia Av, FW
Critic's choice: Nonna Tata
For the past few years, readers have voted again and again for Nonna Tata as the Fort's favorite Italian food joint (more like "closet," actually). And for the past few years, we've huffed and puffed and gone a different route. Not this year. This place is so adorably charming and delicious it just has to get the nod. Pair your favorite red wine brought from home with the tortelli di cavolo. Don't panic when your eyes roll into the back of your head. That's to be expected. Watch out for peak dining times. Nonna fills up fast.
Pan-Asian
Readers' choice: Green Tea House, 3400 Texas Sage Tr, Ste 116, FW
Critic's choice: Ku's Sushi, 4613 Denton Hwy, Haltom City
Sushi is the name of the game here, but like most sushi joints, Ku's (formerly Mochi Kitchen) also serves up some delectable pan-Asian fare, including Korean beef, kung pao chicken, and sesame chicken, everything fresh, zesty, and plentiful.
Vietnamese
Readers' choice: Pho 95, 5302 E Belknap St, Haltom City
Critic's choice: Tu Hai Restaurant, 909 E Belknap St, FW
With the exception of Spiral Diner, Cowtown has not been known for its vegetarian-friendly restaurants. Tu Hai, however, satisfies both the Asian-food-loving carnivore and marginalized lettuce-cruncher. Anything on the menu can be made vegetarian on request, and the plethora of crispy, oh-so-fresh vegetables makes Tu Hai's steamy dishes a joy, whether it's a beefy pho soup, broccoli-covered egg noodles, or shrimp spring rolls. After more than 20 years, Tu Hai still rocks.
Thai
Reader's choice: Thailicious, 4601 W Fwy, FW
Critic's choice: Thai Select, 4630 SW Loop 820, FW
Thai Select is crammed into a little (about a dozen tables) strip-mall shop that used to house a frozen yogurt store. Don't let the outside fool you. Inside, you'll find precisely executed takes on classic Thai cuisine: spring rolls stuffed with crisp veggies and served with a sweet/salty peanut sauce, creamy tom kah kai soup, six kinds of curry, and some of the best pad Thai anywhere. The menu is not adventuresome, but who needs fusion cuisine mucking up their pad see ew?