Beauty Is Embarrassing (NR) Neil Berkeley's documentary profile of artist Wayne White. (Opens Friday in Dallas)
Blues for Willadean (NR) Del Shores adapts his own play about an abused Texas housewife (Beth Grant) who tries to get free of her husband. Also with Octavia Spencer, Dale Dickey, David Steen, Debby Holliday, and Vivian Fullerlove. (Opens Friday in Dallas)
Chasing Mavericks (PG) Jonny Weston stars in this inspirational drama as a 15-year-old California surfer who enlists a local legend (Gerard Butler) to help him navigate a legendary surf break of 100-foot waves. Also with Elisabeth Shue, Abigail Spencer, and Leven Rambin. (Opens Friday)
The House I Live In (NR) Eugene Jarecki (The Trials of Henry Kissinger) directs this documentary about the war on drugs and its impact on America's justice system. (Opens Friday in Dallas)
Pusher (R) Luis Prieto's English-language remake of Nicolas Winding Refn's Danish thriller stars Richard Coyle as a small-time London drug dealer who disastrously tries to move up the food chain. Also with Bronson Webb, Agyness Deyn, Mem Ferda, Daisy Lewis, and Zlatko Buric. (Opens Friday in Dallas)
Silent Hill: Revelation (R) The sequel to the 2006 horror flick stars Adelaide Clemens as a teenager who must visit an alternate reality to find her disappeared father (Sean Bean) and unlock the secrets from her childhood. Also with Kit Harington, Carrie-Anne Moss, Malcolm McDowell, Martin Donovan, Deborah Kara Unger, and Radha Mitchell. (Opens Friday)
Alex Cross (PG-13) The 12th novel in James Patterson's series becomes this poorly made thriller that stars Tyler Perry as a Detroit homicide cop whose pursuit of a psychopathic-yet-still-boring hit man (Matthew Fox) costs him people he cares about. Director Rob Cohen (The Fast and the Furious) proves to be completely lost when it comes to filming a story that actually tries to engage human emotions, and he's not much better with the uninventive, credibility-straining action sequences. The rotten dialogue doesn't help him, either. Too bad; Perry's creditable performance deserved a better vehicle. Also with Edward Burns, Rachel Nichols, John C. McGinley, Carmen Ejogo, Yara Shahidi, Giancarlo Esposito, and Jean Reno.
Argo (R) Ben Affleck stars in and directs this expertly crafted, personality-light thriller. He portrays a real-life CIA exfiltration specialist who in 1980 spirited six Americans who had escaped from the U.S. embassy out of Iran by having them pose as a film crew for a nonexistent movie. The director superbly handles the latter half of the film when it comes to slowly tightening the grip of suspense. However, Chris Terrio's script barely sketches in the characters, and Affleck's performance in the lead role as a sad sack with a rocky marriage is undistinguished. The scenes that take place in Hollywood feel lifted from another film, but it's the only part of the movie that lets the actors (notably Alan Arkin and John Goodman as movie-industry types) have fun. Also with Bryan Cranston, Victor Garber, Tate Donovan, Clea DuVall, Scoot McNairy, Rory Cochrane, Christopher Denham, Kerry Bishé, Sheila Vand, Chris Messina, Zeljko Ivanek, Titus Welliver, Kyle Chandler, Bob Gunton, Richard Kind, and an uncredited Philip Baker Hall.
Atlas Shrugged: Part II (PG-13) A whole new director, screenwriter, and cast take over this sequel to last year's non-hit, and while the result flows considerably better than the original, its tendentious philosophizing (taken from Ayn Rand's novel) will still wear you out. Samantha Mathis now plays the railroad executive trying to make her way in a nightmare future America where CEOs actually have to give some of their money to the government. Jason Beghe plays the mining company executive who helps her battle this evil state of affairs. In contrast to the original, this movie has a few action sequences and even some isolated stabs at humor. Even so, its joyless fidelity to Rand's novel will make you greet it with a shrug of your own. Also with Esai Morales, Patrick Fabian, Kim Rhodes, Richard T. Jones, Diedrich Bader, John Rubinstein, Robert Picardo, Paul McCrane, and D.B. Sweeney.
End of Watch (R) The chemistry between Jake Gyllenhaal and Michael Peña is the best thing in this buddy-cop thriller that thinks it's more groundbreaking than it is. They portray L.A. beat cops who film themselves as they patrol the city's meanest streets. Writer-director David Ayer adopts a found-footage look that's little more than a gimmick, although it does encourage freer and more spontaneous performances from the actors. Gyllenhaal and Peña have an effortless rapport as best friends, and their relaxed banter in the squad car (about coffee, women, and the differences between the social lives of Anglos and Latinos) is even more compelling than the movie's shootouts and chase scenes. Also with Anna Kendrick, Natalie Martinez, David Harbour, Frank Grillo, Maurice Compte, Yahira Garcia, Cody Horn, and America Ferrera.
Frankenweenie (PG) Tim Burton returns to form with this animated remake of his 1984 live-action short film. Charlie Tahan voices a scientifically gifted middle school kid who uses an electrical storm to bring his beloved dog back to life after the animal is run over by a car. The animation firm of Mackinnon & Saunders provides some nice puppetry, and screenwriter John August makes some inspired additions to the original, like a provocative subplot involving a science teacher (voiced by Martin Landau). The climax shows Burton at his morbidly funny best. All in all, this is good enough to come off as an honest piece of entertainment instead of wheel-spinning pastiche. Additional voices by Winona Ryder, Catherine O'Hara, Atticus Shaffer, Robert Capron, James Hiroyuki Liao, Conchata Ferrell, and Martin Short.
Here Comes the Boom (PG-13) Ow! I saw it coming, but I still couldn't get out of the way. Kevin James stars in and co-writes this comedy about a burned-out high-school teacher and former collegiate wrestler who rediscovers his passion when he turns himself into an MMA fighter to raise money to prevent a music teacher who inspires him (Henry Winkler) from losing his job. James remains charming, but the script is so lacking in comic inspiration that at one point the characters get into a food fight to get laughs. The movie's better than Won't Back Down, but nowhere near as good as The Warrior. Also with Salma Hayek, Bas Rutten, Gary Valentine, Charice, Jackie Flynn, Mookie Barker, Nikki Tyler-Flynn, and Greg Germann. (Opens Friday)
Hotel Transylvania (PG) One of the all-time top five Adam Sandler movies, this animated film has him voicing Dracula as an overprotective dad and hotel owner who operates a resort for his fellow monsters that protects them and his own hundred-plus-year-old daughter, a mere teenager in vampire years (voiced by Selena Gomez), from the world of humans. Everything he holds dear is threatened when a chilled-out American backpacker (voiced by Andy Samberg) finds his way through the hotel's front door. The movie loses its way near the end, wandering into some soggy family melodrama, but Samberg gives the movie a shot of friendly energy, and director Genndy Tartakovsky finds all manner of funny details in life at the hotel. You can take your kids to this one without hating yourself too much. Extra points for a well-placed Twilight joke. Additional voices by Kevin James, Steve Buscemi, Fran Drescher, Molly Shannon, David Spade, Jon Lovitz, Chris Parnell, and Cee-Lo Green.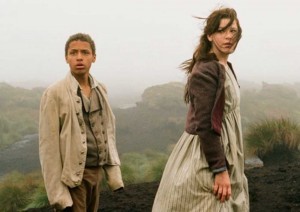 House at the End of the Street (PG-13) It's the old familiar story: girl meets boy, girl loves boy, girl discovers that boy is keeping his raving maniac sister who murdered his parents locked up in his basement. Jennifer Lawrence plays the new-girl-in-town here, and Max Thieriot is the ostracized boy whose sweet, sensitive nature beguiles the girl. Director Mark Tonderai does a fair job of balancing the romance of the earlier scenes and the action of the later scenes, but he can't disguise the way the plot falls apart near the end. It's only Lawrence's presence that gives focus and depth to this otherwise rampagingly mediocre thriller. Also with Elisabeth Shue, Eva Link, Nolan Gerard Funk, Allie MacDonald, Jordan Hayes, and Gil Bellows.
Looper (R) In his first big-budget Hollywood effort, Rian Johnson lays down a marker. Joseph Gordon-Levitt stars in this science-fiction thriller as a contract killer in 2044 who disposes of people sent back in time by his mobster bosses in the future. When his aged future self (Bruce Willis) is zapped back to him, it kicks off a complicated plot that's laid out remarkably well. Johnson's liberal, expert use of comic relief punctuates the air of gathering dread that he builds up. Even better, the movie doesn't lose focus in the second half, when the action slows down as the hero hides out at a farm owned by a single mom (Emily Blunt). Johnson's attempts at emotional catharsis are the tiniest bit off, but that scarcely matters given the scene where an assassin (Garret Dillahunt) dispatched to the farm meets a wholly unexpected end. Like the rest of the movie, it's breathtaking in its horror and ingenuity. Also with Jeff Daniels, Paul Dano, Noah Segan, Pierce Gagnon, Summer Qing, Tracie Thoms, Frank Brennan, and Piper Perabo.
Masquerade (NR) Choo Chang-min's foursquare but gorgeously photographed Korean epic stars Lee Byung-hun as both a historical 17th-century king and a bordello entertainer who's hired to act as the king's double in the face of assassination plots. The film does well with the story's farcical elements, especially in a scene with the double finding out how the king goes to the bathroom. The later scenes, when the double has to take over for a temporarily incapacitated king and discovers the responsibilities of ruling, aren't as much fun. Still, the film is handsomely appointed, and the director makes sure the proceedings don't flag. Also with Ryu Seung-ryong, Han Hyo-joo, Kim Myung-gon, Kim In-kwon, Shim Eun-kyung, and Jang Gwang.
The Paperboy (R) Pete Dexter's novel becomes this overheated yet undercooked Southern Gothic epic about a college washout (Zac Efron) who tags along while his investigative journalist older brother (Matthew McConaughey) tries to free a wrongly convicted murderer (John Cusack) in Florida in the 1970s. Director Lee Daniels (Precious) captures the story's small-town feel, dots the soundtrack with some choice period R&B, and takes evident pleasure in photographing Efron in various states of undress. Yet the plot, which includes the main character's doomed love for an older prison groupie (Nicole Kidman), stubbornly refuses to cohere. The movie never achieves the tragic force that Daniels is aiming for. A little more structure would have done wonders for this. Also with David Oyelowo, Scott Glenn, Ned Bellamy, Nealla Gordon, and Macy Gray.
Paranormal Activity 4 (R) The series finally runs out of gas. The story picks up five years after the events of the second movie, with a teenage girl in Nevada (Kathryn Newton) recording the mysterious events around her after a new neighbor (Katie Featherston) and her son (Brady Allen) move in across the street. Directors Henry Joost and Ariel Schulman remain from the third installment, and they make creative use of an Xbox Kinect to detect invisible spirits. Yet the scares here are ham-fisted and obvious in ways that they weren't in the last three films, and the characters are stupid in ways that are convenient for the plot. This series needs to come to a point and end. Also with Matt Shively, Stephen Dunham, Alexondra Lee, Brian Boland, Aiden Lovekamp, and Sprague Grayden.
The Perks of Being a Wallflower (PG-13) Stephen Chbosky turns his beloved 1999 teen novel into a movie, and it's well worth the 13-year wait. Logan Lerman portrays a kid navigating his freshman year of high school after a stint in a mental institution. The film is exceptionally well-cast, with Lerman doing magnificent work as a mentally fragile kid and Ezra Miller and Emma Watson forming a killer duo as a pair of senior stepsiblings who respond to the kid's shyness and take him in. The sharpness of Chbosky's comic dialogue keeps the movie's pathos from overwhelming everything else, and as a director he captures the exhilarating feeling of teenage years to create some great lyrical moments, like Watson standing up in her pickup truck while it's driven through a tunnel. This is one of the great teen movies of the last decade. Also with Mae Whitman, Dylan McDermott, Kate Walsh, Johnny Simmons, Nina Dobrev, Melanie Lynskey, Paul Rudd, and Joan Cusack.
Pitch Perfect (PG-13) A total blast. Anna Kendrick stars in this musical comedy as a college freshman who joins an all-female a cappella singing group at her school and sets about dethroning the national champions, an obnoxious all-male group that's also at her school. Kay Cannon's script is full of quotable lines, and the punchlines come from all corners, including Hana Mae Lee as a chorister who can't speak above a whisper and Elizabeth Banks and John Michael Higgins as a pair of cranky TV commentators. Kendrick's singing makes up for her sluggish performance, as she leads the group in a rousing cover of "No Diggity" and does a YouTube-inspired solo on "Cups (You're Gonna Miss Me)," while Rebel Wilson steals all manner of laughs and takes lead on "Turn the Beat Around." It's all enough to send you out of the theater singing. Also with Anna Camp, Brittany Snow, Skylar Astin, Adam DeVine, Alexis Knapp, Ester Dean, Joe Lo Truglio, Donald Faison, Har Mar Superstar, John Benjamin Hickey, and Christopher Mintz-Plasse.
Seven Psychopaths (R) The second blood-soaked comedy by Martin McDonagh (In Bruges) doesn't come to much, but its characters are fun to be around for a couple of hours. Colin Farrell plays an alcoholic Irish screenwriter in Hollywood whose actor buddy (Sam Rockwell) drags him into a bloody caper after they kidnap a dog belonging to a vicious mob boss (Woody Harrelson). The action slows down radically in the second half as the main characters hide out in the desert, but McDonagh's discursive writing style yields comic treasures (Gandhi's "an eye for an eye leaves the whole world blind" gets deconstructed here) that are well-delivered, especially by Rockwell and Christopher Walken as his partner in crime. Also with Abbie Cornish, Olga Kurylenko, Tom Waits, Linda Bright Clay, Long Nguyen, Christina Marzano, Michael Pitt, Michael Stuhlbarg, Harry Dean Stanton, and Gabourey Sidibe.
Sinister (R) Silly plot contrivances and gloomy atmosphere blunt the scares in Scott Derrickson's horror film. Ethan Hawke plays a true-crime novelist whose lust for his lost fame leads him to move his family into a house where a series of murders took place. The writer's personal demons are fairly compelling, but the movie stumbles once it gets into a soul-eating Babylonian deity who gets to people by appearing in home videos that they watch. Despite that, the film makes for a watchable horror flick. Also with Vincent D'Onofrio, Juliet Rylance, Michael Hall D'Addario, James Ransone, Clare Daley, and Fred Dalton Thompson. — Steve Steward
Taken 2 (PG-13) Liam Neeson kills more of them dirty, swarthy, godless foreigners in this sequel that's even more paranoid, xenophobic, and all-encompassingly stupid than the 2010 original. This time, Neeson's retired CIA agent and his family are vacationing in Istanbul — you'd think that family would avoid international travel for a while — when they're targeted by the relatives of the men killed in the first movie. The agent makes all manner of mistakes that would result in death in the real world, but that's OK, because the gangsters he's up against are idiots who let the hero make a lengthy cell phone call while they have him at gunpoint and forget to check to see if he has another phone stashed in his sock. Even the racist, overprotective dads to whom this movie is pitched will be offended by this. Also with Famke Janssen, Maggie Grace, Leland Orser, Jon Gries, D.B. Sweeney, and Rade Serbedzija.
The Thieves (NR) In Choi Dong-hoon's convoluted caper film, a bunch of Korean high-end robbers with names like Popeye, Pepsi, Zampano, and Chewing Gum team up with a group of Chinese gangsters to steal a $30 million diamond from a hotel casino in Macao. What ensues are a lot of silly disguises, professional and romantic betrayals between and within both groups, an insane shootout among robbers rappelling down the side of an apartment building, and scenes played out in five different languages. It's all frenetic, confusing, and highly entertaining in spots. Starring Lee Jung-jae, Gianna Jun, Oh Dal-su, Kim Yun-seok, Simon Yam, Kim Hae-suk, Kim Hye-su, Kim Soo-hyun, Angelica Lee, Derek Tsang, Ki Gug-seo, and Shin Ha-kyun.
Trouble With the Curve (PG-13) The curve isn't the only thing troubling this flat, rhythmless, mawkish, badly written baseball drama. Clint Eastwood stars as an aging scout with failing eyesight who tries to repair his strained relationship with his attorney daughter (Amy Adams) while she helps him scout one last prospect. The flaws in this script could have been papered over, but first-time director Robert Lorenz (a longtime assistant director under Eastwood) has no idea how to build momentum within a scene or get to the next one. As a former player-turned-rival scout who falls for the daughter, Justin Timberlake isn't the most convincing ex-jock, but he snags all the best laugh lines and walks home with the movie. Also with John Goodman, Matthew Lillard, Joe Massingill, Bob Gunton, Ed Lauter, Jack Gilpin, Jay Galloway, and Robert Patrick.
DALLAS EXCLUSIVES:
Diana Vreeland: The Eye Has to Travel (PG-13) Lisa Immordino Vreeland's documentary profile of her grandmother-in-law and the influential fashion magazine editor.
Tai Chi Zero (NR) Stephen Fung directs this steampunk martial-arts film about a student of tai chi (Yuan Xiaochao) who leads a group of Chinese villagers against a British railroad company that wants to destroy the village. Also with Tony Leung Ka Fai, Angelababy, Daniel Wu, Jade Xu, Eddie Peng, and Shu Qi.
Wuthering Heights (NR) Andrea Arnold (Red Road, Fish Tank) adapts Emily Brontë's novel about an orphan rescued from poverty (James Howson) who falls for his foster sister (Kaya Scodelario). Also with James Northcote, Nichola Burley, Solomon Glave, Shannon Beer, Lee Shaw, Amy Wren, and Oliver Milburn.