After a combined three decades in active duty and the Naval Reserves, Cardenas retired in 2006. Now she calls Texas home — although "home" is something of a new concept for her.
Even before she joined the Navy in 1981, she was used to the Navy way of life and has never felt at home anywhere. "I'm a Navy brat, but you get used to it," she said. "Growing up, we moved so often. I was always transitioning from place to place."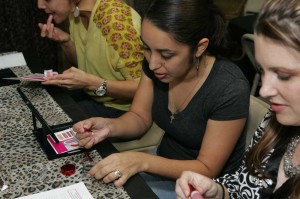 She rattles off the cities she briefly lived in while growing up. "Pensacola and Mayport in Florida; Naples, Italy; San Diego; Boston; Norfolk — most of those before I was 10." She attended three different schools during her senior year in high school.
There are minuses and pluses to this sort of childhood, she said. "On one hand, you never really feel like you belong. You don't let yourself, because you don't know when you'll have to pick up again and go." But looking back, she believes she's a little more open-minded than people who grow up in one place.
"My background helped me learn to be able to talk to people easily and to be able to approach strangers," she said. She remembers how much she missed her father when he was away at sea, but she loved seeing new places and "trying new things."
When she and her husband, Alberto, who retired after 30 years in the Navy, got married, they moved to Watauga. Cardenas began developing her cosmetics consulting business with a vengeance.
"I had to change my mentality and get used to getting along with other women," she said. There's a serious emphasis in the Mary Kay philosophy on women supporting women, she said, and on personal relationships and genuine caring.
She remembers the dramatic changes and a new degree of freedom that she experienced when she started selling Mary Kay. "Having these healthy relationships with other women was so important and hard for me at first. Now I have friends all over the country because of Mary Kay, and I still keep in touch with some of my Navy friends."
In late October, she opened "Studio Bee" at 2920 Race St., in the nascent Riverside Arts District.
Her studio's name "comes from a wonderful, romantic story that Mary Kay Ash told," she said."If you look at a bee, with its fat body and small wings, you can't imagine that, aerodynamically, it could ever fly. So women can be inspired to do what might seem impossible."
 ********
Studio Bee is a small storefront in a nice part of Race Street, with a hand-lettered sign in bright pink paint on the window. There are rooms for facials and makeup applications, a meeting room for sessions with Mary Kay consultants, and an open space with a spa-like feel. Positive messages — many of them quotes from Mary Kay Ash — hang in frames on every wall.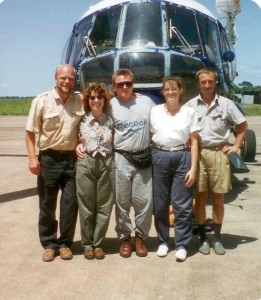 Sure, there's still a Mom's Bail Bonds down the street, but there's also the more upscale Mamma Mia's Italian restaurant, located in the historic, renovated McAdams building. In between are little mom-and-pop businesses, creating a streetscape that harks back to small-town America.
"You can't use Mary Kay's name on the building, and, of course, there can never be a Mary Kay store," Cardenas said, explaining how her new venture adheres strictly to the cosmetics giant's corporate rules. "My place is a training center, and I'm hoping to host makeover parties and facials for women gathering for bridal showers, 'Mom and Me' events and even baby showers.
"We don't rent out the space, but we will host any sort of event you might like — pedicure parties, girls' night out parties. Anything we can do with a Mary Kay theme to showcase our products." It's an alternative to traditional Mary Kay parties hosted in individual homes, she said. "We still host home parties for women who want that."
She found her storefront studio location with the help of her friend, Linda Wise, who owns Race Street Barber Shop across the street. On top of her full-time barber business, Wise is one of Cardenas' recruits, a Mary Kay consultant for the last three years.
"I started off slow," Wise said, "but now that my sales director is across the street, I think that will help me work harder. It's just like the way I pamper the men who get their haircuts here," she said. "I'm learning how to pamper women now."
Wise and Cardenas are part of an emerging small-business movement in what its supporters are calling the Riverside Arts District, mostly along Race Street between Sylvania Avenue and Riverside Drive, modeled on Dallas' Bishop Arts District.
The stretch, a fews blocks long,  is clean and well-lit. Historic and newer buildings are in various stages of renovation or construction, several with vintage storefront facades in the distinctive Texana style.
"I was kind of concerned about the neighborhood at first," Cardenas said. "It's definitely an older part of town and there were a lot of empty buildings." She met Debby Stein, coordinator of EmbRace, a group that is helping promote the district, and responded to Stein's sale pitch for an area where business owners are working together to create a positive climate.
"The owner of my building — my landlord — really wanted to get someone in here. He worked with me on a good deal and allowed me to do what I wanted to do," Cardenas said.
She's impressed with what's happening on Race Street. "I want to be a positive change in the area. I want to see some wonderful things come out of here," she said.
  ********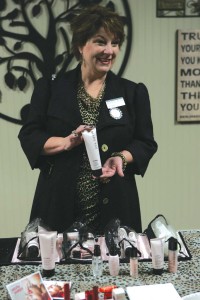 Mary Kay Inc., is about to celebrate its 50th year, with 600,000 consultants in this country and 2.4 million worldwide. Founder and native Texan Mary Kay Ash started the company in 1963 with $5,000. She vowed, with evangelical fervor, to build a business in which women could achieve whatever they wanted in life. They would do this by selling cosmetics — and by recruiting other women into sales force units.
Cosmetics and all the trappings of glamour, friendship, and the flexibility that both stay-at-home moms and career women could wish for would be the linchpins for her company. Women would network and support one another and ask everyone they knew if they would like to be beautiful — or more beautiful — with premium cosmetics sold exclusively through home parties.
Headquartered in Dallas, Mary Kay is now a $3 billion global concern. Even though Ash died about 10 years ago, her face and her philosophies are ever-present.
"Our first three quarters of sales for 2012 are the best in company history," Sara Friedman, vice president of U.S. marketing, said. "The beauty of being in the beauty business is that it's recession-proof." She said the company's emphasis on supporting women's and children's relief efforts has grown through the years. "Since 1996 the Mary Kay Foundation has donated $31 million to domestic violence shelters and $16 million to cancer researchers," she said.
Some of the company's donations go to faraway places that Cardenas has seen firsthand. She doesn't miss the Navy or traveling the world, she said. She does a fair amount of driving now, crossing the country for Mary Kay conferences and visits with her unit of 67 consultants. She earns a healthy income (which she's not permitted to reveal), but she's especially motivated by the Mary Kay tradition of awarding new cars based on record sales.
She's earned two cars already, but Cardenas is dead set on winning the pinnacle of Mary Kay prizes. "I've got my eye on the pink Cadillac," she said.
Freelance writer Annabelle Massey Malloy can be reached at annabellemm@sbcglobal.net.