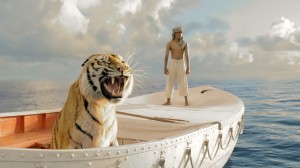 Life of Pi (PG) Yann Martel's supposedly unfilmable novel has been most decisively filmed by Ang Lee, and like all of Lee's masterpieces, it's completely different from the others. Suraj Sharma plays a shipwrecked 16-year-old Indian boy who is marooned on the open sea for several months with an adult Bengal tiger. Purely as a piece of spectacle, this movie is just glorious, whether Lee is taking in the visual splendors of India or the unlikely events on the water. (Pay the 3D upcharge for this movie.) Yet he doesn't shortchange his actors, whether that's the newcomer Sharma or the great Irrfan Khan as the grown-up Pi who narrates his story. This emotionally draining adventure is wondrous, terrifying, and a classic of its kind. Also with Adil Hussain, Tabu, Ayush Tandon, Rafe Spall, and Gérard Depardieu.
Lincoln (PG-13) Steven Spielberg's take on our nation's 16th president is an incredibly timely defense of moderation, pragmatism, and realpolitik. Too bad it's so dry. Daniel Day-Lewis portrays Lincoln as he tries to pass the slavery-abolishing 13th Amendment to the Constitution in 1865. Day-Lewis easily strikes the right balance between Lincoln's fierce determination and political judgment. Spielberg wrings a fair amount of drama out of the legislative details and does full justice to the messiness of the lawmaking process. However, without more of Lincoln's soaring rhetoric, the movie may very well leave you unmoved. Also with Sally Field, Tommy Lee Jones, David Strathairn, Joseph Gordon-Levitt, James Spader, John Hawkes, Tim Blake Nelson, Jackie Earle Haley, Bruce McGill, Jared Harris, Lee Pace, Gloria Reuben, Michael Stuhlbarg, David Oyelowo, Lukas Haas, Dane DeHaan, and Hal Holbrook.
Pitch Perfect (PG-13) A total blast. Anna Kendrick stars in this musical comedy as a college freshman who joins an all-female a cappella singing group at her school and sets about dethroning the national champions, an obnoxious all-male group that's also at her school. Kay Cannon's script is full of quotable lines, and the punchlines come from all corners, including Hana Mae Lee as a chorister who can't speak above a whisper and Elizabeth Banks and John Michael Higgins as a pair of cranky TV commentators. Kendrick's singing makes up for her sluggish performance, as she leads the group in a rousing cover of "No Diggity" and does a YouTube-inspired solo on "Cups (You're Gonna Miss Me)," while Rebel Wilson steals all manner of laughs and takes lead on "Turn the Beat Around." It's all enough to send you out of the theater singing. Also with Anna Camp, Brittany Snow, Skylar Astin, Adam DeVine, Alexis Knapp, Ester Dean, Joe Lo Truglio, Donald Faison, Har Mar Superstar, John Benjamin Hickey, and Christopher Mintz-Plasse.
Red Dawn (PG-13) Actually worse than most crappy remakes of 1980s movies, this more-than-casually racist thriller stars Chris Hemsworth as a Marine on leave when America's coasts are invaded by a bunch of evil Asians. The villains were reportedly changed from Chinese to North Korean to avoid offending Chinese consumers. Geopolitically, this makes no sense, but that's just one small cop-out as the Marine turns his kid brother (Josh Peck) and his brother's high-school pals into a counterinsurgency. He must be good, as it takes all of 30 seconds of screen time to train those kids into killing machines. The movie panders to jingoism and nostalgia for the original at every turn, and even its action sequences are dull. Also with Josh Hutcherson, Adrianne Palicki, Isabel Lucas, Will Yun Lee, Connor Cruise, Brett Cullen, and Jeffrey Dean Morgan.
Rise of the Guardians (PG) Above-average animated film is about Jack Frost (voiced by Chris Pine) as he is recruited into a superhero league with Santa Claus, the Tooth Fairy, and the Easter Bunny (voiced by Alec Baldwin, Isla Fisher, and Hugh Jackman) to protect the world's children against the Boogeyman (voiced by Jude Law). Adapted from William Joyce's novel, this bogs down in sentimentality near the end, but it has some nice jokes and a nifty voice cast, especially Jackman (using his native Australian accent) as a hypermacho rabbit who's overly sensitive about his cuddly species. Additional voice by Dakota Goyo.
The Sessions (R) John Hawkes' distinguished lead performance outstrips this wan dramedy based on the life of a poet and journalist crippled by polio who sought to lose his virginity at age 36. Writer-director Ben Lewin doesn't bring much wit, imagination, or visual flair to this story. The scenes between the hero and his sexual surrogate (Helen Hunt) are skillfully played, yet the filmmaker seems unsure exactly what to make of their relationship. Hawkes does best in depicting his character's psychological hang-ups, which go beyond his body image issues. Whatever staying power this movie has, it owes to him. Also with William H. Macy, Moon Bloodgood, Annika Marks, Adam Arkin, W. Earl Brown, Robin Weigert, and Rhea Perlman.
Silver Linings Playbook (R) Bradley Cooper stars in this volatile, terribly funny comedy as a bipolar former schoolteacher and die-hard Philadelphia Eagles fan who leaves a mental institution to move back in with his parents. Adapting a novel by Matthew Quick, writer-director David O. Russell (The Fighter, Three Kings) captures the rage and instability inside his characters by filming ordinary domestic scenes with a whirling fury. His approach spreads to his actors, including Robert De Niro, bringing more energy than he's brought in 20 years to the role of the hero's combative dad, and Jennifer Lawrence, deploying her fierceness for comic effect as a cop's widow with her own mentally troubled history. This is Russell's warmest and most likable film, a tribute to the unconditional love that binds you to your family and your football team. Also with Jacki Weaver, Julia Stiles, Anupam Kher, John Ortiz, Shea Whigham, Paul Herman, Dash Mihok, and Chris Tucker.
Skyfall (PG-13) The most interesting Bond girl turns out to be M (Judi Dench) in this bracing return to form for the James Bond series. 007 (Daniel Craig) comes out of a self-imposed sabbatical after a shadowy villain starts to target his boss. Director Sam Mendes can stage a gunfight as well as anyone, but he's just as interested in seeing Bond interact with an officious political flack (Ralph Fiennes), the new Q (Ben Whishaw), and a sexy fellow agent (Naomie Harris, who sets the screen alight). It all sets up an Oedipal confrontation with one of M's former agents (Javier Bardem), and the emphasis on M allows Dench to finally stretch her acting muscles in this series. For an agent who has been in the field for 50 years, Bond is looking pretty spry right now. Also with Bérénice Lim Marlohe, Ola Rapace, Rory Kinnear, and Albert Finney.
The Twilight Saga: Breaking Dawn — Part II (PG-13) The good news is that The Twilight Saga is finally over. The bad news is that even though this final installment is probably the best of the series, it's still a sloppy, choppy, woodenly acted slog. After saving Bella (Kristen Stewart) from death by turning her into a vampire, Edward (Robert Pattinson) and about 20 other sparkly vampires band together with Jacob (Taylor Lautner) and his werewolf kin to protect her half-human/half-vampire daughter. Occasionally, moments like Bella's testing out her new vampire powers and a lengthy, climactic fight scene rife with bloodless bloodsucker decapitations are entertaining, but the combination of Stewart's two-speed acting technique (mopey and mopier), horrible pacing, and the preponderance of brownish red contact lenses makes watching this a real drag. For fans of the series only. Also with Peter Facinelli, Elizabeth Reaser, Ashley Greene, Kellan Lutz, Jackson Rathbone, Nikki Reed, Chaske Spencer, Maggie Grace, Jamie Campbell Bower, Lee Pace, Dakota Fanning, and Michael Sheen. –– Steve Steward
Wreck-It Ralph (PG) Derivative and yet likable. This Disney animated comedy is about a 1980s video game villain (voiced by John C. Reilly) who gets sick of his job and jumps into other games to become a hero. The movie will be required viewing for gamers of a certain age, thanks to cameo appearances by iconic video game characters and a universe where characters from the different games freely intermingle after the arcade closes. Yet the movie is more than just nostalgia, as evidenced by a fraught plotline when Ralph befriends a little girl created by a programming glitch (voiced by Sarah Silverman) in a girly kart racing game and tries to help her compete in the race. With its funny voice cast and animation inspired by the looks of various video games, this is well worth your quarters. Additional voices by Jane Lynch, Jack McBrayer, Alan Tudyk, Mindy Kaling, Adam Carrolla, Horatio Sanz, Ed O'Neill, and Dennis Haysbert.