Rust and Bone (R) Jacques Audiard (A Prophet) adapts Craig Davidson's short stories into this French-language romance between a Belgian MMA fighter (Matthias Schoenaerts) and a killer whale trainer (Marion Cotillard) who loses her legs. Also with Armand Verdure, Céline Sallette, Corinne Masiero, Bouli Lanners, and Mourad Frarema. (Opens Friday in Dallas)
Barbara (PG-13) Christian Petzold's drama stars Nina Hoss as an East German doctor in the 1980s who is banished to a small country hospital for trying to leave the country. Also with Ronald Zehrfeld, Rainer Bock, Christina Hecke, Claudia Geisler, Peter Weiss, and Deniz Petzold. (Opens Friday in Dallas)
Cirque du Soleil: Worlds Away (PG) Andrew Adamson (Shrek) directs this 3D film featuring the troupe's performances. Starring Erica Linz, Igor Zaripov, and Lutz Halbhubner. (Opens Wednesday)
Jack Reacher (PG-13) Tom Cruise stars in Christopher McQuarrie's adaptation of Lee Child's novel as a former military policeman who investigates the case of a sniper accused of mass murder. Also with Rosamund Pike, Richard Jenkins, David Oyelowo, Werner Herzog, and Robert Duvall. (Opens Friday)
Monsters, Inc. (G) The 3D re-release of Pixar's 2001 animated spectacular wittily imagines the monsters who emerge from closets to scare little kids at night as employees of a utility company that powers the monsters' world. When a 3-year-old girl accidentally wanders into that world from her closet, the company's top scarer "Sulley" (voiced by John Goodman) and his assistant Mike (voiced by Billy Crystal) have to get her back to her bedroom without tipping off the firm's management. The vocal casting isn't exactly creative, and the movie runs into trouble at the end; little kids' irrational fears are bigger than the explanation this movie gives us. Yet the writing and visual gags are sharp, and the movie has a dazzling climactic chase through a warehouse of closet doors. Best of all, Pixar's movies still work the way kids' imaginations do, as well as looking good. Additional voices by Steve Buscemi, Mary Gibbs, James Coburn, John Ratzenberger, Bob Peterson, Frank Oz, Bonnie Hunt, and Jennifer Tilly. (Opens Wednesday)
Anna Karenina (R) Joe Wright turns Leo Tolstoy's masterpiece into a shallow, gimmicky movie that stars Keira Knightley as the married 19th-century Russian princess who torches her social status and her family by having an affair with a young count (Aaron Taylor-Johnson). Wright gives Tom Stoppard's skillful script a highly stylized treatment, with scenes playing out on theater sets and choreographed movements that make you think the characters will burst into song. The stage devices succeed at making this period costume drama look different from all the others, but they neither shed light on Tolstoy's novel nor amplify the story's emotions nor create a sense of an oppressive society where everyone's public actions are under scrutiny. Clever though this is, it doesn't accomplish anything a more conventional movie wouldn't have. Also with Jude Law, Matthew Macfadyen, Kelly Macdonald, Domhnall Gleeson, Olivia Williams, Alicia Vikander, Ruth Wilson, and Emily Watson.
Argo (R) Ben Affleck stars in and directs this expertly crafted, personality-light thriller. He portrays a real-life CIA exfiltration specialist who in 1980 spirited six Americans who had escaped from the U.S. embassy out of Iran by having them pose as a film crew for a nonexistent movie. The director superbly handles the latter half of the film when it comes to slowly tightening the grip of suspense. However, Chris Terrio's script barely sketches in the characters, and Affleck's performance in the lead role as a sad sack with a rocky marriage is undistinguished. The scenes that take place in Hollywood feel lifted from another film, but it's the only part of the movie that lets the actors (notably Alan Arkin and John Goodman as movie-industry types) have fun. Also with Bryan Cranston, Victor Garber, Tate Donovan, Clea DuVall, Scoot McNairy, Rory Cochrane, Christopher Denham, Kerry Bishé, Sheila Vand, Chris Messina, Zeljko Ivanek, Titus Welliver, Kyle Chandler, Bob Gunton, Richard Kind, and an uncredited Philip Baker Hall.
The Collection (R) I mentally checked out of this slasher flick about 10 minutes in, when the masked serial killer (Randall Archer) slices up a bunch of people on a dance club floor with a giant combine descending from the ceiling. Nothing that happens in the rest of this wearisome movie counteracts the ridiculousness of that early development. Emma Fitzpatrick plays a woman who falls into the killer's clutches after freeing a man (Josh Stewart) who's being held captive. The man is then blackmailed into springing her. The movie is a sequel to the 2009 film The Collector, something the world surely wasn't clamoring for. Also with Navi Rawat, Johanna Braddy, Daniel Sharman, Lee Tergesen, Andre Royo, and Christopher McDonald.
Flight (R) After more than a decade making animated films, Robert Zemeckis gets back into the swing of live-action with this drama about an airline pilot (Denzel Washington) who saves his passengers' lives when his plane falls apart in midair but then goes from hero to villain once his alcoholism and drug use become known. Washington is enthralling as a damaged chronic liar for whom a plane crash is the least of his problems. The religious symbolism is a teeny bit overdone and the movie drags in spots, but this is a skilled, grown-up film anchored by a stellar performance, and it fills the big screen. Also with Don Cheadle, John Goodman, Kelly Reilly, Bruce Greenwood, Garcelle Beauvais, James Badge Dale, and Melissa Leo. — Cole Williams
Hitchcock (PG-13) The opening sequence sets us up for the same lurid, macabre wit that permeated Hitchcock's masterpieces. Instead, we get a trite nostalgia piece. Anthony Hopkins plays the great filmmaker as he bucks Hollywood's expectations in 1959 by trying to make Psycho. Rather than tackle the Master of Suspense's plentiful sexual perversities, the movie presents Hitch and his wife (Helen Mirren) as a boring married couple. Director Sacha Gervasi (Anvil: The Story of Anvil) takes this story in circles, with Hitchcock holding imaginary conversations with serial killer Ed Gein (Michael Wincott) and gazing lustfully at his blonde leading ladies. Without insight into what made Hitchcock such a memorable filmmaker, the movie doesn't have a point. Also with Scarlett Johansson, Danny Huston, Toni Collette, Michael Stuhlbarg, James D'Arcy, Kurtwood Smith, Ralph Macchio, and Jessica Biel.
The Hobbit: An Unexpected Journey (PG-13) Peter Jackson's adaptation of J.R.R. Tolkien's novel is shot at 48 frames per second, which gives the images clarity and sharpness you've never seen on a movie screen and allows camera movement with astonishing fluidity. The great joke is that the story and characters are so poorly handled, the movie won't look like anything special when you watch it on your TV in six months. Martin Freeman makes an underwhelming Bilbo, and a few nicely executed action sequences can't make up for Jackson's cringe-inducing sense of comedy and pacing so flabby that it takes 50 minutes before Bilbo actually leaves his house to help his dwarf comrades defeat the dragon. Other filmmakers have made more powerful epic fantasy-adventures since Jackson; the game has passed him by. Also with Ian McKellen, Richard Armitage, Andy Serkis, Cate Blanchett, Hugo Weaving, Christopher Lee, Barry Humphries, Benedict Cumberbatch, Ian Holm, and Elijah Wood.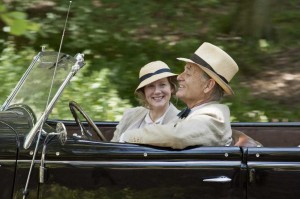 Killing Them Softly (R) Andrew Dominik's crime thriller is pretty good, when it's not bashing America. Based on George V. Higgins' 1974 novel Cogan's Trade, this movie is set in 2008 and stars Brad Pitt as a sharp hit man who's brought in to take care of three idiots (Scoot McNairy, Ben Mendelsohn, and Vincent Curatola) who have robbed a mob-protected card game in Boston. The director does well to find the life in the scenes with the criminals conducting business and hanging out, and there's a particularly strong scene with Pitt cornering one of the criminals in a bar. Still, the New Zealand-born Dominik runs into trouble trying to tie the criminal plot to his vision of America as a place of rapacious amoral greed. Nothing wrong with being cynical about America, but Dominik's cynicism is cheap. Go somewhere else for a sophisticated critique of American capitalism. Also with Ray Liotta, James Gandolfini, Trevor Long, Max Casella, Slaine, Sam Shepard, and Richard Jenkins.
Life of Pi (PG) Yann Martel's supposedly unfilmable novel has been most decisively filmed by Ang Lee, and like all of Lee's masterpieces, it's completely different from the others. Suraj Sharma plays a shipwrecked 16-year-old Indian boy who is marooned on the open sea for several months with an adult Bengal tiger. Purely as a piece of spectacle, this movie is just glorious, whether Lee is taking in the visual splendors of India or the unlikely events on the water. (Pay the 3D upcharge for this movie.) Yet he doesn't shortchange his actors, whether that's the newcomer Sharma or the great Irrfan Khan as the grown-up Pi who narrates his story. This emotionally draining adventure is wondrous, terrifying, and a classic of its kind. Also with Adil Hussain, Tabu, Ayush Tandon, Rafe Spall, and Gérard Depardieu.
Lincoln (PG-13) Steven Spielberg's take on our nation's 16th president is an incredibly timely defense of moderation, pragmatism, and realpolitik. Too bad it's so dry. Daniel Day-Lewis portrays Lincoln as he tries to pass the slavery-abolishing 13th Amendment to the Constitution in 1865. Day-Lewis easily strikes the right balance between Lincoln's fierce determination and political judgment. Spielberg wrings a fair amount of drama out of the legislative details and does full justice to the messiness of the lawmaking process. However, without more of Lincoln's soaring rhetoric, the movie may very well leave you unmoved. Also with Sally Field, Tommy Lee Jones, David Strathairn, Joseph Gordon-Levitt, James Spader, John Hawkes, Tim Blake Nelson, Jackie Earle Haley, Bruce McGill, Jared Harris, Lee Pace, Gloria Reuben, Michael Stuhlbarg, David Oyelowo, Lukas Haas, Dane DeHaan, and Hal Holbrook.
Playing for Keeps (PG-13) After a fizzy start, this romantic comedy fades badly in the second half. Gerard Butler plays a retired Scottish soccer star who's trying to break into sportscasting while taking over as coach of his 9-year-old son's team. Director Gabriele Muccino keeps the comedy humming in the early going, as our hero demonstrates his soccer skills for the youngsters and his bedroom skills for their moms. Unfortunately, the story revolves around the hero trying to get back with his ex-girlfriend (Jessica Biel). Romance seems to bring out the sentimental worst in Muccino, and we're given yet another movie where the guy has to give up his dream job to prove his loyalty to his family. That's what earns this soccer drama a red card. Also with Uma Thurman, Catherine Zeta-Jones, Judy Greer, Noah Lomax, James Tupper, Iqbal Theba, and Dennis Quaid.
Red Dawn (PG-13) Actually worse than most crappy remakes of 1980s movies, this more-than-casually racist thriller stars Chris Hemsworth as a Marine on leave when America's coasts are invaded by a bunch of evil Asians. The villains were reportedly changed from Chinese to North Korean to avoid offending Chinese consumers. Geopolitically, this makes no sense, but that's just one small cop-out as the Marine turns his kid brother (Josh Peck) and his brother's high-school pals into a counterinsurgency. He must be good, as it takes all of 30 seconds of screen time to train those kids into killing machines. The movie panders to jingoism and nostalgia for the original at every turn, and even its action sequences are dull. Also with Josh Hutcherson, Adrianne Palicki, Isabel Lucas, Will Yun Lee, Connor Cruise, Brett Cullen, and Jeffrey Dean Morgan.
Rise of the Guardians (PG) Above-average animated film is about Jack Frost (voiced by Chris Pine) as he is recruited into a superhero league with Santa Claus, the Tooth Fairy, and the Easter Bunny (voiced by Alec Baldwin, Isla Fisher, and Hugh Jackman) to protect the world's children against the Boogeyman (voiced by Jude Law). Adapted from William Joyce's novel, this bogs down in sentimentality near the end, but it has some nice jokes and a nifty voice cast, especially Jackman (using his native Australian accent) as a hypermacho rabbit who's overly sensitive about his cuddly species. Additional voice by Dakota Goyo.
Silver Linings Playbook (R) Bradley Cooper stars in this volatile, terribly funny comedy as a bipolar former schoolteacher and die-hard Philadelphia Eagles fan who leaves a mental institution to move back in with his parents. Adapting a novel by Matthew Quick, writer-director David O. Russell (The Fighter, Three Kings) captures the rage and instability inside his characters by filming ordinary domestic scenes with a whirling fury. His approach spreads to his actors, including Robert De Niro, bringing more energy than he's brought in 20 years to the role of the hero's combative dad, and Jennifer Lawrence, deploying her fierceness for comic effect as a cop's widow with her own mentally troubled history. This is Russell's warmest and most likable film, a tribute to the unconditional love that binds you to your family and your football team. Also with Jacki Weaver, Julia Stiles, Anupam Kher, John Ortiz, Shea Whigham, Paul Herman, Dash Mihok, and Chris Tucker.
Skyfall (PG-13) The most interesting Bond girl turns out to be M (Judi Dench) in this bracing return to form for the James Bond series. 007 (Daniel Craig) comes out of a self-imposed sabbatical after a shadowy villain starts to target his boss. Director Sam Mendes can stage a gunfight as well as anyone, but he's just as interested in seeing Bond interact with an officious political flack (Ralph Fiennes), the new Q (Ben Whishaw), and a sexy fellow agent (Naomie Harris, who sets the screen alight). It all sets up an Oedipal confrontation with one of M's former agents (Javier Bardem), and the emphasis on M allows Dench to finally stretch her acting muscles in this series. For an agent who has been in the field for 50 years, Bond is looking pretty spry right now. Also with Bérénice Lim Marlohe, Ola Rapace, Rory Kinnear, and Albert Finney.
The Twilight Saga: Breaking Dawn — Part II (PG-13) The good news is that The Twilight Saga is finally over. The bad news is that even though this final installment is probably the best of the series, it's still a sloppy, choppy, woodenly acted slog. After saving Bella (Kristen Stewart) from death by turning her into a vampire, Edward (Robert Pattinson) and about 20 other sparkly vampires band together with Jacob (Taylor Lautner) and his werewolf kin to protect her half-human/half-vampire daughter. Occasionally, moments like Bella's testing out her new vampire powers and a lengthy, climactic fight scene rife with bloodless bloodsucker decapitations are entertaining, but the combination of Stewart's two-speed acting technique (mopey and mopier), horrible pacing, and the preponderance of brownish red contact lenses makes watching this a real drag. For fans of the series only. Also with Peter Facinelli, Elizabeth Reaser, Ashley Greene, Kellan Lutz, Jackson Rathbone, Nikki Reed, Chaske Spencer, Maggie Grace, Jamie Campbell Bower, Lee Pace, Dakota Fanning, and Michael Sheen. –– Steve Steward
Wreck-It Ralph (PG) Derivative and yet likable. This Disney animated comedy is about a 1980s video game villain (voiced by John C. Reilly) who gets sick of his job and jumps into other games to become a hero. The movie will be required viewing for gamers of a certain age, thanks to cameo appearances by iconic video game characters and a universe where characters from the different games freely intermingle after the arcade closes. Yet the movie is more than just nostalgia, as evidenced by a fraught plotline when Ralph befriends a little girl created by a programming glitch (voiced by Sarah Silverman) in a girly kart racing game and tries to help her compete in the race. With its funny voice cast and animation inspired by the looks of various video games, this is well worth your quarters. Additional voices by Jane Lynch, Jack McBrayer, Alan Tudyk, Mindy Kaling, Adam Carrolla, Horatio Sanz, Ed O'Neill, and Dennis Haysbert.
DALLAS EXCLUSIVES:
Any Day Now (R) Alan Cumming and Garret Dillahunt star in this drama as a 1970s gay couple who fight to keep custody of an abandoned Down syndrome-afflicted teen (Isaac Leyva) living with them. Also with Frances Fisher, Gregg Henry, Jamie Anne Allman, Michael Nouri, Chris Mulkey, and Kelli Williams.
The Flat (NR) Arnon Goldfinger's documentary is about his own quest for the truth after discovering a trove of Nazi propaganda in his deceased Israeli grandmother's closet.
Hyde Park on Hudson (R) Roger Michell directs this adaptation of Richard Nelson's play about a woman (Laura Linney) who has a prime viewing spot as her distant cousin President Franklin Roosevelt (Bill Murray) welcomes King George VI of England (Samuel West) to his mother's house in upstate New York. Also with Olivia Colman, Elizabeth Marvel, Elizabeth Wilson, Martin McDougall, and Olivia Williams.
A Royal Affair (R) Based on 18th-century Danish history, Nikolaj Arcel's drama is about a German doctor (Mads Mikkelsen) and an English-born queen (Alicia Vikander) who push her insane husband King Christian VII (Mikkel Boe Følsgaard) to liberalize Danish society. Also with Trine Dyrholm, David Dencik, Thomas W. Gabrielsson, Cyron Melville, and Harriet Walter.