In 2007, then-Speaker of the House Tom Craddick called Madden into his office and offered  the House veteran the chairmanship of the Corrections Committee.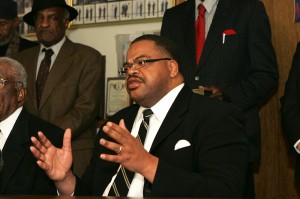 "I told the speaker it would be an honor," Madden said during a phone interview on his last day in office, "and under my breath I'm thinking, 'Oh, God why me? What did I do to deserve this?' "
Then, Madden said, he asked the most important question he's ever put to anyone: "What do you want me to do?"
"He said, 'Don't build any prisons because they cost too much,' " the West Point grad recalled. "I can't build prisons, and I can't shoehorn [prisoners] in [to existing, overcrowded prisons], so I was left with two choices: I could open the door and let them go quicker, or slow them down from coming in," he said. "And that was the pretty obvious answer for Texas."
Madden and Whitmire, of Houston, went to work forming a bipartisan think tank and drafted legislation to undo some of the damage caused by Chapter 37.
Among the think tank members was Levin, who also leads the conservative group Right on Crime. Levin said that one of the group's priorities in helping draft the legislation was to decriminalize normal disruptive behavior.
"We got legislation passed in 2007 that said schools couldn't make up their own crimes," he said. "They were issuing tickets for chewing gum. They were basically designating anything in their code of conduct as a criminal offense. And we made them stop doing that."
Other legislation halted the practice of giving criminal citations to students in sixth grade and below, required schools that filed truancy complaints to show what they'd done to get the kid to come to school, and ended truancy charges for kids who voluntarily return to class.
Levin's research found that suspensions sink the kids academically. Such students are typically already behind, and most are further behind by the time their suspensions end.
He also looked at the citations that were being doled out like Halloween candy. Most were for disrupting class, which is the most vague of all the discretionary offenses.
"One of the offenses is making unreasonable noise," he said. "I always told people, 'I made unreasonable noise every day when I was a kid.' "
In the three years after the first of the reform initiatives passed, Texas' prison population, which is still the nation's largest, fell significantly. The population is currently at its lowest point in five years, at 152,000 inmates. States such as Ohio and South Carolina have followed Texas example, passing similarly progressive laws.
Though Levin and Madden disagree, some observers believe that the new level of support for crime prevention championed by Right on Crime represents a shift in conservative thinking.
State Rep. Lon Burnam said he thinks the Republicans have changed their attitudes toward crime prevention. But he remains skeptical of their dedication to the issue.
"We see a philosophic shift from what we saw all during the 1990s, and that's good," the Fort Worth Democrat said. "It's not for any reason other than a pragmatic recognition that what we're doing isn't cost-effective. It's expensive. It's not about compassion — it's about a fiscally conservative approach."
Levin believes that the legislation is an application of conservative principles, not a departure from them. "I don't think it's touchy-feely," he said.
Madden said he and other conservative lawmakers were acting out of common sense, not party politics.
"It's a realization that when we do things that are smart, we get better results," he said. "We want a safe public and we want to make better use of our tax dollars. Is a better idea to be safer and spend less money? The answer is yes. It's yes to a Republican, it's yes to a Democrat, it's yes to a liberal, it's yes to a conservative."
Levin believes school administrators should still have the option of removing students from class in extreme cases.
"There are certainly occasions when students are a danger to other students or staff," he said. "Then it's appropriate to remove them. But we've gone way too far with issuing criminal citations for minor misbehavior and removing too many students."
 ********