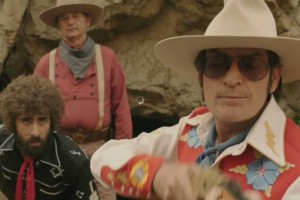 Hansel & Gretel: Witch Hunters (R) Eesh. Jeremy Renner and Gemma Arterton portray grown-up versions of the fairy tale children, who now travel across Europe exterminating witches. Norwegian director/co-writer Tommy Wirkola (Dead Snow) injects a few amusing touches such as Hansel being a diabetic, but the setup's comic potential is overwhelmed by cheesy action sequences and penny-ante attempts at portraying the siblings as damaged adults. Renner is so woefully unsuited to the task he's given here that it's downright painful to watch him try to be funny. Also with Famke Janssen, Peter Stormare, Pihla Viitala, Thomas Mann, Joanna Kulig, Ingrid Bolsø Berdal, and Zoe Bell.
The Hobbit: An Unexpected Journey (PG-13) Peter Jackson's adaptation of J.R.R. Tolkien's novel is shot at 48 frames per second, which gives the images clarity and sharpness you've never seen on a movie screen and allows camera movement with astonishing fluidity. The great joke is that the story and characters are so poorly handled, the movie won't look like anything special when you watch it on your TV in six months. Martin Freeman makes an underwhelming Bilbo, and a few nicely executed action sequences can't make up for Jackson's cringe-inducing sense of comedy and pacing so flabby that it takes 50 minutes before Bilbo actually leaves his house to help his dwarf comrades defeat the dragon. Other filmmakers have made more powerful epic fantasy-adventures since Jackson; the game has passed him by. Also with Ian McKellen, Richard Armitage, Andy Serkis, Cate Blanchett, Hugo Weaving, Christopher Lee, Barry Humphries, Benedict Cumberbatch, Ian Holm, and Elijah Wood.
Identity Thief (R) Just about everything in this comedy is spectacularly miscalculated. Jason Bateman plays a responsible, repressed milquetoast-y finance guy in Denver who travels to Florida to capture the con artist (Melissa McCarthy) who has stolen his identity. The list of this movie's failures is long: the depiction of the con artist as an overweight, oversexed caricature; the subsequent attempt to turn her back into a real person; the movie's left turn into an action flick when one of her victims turns out to be a crime lord who sends his thugs (Tip "T.I." Harris and Genesis Rodriguez) after her. Bateman and McCarthy struggle valiantly to mine laughs from the material, but it's all for little effect. Also with Jon Favreau, Amanda Peet, Morris Chestnut, John Cho, Robert Patrick, Ben Falcone, and Eric Stonestreet.
Life of Pi (PG) Yann Martel's supposedly unfilmable novel has been most decisively filmed by Ang Lee, and like all of Lee's masterpieces, it's completely different from the others. Suraj Sharma plays a shipwrecked 16-year-old Indian boy who is marooned on the open sea for several months with an adult Bengal tiger. Purely as a piece of spectacle, this movie is just glorious, whether Lee is taking in the visual splendors of India or the unlikely events on the water. (Pay the 3D upcharge for this movie.) Yet he doesn't shortchange his actors, whether that's the newcomer Sharma or the great Irrfan Khan as the grown-up Pi who narrates his story. This emotionally draining adventure is wondrous, terrifying, and a classic of its kind. Also with Adil Hussain, Tabu, Ayush Tandon, Rafe Spall, and Gérard Depardieu.
Lincoln (PG-13) Steven Spielberg's take on our nation's 16th president is an incredibly timely defense of moderation, pragmatism, and realpolitik. Too bad it's so dry. Daniel Day-Lewis portrays Lincoln as he tries to pass the slavery-abolishing 13th Amendment to the Constitution in 1865. Day-Lewis easily strikes the right balance between Lincoln's fierce determination and political judgment. Spielberg wrings a fair amount of drama out of the legislative details and does full justice to the messiness of the lawmaking process. However, without more of Lincoln's soaring rhetoric, the movie may very well leave you unmoved. Also with Sally Field, Tommy Lee Jones, David Strathairn, Joseph Gordon-Levitt, James Spader, John Hawkes, Tim Blake Nelson, Jackie Earle Haley, Bruce McGill, Jared Harris, Lee Pace, Gloria Reuben, Michael Stuhlbarg, David Oyelowo, Lukas Haas, Dane DeHaan, and Hal Holbrook.
Mama (PG-13) This horror flick with a lot of wasted promise stars Jessica Chastain as a woman whose husband (Nikolaj Coster-Waldau) takes in his two feral nieces (Megan Charpentier and Isabelle Nélisse) after they're discovered living alone in the woods. The girls claim that a ghostly entity they call "Mama" has been taking care of them, and she follows them when they move into a new house. Chastain is unrecognizable here as a heavily tattooed Goth-punk musician. She and the girls do good work, and the movie has an interesting story about a woman who doesn't want children being suddenly saddled with two special-needs kids. Yet Argentinian filmmaker Andrés "Andy" Muschietti squanders this with bombast and rote scare techniques. Too bad; this could have really been something. Also with Daniel Kash, Javier Botet, and Jane Moffatt.
Les Misérables (PG-13) The best big-screen version of the bombastic Broadway musical that we were ever likely to get. Tom Hooper records the actors singing live on the set, and his approach yields mostly good results from Hugh Jackman as an anguished Jean Valjean, Samantha Barks outsinging her more famous castmates as Éponine, and Anne Hathaway going hellbent for leather as Fantine. Hooper can't do much with Russell Crowe's wobbly baritone (which seems to be emanating from inside a half-crushed beer can), nor can he do anything with the music bogging the show down in the second half as the boring characters of Marius and Cosette (Eddie Redmayne and Amanda Seyfried) take center stage. Still, the cast's singing and some un-stagey direction save the movie. Also with Sacha Baron Cohen, Helena Bonham Carter, Aaron Tveit, Daniel Huttlestone, Isabelle Allen, and Colm Wilkinson.
Safe Haven (PG-13) The latest Nicholas Sparks adaptation is more of the same. This narcotizing weeper stars Julianne Hough as a woman who flees a violent incident in Boston for an idyllic Carolina coastal town (there is no other kind of coastal town in Sparks' novels) and tries to put her past behind her. Sparks' decorous brand of melodrama brings out the worst in director Lasse Hallström, and while Hough can be an asset in a musical, she's overtaxed trying to play a paranoid battered wife. Movies of Sparks novels tend to be watery, but this one evaporates right off the screen. Also with Josh Duhamel, David Lyons, Noah Lomax, Mimi Kirkland, Red West, and Cobie Smulders.
Side Effects (R) Steven Soderbergh's clever thriller stars Rooney Mara as a suicidal woman whose struggles with depression overwhelm her when her husband (Channing Tatum) returns home from prison. Mara does her best work to date as someone riding her condition's peaks and valleys, but then halfway through the film, the main character becomes her psychiatrist (Jude Law) as he tries to save himself after his patient's treatment goes very wrong. The film is a throwback to psychological thrillers of the early 1990s that deal in murder, kinky sex, and actresses acting crazy, but Soderbergh and writer Scott Z. Burns can't help throwing in some informative asides on the marketing of new drugs and our pharmaceutical-crazed culture. This is trash, but it's so much fun. Also with Catherine Zeta-Jones, Vinessa Shaw, Michael Nathanson, Mamie Gummer, David Costabile, and Polly Draper.
Silver Linings Playbook (R) Bradley Cooper stars in this volatile, terribly funny comedy as a bipolar former schoolteacher and die-hard Philadelphia Eagles fan who leaves a mental institution to move back in with his parents. Adapting a novel by Matthew Quick, writer-director David O. Russell (The Fighter, Three Kings) captures the rage and instability inside his characters by filming ordinary domestic scenes with a whirling fury. His approach spreads to his actors, including Robert De Niro, bringing more energy than he's brought in 20 years to the role of the hero's combative dad, and Jennifer Lawrence, deploying her fierceness for comic effect as a cop's widow with her own mentally troubled history. This is Russell's warmest and most likable film, a tribute to the unconditional love that binds you to your family and your football team. Also with Jacki Weaver, Julia Stiles, Anupam Kher, John Ortiz, Shea Whigham, Paul Herman, Dash Mihok, and Chris Tucker.
Snitch (PG-13) Dwayne Johnson plays a construction firm owner who infiltrates a drug cartel in order to reduce the 10-year prison sentence on his teenage son (Rafi Gavron) for dealing drugs. Johnson is ill-suited to this sort of heavy drama, though his underacting is still preferable to the overacting by various actresses in this movie's one-dimensional suffering wife parts. Look past that, though, and you'll find a plausible and surprisingly gripping thriller about how an ordinary guy might get into a drug kingpin's inner circle. Also with Jon Bernthal, Barry Pepper, Melina Kanakaredes, Nadine Velazquez, Michael K. Williams, Harold Perrineau, Lela Loren, David Harbour, Benjamin Bratt, and Susan Sarandon.
Warm Bodies (PG-13) This movie wants to be scary, funny, and romantic all at once, and while it succeeds fitfully at those things, it mostly proves that the combination is tough to pull off. Set in a world largely overrun by zombies, the movie stars Nicholas Hoult as a zombie who falls in love with a human girl (Teresa Palmer) and finds that the experience cures him of his zombiehood. Writer-director Jonathan Levine (50/50) scores with the zombie's neurotic interior monologue and some warm romantic flashbacks, but the material needed a wackier, more satirical comic sensibility. Even though Hoult does some remarkable work in a difficult role, the actors here largely seem lost, even as experienced a comic actor like Rob Corddry. Charming though this movie is, it's a well-intentioned misfire. Also with Analeigh Tipton, Dave Franco, Cory Hardrict, and John Malkovich.
Zero Dark Thirty (PG-13) Pro-torture without meaning to be, which is actually worse than being purposefully pro-torture. Jessica Chastain portrays a brilliant but obsessive CIA analyst who spends 10 years tracking down Osama bin Laden, and she doesn't quite manage to integrate this difficult and fundamentally unknowable character. Director Kathryn Bigelow (The Hurt Locker) lays out the detective work well enough and expectedly delivers some great action set pieces, including a slow-burning meeting with an informant midway through and the operation at the end. Still, she's fatally fuzzy about the role of torture in obtaining the information that takes down the terrorist mastermind, and pays scant attention to its repercussions. It's one thing to take in a morally complex situation and let the audience draw its own conclusions. This movie is just unclear. Also with Jason Clarke, Jennifer Ehle, Chris Pratt, Joel Edgerton, Édgar Ramírez, Kyle Chandler, Mark Strong, Reda Kateb, Fares Fares, Homayoun Ershadi, Harold Perrineau, Stephen Dillane, Mark Duplass, and James Gandolfini.
DALLAS EXCLUSIVES:
Doctor Bello (PG-13) A Nigerian movie! Tony Abulu's drama stars Isaiah Washington as a troubled doctor who turns to a Nigerian healer (Jimmy Jean-Louis) to help him save a young boy. Also with Vivica A. Fox, Evan Brinkman, Genevieve Nnaji, Victor Browne, Stephanie Okereke, and Bern Cohen.
56 Up (NR) The latest installment in Michael Apted's documentary series checks in on his 14 British subjects, asking about the last seven years of their lives.
A Glimpse Inside the Mind of Charles Swan III (R) Charlie Sheen stars in Roman Coppola's fantasy film as a successful graphic designer whose life falls apart after his girlfriend breaks up with him. Also with Bill Murray, Jason Schwartzman, Katheryn Winnick, Patricia Arquette, Mary Elizabeth Winstead, Dermot Mulroney, and Aubrey Plaza.