On almost an acre of land in Northwest Fort Worth, near Azle, Jaime Stephens enjoys a slower pace — not because her suburban life is dull and easy-going, but because of the company she keeps on her property. Stephens' home doubles as Jaime's Tortoise Sanctuary, where she lives among 22 tortoises that have been abandoned, given to her, or kept as pets.
But unlike some other animal sanctuaries, Stephens is not looking to place her animals in homes.
"We don't adopt out any tortoise that come to live here," she said. "We take in unwanted tortoises and turtles and provide them with the most natural environment."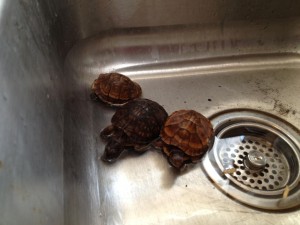 Stephens didn't set out to start an animal sanctuary, it just happened naturally.
She gets her critters "from people who can't keep them for whatever reason, some from rescues, and some are ones that I bought years before I decided to start this, " she said. "I cannot stop the numbers of these animals being sold to uneducated owners. But I will continue to take in those 'torts' that someone bought for a child who doesn't want them anymore."
Stephens started the turtle farm because she found that other rescues are always full, and she didn't want to see the shelled reptiles stuck in an aquarium, in a bowl of soup, or wallowing in radioactive sewer ooze.
"They have a lot of needs such as exercise, sun, fresh air, and proper diet with natural grazing," she said. And, she added, "I just love these guys."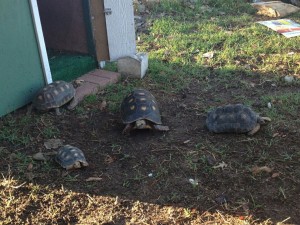 Stephens funds the sanctuary herself but does accept donations. If you'd like to give to the cause, contact her through Facebook.