The tour bus was parked a mere 25 feet from the stage, and the crowd pressed close to the guardrails, dozens deep, waiting in torrid heat and humidity, sweat patterns soaked through their orange T-shirts as they waved makeshift fans in front of their faces.
Former Dixie Chicks singer Natalie Maines turned out to be a no-show, but nobody seemed to notice. Maines was just an opening act anyway. The main attraction, the one everybody came to see, well, she was sitting inside the bus with her traveling road show, and surely able to hear the chants of "Wendy! Wendy! Wendy!" coming from outside.
Still, the bus door remained closed for 10 minutes past the scheduled start time.
Anticipation built. And built.
Finally the bus door swung open and out came … oh, it was only State Sen. Royce West … and some other ordinary politicians. Polite applause. Yawn.
This crowd was waiting for a folk hero, spiritual guide, and, yes, rock star all rolled into one petite package with a killer smile.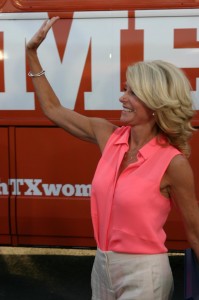 And then, there she was. The crowd erupted and waved their arms and pumped their handmade signs up and down.
State Sen. Wendy Davis is in da house, yo!
Davis is hitting the streets and taking advantage of her filibuster heard 'round the world. She and other politicians have embarked on the Stand with Texas Women tour of Texas cities, advocating for equal treatment for women, particularly in regard to reproductive rights and the availability of healthcare.
Davis used to sit through long city council meetings that were sparsely attended at Fort Worth City Hall, and nobody made a fuss about her. But the cult of personality is a fast-moving train, especially in the social media age. Davis is a big deal now, and about a thousand people made their way to a parking lot on Adams Street on Wednesday evening to show their support.
A Planned Parenthood executive opened the show with a long-winded speech. (Sticking with the rock show theme, imagine going to an L7 gig … and Pat Boone is the opener.)
The other speakers knew to keep it brief.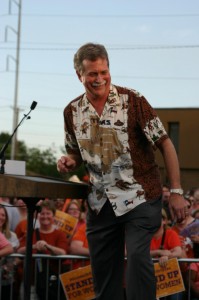 "It's hot out here, but nothing like the heat we're going to turn on Rick Perry," State Rep. Chris Turner of Arlington said.
The normally verbose State Rep. Lon Burnam bounded up on stage, made a few remarks, and then got the hell out of the way. He's no fool.
Poor State Sen. Sylvia Garcia of Houston was midway through her speech when the crowd began chanting Wendy! Wendy!
An elderly woman in the crowd became overheated, and she was led, pale and sweaty, to the tour bus and allowed to cool off. The crowd parted to let her pass, then pushed back together and looked to the stage, or more likely, to the bleachers behind the stage where the star attraction sat.
Finally, as the audience reached its peak anticipation, Davis took the podium and smiled through wild applause for a few moments before leaning into the microphone.
She said the expected things in support of a woman being able to choose whether to have an abortion and to have affordable and accessible reproductive healthcare. Everyone cheered wildly, and some yelled "We love you Wendy!"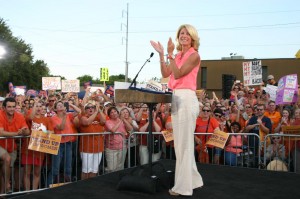 After the speeches, Davis and her cohorts grooved to Aretha Franklin's "Respect," waved from the stage, and posed for news cameras. It was funny watching the other politicians elbow their way closer to Davis, knowing their best shot of making the TV news was by getting in Davis's frame.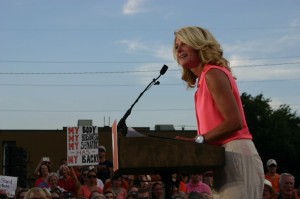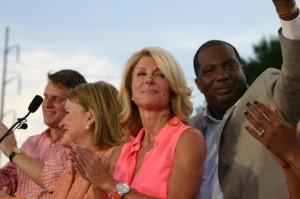 Davis stuck around for a long time to shake hands and pose for pictures with hundreds of fans (aka potential campaign donors). The back of her orange blouse was soaked through with sweat, like most everybody else's.
I asked a Planned Parenthood PR person why Maines didn't show up. She looked surprised at the question. I was apparently the first to notice that Maines hadn't shown up despite being listed on the bill. "Scheduling problems" was the reason given.
Come to think of it, nobody on those old rock 'n' roll package shows wanted to tour with Elvis back in the day – they didn't like being ignored by the crowd, or, worse, chanted over.