If it weren't July, the Fort Worth Star-Telegram could explain today's front page as an April Fool's joke.
Why else would the newspaper recycle a story from eight days ago and put it on the front page?
I read the Star-Telegram online, and I recall seeing this Lake Granbury story on July 14. Then, seven days later, the story was published online again yesterday.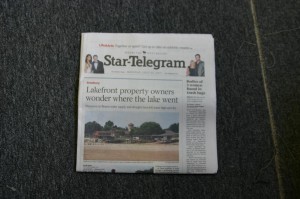 WTF?
A reader was quick to leave a comment once the story appeared online yesterday: "Looks like the Startlegram is recycling the news — this same exact article ran a week ago!!" CharlieTX wrote.
And now, today, July 22, the story is printed in the paper's most coveted position — above the fold on the front page.
A commenter named Bugger wanted the story gone: "Can the ST please remove this article, it's been up for ages."
Another commenter asked the obvious question: Why is the Star-Telegram writing about Lake Granbury and the Brazos River Authority when the paper has a hands-off policy on writing anything remotely critical about the Tarrant Regional Water District? "Typical Star-Telegram; report on this, but ignore the water management problem in our own backyard," LesleyPezley wrote. "The local water board is totally mismanaging Lake Bridgeport. They've been allowing millions of gallons to go downstream during a time of drought, and now that lake is at less than 50 percent capacity. I've pointed this out in comments on several drought-related stories, but have yet to see a single question asked by the S-T about this. Pitiful excuse for a 'news' paper. More like a propaganda rag."
Valid criticisms all.
But if all that weren't bad enough, the paper put something else on the front page that makes it look even stupider.
A headline tells readers to "get up to date on celebrity couples" who are together or broken up.
Accompanying that headline is a picture of Justin Bieber and Selena Gomez, who broke up two months ago to much, much fanfare. (I'm ashamed that I know the dating history of the Biebs — perhaps even more ashamed to refer to him as "the Biebs" — but I'm like a septic tank of useless information.)
Anyhoo, it's days like this that make me wonder how much longer the Star-Telegram can hang on before either rebuilding its depleted staff and improving its product, or collapsing under the weight of its own inanity.