From the beginning of her long career as a North Texas stage performer, Sheran Goodspeed Keyton has been hard to ignore.
The actor-singer-director, 39, has an onstage presence that tends to steal focus even when her character is just standing there. She's a big, beautiful woman with an expressive face and mischievous eyes as large and bright as spotlights. In the two decades when she was a featured performer at Jubilee Theatre –– appearing in, by her account, about 45 shows –– Keyton specialized in brassy character roles: snarky sidekicks, gossipy neighbors, defiant wives and girlfriends, righteous churchwomen, and gleefully unrighteous mistresses and madams.
Her voice is what inevitably turned even an ensemble production into a one-woman show. Deep, rich, outfitted with angelic high notes and demonic growls, Keyton's gospel- and R&B-influenced singing has always been her theatrical signature, her calling card. Few musical theater performers would want to attempt playing three of the most influential female singers of the 20th century –– Bessie Smith, Mahalia Jackson, and Etta James. Keyton has played all of them in separate one-woman shows, earning critical acclaim and standing ovations in the process.
But now Keyton finds herself in an unusual position –– having to work to get people to pay attention to her. More specifically, she's trying to make Fort Worth audiences aware that she has formed her own theater company since parting ways with Jubilee. DVA Productions is about to close its second full season with Sam Shade: A Detective Musical, written and composed by her longtime friend and collaborator Joe Rogers. Keyton is directing the show but not appearing in it.
With DVA, "I've tried to move more behind the scenes, which is what I wanted to do," she said of her duties as director and producer. "I wanted people to know that this company wasn't all about Sheran and her diva ways. But at the same time, people haven't seen me onstage nearly as much as they used to, so not everyone knows what we're doing."
Tyrone King has known Keyton for more than a dozen years and describes himself as a close confidant. He worked as a production/stage manager at Jubilee for over a decade and now wears those hats, as well as performer and director, for DVA. He's seen a distinct change in his friend as she's gone from Jubilee star performer to struggling artistic director/producer.
"Sheran will always be Sheran –– effervescent and bubbly but also tough and in your face," he said. With DVA "she's had to become more disciplined and more of a teacher, listening to and working with other artists. And she's had to become a fund-raiser. That's a stretch for her, but it's been good."
DVA struggles with the same things most theater startups do –– funding, marketing, establishing a home base and a loyal audience for its productions. But most theater startups weren't founded by a multitalented force of nature with the long, flashy resumé that Keyton boasts. She hopes DVA will create more opportunities for African-American stage artists and, at the same time, expand the creative horizons for one particular artist: herself.
 ********
Keyton can't remember a time in her life when she wasn't either in the spotlight or at least in love with it.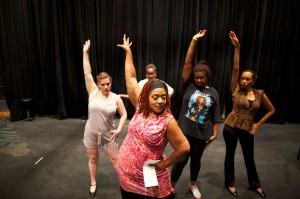 Unsurprisingly, she got most of her early musical training in church. A Fort Worth native, she started singing in the choir of Fellowship Baptist Church at the age of four and later became a soloist there. But "the devil's music" took hold of her early on, too. Her father Lonnie Goodspeed was a singer who performed Elvis Presley and Al Green covers at community events and private functions. She'd occasionally accompany him to gigs, sometimes even appearing on stage or in the studio as a backup singer.
"I think that's one of the reasons I identified so much with Mahalia Jackson" when she played the singer at Jubilee, Keyton said. "She struggled with going to church and wanting to sing the blues at the same time. When she was young, her voice was heavy and raspy, like mine was. Kids would laugh at me and say I sounded like a boy. A deep voice is considered sexy when you're an adult, but it's not fun when you're under 16."
Sheran's father underwent a born-again conversion when she was around 8 years old, and the change was dramatic: no more secular music in the house, including soul and R&B. But by then Keyton's tastes were established and evolving, and moreover, she had the unreserved support of her mother, who kept encouraging her to chase her dreams. In high school, a love of blues and soul morphed into a passion for Broadway musicals. By the time Keyton entered Texas Wesleyan University, she was a musical theater major.
In 1992, when Keyton was 18, Jubilee Theatre's performance space was located across the street from the Texas Wesleyan campus. A friend had seen an audition notice for an upcoming Jubilee show and told Keyton about it. She tried out and landed a part in God's Trombones, her first Jubilee show. More importantly, she met and instantly bonded with the theater's founder and artistic director, the late Rudy Eastman, as well as its then musical director, the late Doug Balentine.
As was true for so many other Jubilee performers, "Rudy became like a father figure to me," said Keyton. Eastman's artistic guidance was especially important because Keyton's own father disliked the sometimes-raunchy song lyrics and plots of Jubilee shows, not to mention the generally notorious milieu of live theater. Later on, he would attend only the faith-based shows at Jubilee. But he always told her that he loved her and was proud of seeing her name mentioned in local newspaper reviews. Her mother, by contrast, has come to see every production Keyton has done.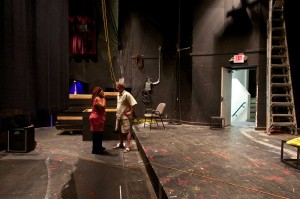 God's Trombones began a two-decade collaboration between Keyton and Jubilee in which she'd perform brassy character roles at least twice each season. By her own admission, Keyton's impressive vocal chops were more developed than her acting skills. Like many star performers, she typically played some variation on her own outpsoken, no-nonsense personality.
In fact, Keyton doesn't feel that she did her first real acting — searching inside herself to find unexpected nuances and reserves that would flesh out a character –– until the 2004 show Bessie Smith: Empress of the Blues. That production was also memorable because, at one performance, the minister of her family's church –– a man she'd known since childhood –– sat on the front row watching her "drop the 'f' bomb" again and again, she said.
Eastman also trained her as a choreographer and frequently used her as an assistant director. Jazz musician Joe Rogers replaced Balentine as Jubilee's musical director and later became its in-house composer, writing scores for shows like Travelin' Shoes, The Book of Job, Coop De Ville: Time Travelin' Negro, and Alice Wonder. Many of the parts Keyton played were written with her roof-rattling voice in mind.
"Some singers will sing a song exactly how you teach it to them," said Rogers. "They've been trained not to take risks, or they're not confident enough to enhance the song, or they're afraid you [the composer] won't like it. Sheran can do it all –– gospel, blues, jazz. Whatever I gave her, I always knew she'd put a twist on the melody or embellish the notes. She always brings herself to the song instead of singing it straight-up. That's her gospel training."
Playing to so many sold-out houses and critical raves over the years, Keyton earned a level of local fame in both African-American and theater communities that few North Texas stage artists enjoyed. It manifested itself in unusual ways.
"People would come and see the show, and they wouldn't realize that I was just a girl who grew up on the other side of town," she said. "Audiences would see us as these larger-than-life characters, and they'd respond accordingly. Every time I went to Golden Corral, two or three people would recognize me and say hi. Or I'd be at Walmart, and I'd hear someone say, 'There goes Miss Jubilee Theatre.' That was one of the perks."
Even better, though, was the fact that Jubilee exposure led to other paying gigs and an artistic identity outside the theater. "I would get letters at the theater, or someone would call and say, 'Hey, I'm getting married' or 'I'm having a New Year's Eve party. Can you sing at my event?' I booked a lot of private gigs" while at the theater.
Keyton's Jubilee celebrity also helped her land more artistically satisfying work outside the theater, including a two-year stint touring various European countries in Blind Lemon Blues, the North Texas-developed musical about blues great Blind Lemon Jefferson. She also served as a featured gospel singer in a Christmas holiday revue that toured big cities and small towns across Italy. Sheran admits that Eastman wasn't always happy about his star performers working outside Jubilee.
"Rudy was like a parent who's training his children to get through the elementary school, junior high school, and high school of our theater lives," she said. "He was very territorial with us. But eventually it's time to grow up and go off to college and show them what you've learned."
Keyton was already toying with the idea of starting her own theater company back in 2005 when Eastman invited her to lunch one day. The invitation wasn't unusual, but the talk was. She especially remembers his ultra-serious demeanor as he gave her a pep talk about marketing her creative strengths to get more work in live theater, not letting other people's negative perceptions drag her down, and informing her that "the sky's the limit," if she'd only take her talent seriously.
His words struck her as a little odd at the time, but she didn't think much about it. Then, less than a week later, Eastman died unexpectedly from heart problems. She considers their last lunchtime conversation as Rudy's final blessing to strike out on her own theatrically. And after a few years of networking and preparation, that's just what she did.
********