Dorothy Luck was enjoying the fruits of a lifetime of hard work: a well-cared-for house, a good-running Cadillac Deville, a million dollars in a bank account, another million in annuities, and a monthly income from investments and Social Security. A widow with no children or close relatives, she remains active and relatively healthy at 85.
Her comfortable lifestyle was made possible by various investments created with her husband, Leskie, who died 20 years ago. The couple co-owned and operated Luck Field, a general aviation airport that opened in 1960 in South Fort Worth, offering a landing strip and hangar rentals for 40 years, until it closed in 2000.
Shyness isn't a problem. Luck dominates conversations, doesn't suffer fools gladly, and can be a pistol when riled. She's also softhearted. Her church gets 10 percent of every dollar, and Luck gives additional money to charities and friends in need.
The neat and still-elegant woman has always kept a close watch on her finances, and she believed she'd have plenty of money to last until the end of her life.
"I was very wealthy," she said. "Now they've stripped me of about everything I have."
The people stripping away her wealth aren't con artists, muggers, or thieves, although the end result looks the same. "They" are a judge and court-appointed lawyers involved in a probate system that deemed Luck to be mentally incapaci-tated and unable to handle her affairs.
Two years ago they took control of her money and her life. She's been writhing in the court system ever since, trying to regain control of her bank account, which has become at least $500,000 lighter since the court took over.
"I've worked since I was 15 years old, and I don't deserve this," Luck said. "It's going to kill me. It's aged me terribly."
Texas, unlike most states, allows its judges to initiate guardianship cases. If a defendant in a civil lawsuit refuses to settle, a Texas probate judge can say, "I think you're mentally incapacitated." Then that same judge can remove the defendant's right to hire an independent attorney and use court-appointed attorneys to settle the case in a closed hearing without the defendant's input.
Don't believe it?
Luck wouldn't have believed it either. Until it happened to her.
 ********
The brick home with the well-tended lawn is inviting, particularly the concrete porch, a style that was common when this home was built in the 1930s. The house sits in a pleasant, shaded neighborhood near Texas Christian University. Inside, a woman's touch is everywhere. Doilies, china cabinets, and antique furniture dominate the rooms.
Detracting from the décor are numerous stacks of manila files overflowing with reams of paperwork, generated by court dates and hearings.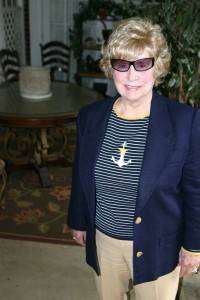 Luck has spent hundreds of hours poring over these records, talking with attorneys, visiting doctors, and traveling to Austin to speak to lawmakers. She's one of a growing list of people across the state and the country who are realizing how easy it is for judges and lawyers to take control of a person's life.
"It's not fair that they continue to rape people in this way," Luck said. "I'm not the only one. The sooner the nation is wise to this, the better we'll all be."
She describes the probate court overseen by Tarrant County Judge Steve M. King as a "well-oiled group of people who can't seem to find a way to make money except to take it away from other people."
King stripped Luck of her right to enter into contracts in 2010. Unable to hire an independent attorney to represent her in front of King, she was forced to rely on court-appointed attorneys whom she believes were in cahoots with the court.
Houston-based senior-rights activist Latifa Ring has spent years battling probate courts that overstep their bounds. Questionable evidence and methods were used against Luck, she said.
"I've never seen anything so terrible as this," Ring said. "There is no way this woman is incompetent, but they have put her through hell for two years."
Luck's husband had a brother, Bill, who had three children. In 2008 the now-grown children hired a local attorney who specializes in estate law, and they sued Luck to demand an accounting of the trusts she managed. Some of the property in the trusts was co-owned by Leskie and his brother Bill, and the children stand to inherit the trusts after Luck's death.
Still, it wasn't those distant relatives who sought to prove Luck mentally incompetent. King and his court-appointed attorneys led that charge, although the relatives' attorney was also an instigator.
King, serving as judge in the stalled lawsuit over the trust, initiated a guardianship case against Luck. Then he ruled that she was incapacitated. All the legal fees were paid with Luck's money.
"It was never my intention to sue for guardianship," said Heidi Luck, one of the relatives who sued Dorothy Luck over the trust. "Once the lawyers and everybody got involved, it seemed as if we couldn't get out of it."
Luck didn't believe she'd done anything wrong in managing the trusts, and she wasn't willing to settle. She was ill and combative during a deposition and sparred verbally with attorney David Bakutis, who was representing her relatives. When questioned, she also discussed her finances. She was no spendthrift. Money flowed into home renovation projects, and she liked to pamper herself with nice things. She hired and fired attorneys, accountants, and advisors who helped oversee her investments.
Outsiders looking in might say she was too loose with her money. Luck would tell them it's none of their business. She'd been handling her money for many years without problems. If someone wanted to challenge her, she was prepared to hire an attorney and go to court to prove she had everything under control. But as Luck dug in her heels, her relatives' lawyer decided her manner of spending might indicate a mental incapacity. Bakutis threatened her with guardianship during the deposition.
Soon after, attorney Monika Cooper of ShannonGracey filled out a guardianship referral form. ShannonGracey is a well-known Fort Worth law firm with ties that reach back 80 years in the local business community.
Cooper described herself on the form as Luck's friend, but the only time Luck recalled meeting her was when Cooper showed up at her house to tell her to attend the deposition.
Cooper works with attorney Lisa Jamieson. And Jamieson is the attorney whom King would appoint to represent Luck in her guardianship case.
Cooper's referral form is not listed among the official court documents, but it was included in some paperwork provided to Luck. King initiated the guardianship case when he appointed attorney Ross P. Griffith to investigate whether Luck was incapacitated.
"You can't say to someone, 'I think you are incompetent,' and then 'I'm going to have a hearing and decide whether you are or not,' " Ring said. "That's a rule that needs to change in Texas."
Luck's own doctors declared her competent and capable of taking care of herself. The court ordered Luck to be examined by different doctors. Those doctors initially cleared Luck, but later changed the diagnosis to "partial incapacity" after Griffith asked for a clarification. With that, King placed Luck — and her money — under guardianship.
Most of the attorneys or their law firms involved in this case can be found listed among King's campaign contributors. Most refused comment or did not respond to interview requests for this article. King would not comment on the case being litigated, nor would he discuss the guardianship system in general.
After being placed under guardian-ship in 2011, Luck was forced to settle the lawsuit with her relatives. It was involuntary on Luck's part; she didn't know anything about it. She was still insisting she'd done nothing wrong and was in good mental health. She wanted a jury trial.
Attorney fees on all sides were deducted from Luck's bank account. And her future continues to rest in the hands of a judge, attorneys, guardians, and bankers, all of whom regularly work together and profit from these types of cases.
Ring said she believes the guardian-ship system in this case was abused in the name of greed.
"Dorothy was saying she wasn't going to [settle the lawsuit]," Ring said. "It appears that may have been the reason that an attorney who is well versed in guardianship law would push for a guardianship case, making it easier to get control of Dorothy's estate and enter a settlement on her behalf."
King's ruling forced Luck to wait a year before she could ask to have her rights reinstated. A year came and went, then another. Luck is still trying to get her rights back.
"I have given this case all the fight I have," Luck said. "It proves that anybody can come and get you and say you're incompetent, even when five or six doctors say you're not."
  ********