It's easy to forget, but there's more to Fort Worth's food scene than West 7th Street and West Magnolia Avenue.
Though South Fort Worth is known primarily for McCart Thrift Center and millions of fast-food joints, the area is now also home to a delightful little ma-and-pa eatery.
True, Allie's Cajun Kitchen, with its drive-thru window and menu lousy with fried items, is technically just another fast-food joint. But there's more to it than that. Allie's also serves up oysters, tilapia, chicken alfredo, and — gasp! — salads.
A good starter is the plate of boudin bites: three golden fried balls of, basically, sausage jambalaya. Each mouthful offered a pleasing contrast of savory insides — peppery sausage, diced parsley, and melt-in-your-mouth white rice — and exterior crunch. The side of cayenne-infused mustard-mayo dip livened up this otherwise non-spicy dish.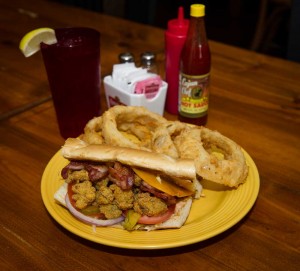 The menu includes a diverse lineup of lunch and dinner platters, all with one thing in common: lots of food for a little money. The shrimp po-boy, which came with a side of chicken gumbo, was seriously authentic. Inside the heavily buttered and toasted half-loaf of French bread was a heap of firm, succulent, naturally salty fried shrimp. Along with some of that delicious mustard-mayo sauce, the veggies — pickles and slices of red onion and tomatoes — were great but not plentiful enough. A little kiss of cool always makes a warm sandwich better.
The gumbo didn't disappoint. The shreds of tender chicken, zesty nibbles of pork sausage still in their casings, soft white rice, and hunks of celery and onions blended together wonderfully. However, the roux — redolent of herbs, chicken bouillon, garlic, sausage, and peppers — was a little thick and on the salty side. And there wasn't any okra to be found.
For dessert, you gotta go with the classic Cajun staple. Allie's beignets arrived as three crisp squares topped with powdered sugar and accompanied by a cup of hearty maple syrup. Talk about mind-blowingly good. At first glance, they looked more like sopapillas, but the fried dough was thicker and chewier than the Mexican variant.
[box_info]
Allie's Cajun Kitchen
3329 Altamesa Blvd, FW. 817-346-7444.
6am-10am daily drive thru only, 11am-7pm Sun, 11am-2pm Mon-Sat.
All major credit cards accepted.
Po-boy w/chicken gumbo ….. $6.99
Boudin bites …………………….. $2.99
Beignets ………………………….. $2.49
[/box_info]