The Dallas Cowboys haven't done much to earn my annual optimism during the past decade, although I still project them to win the Super Bowl most every year.
This past summer, during a surprising stretch of serious doubt, I bet a co-worker that the Cowboys would go 8 and 8 or worse this year. My co-worker bet the team would win 10 games or more.
Of course, the Cowboys came out and whupped the New York Giants in the season opener, and visions of a playoff run and Super Bowl victory washed over me. This might be the year, I thought.
Then came yesterday's game against the Kansas City Chiefs.
Missed opportunities, wideout Dez Bryant vanishing in the second half, shades of Mr. Choke at quarterback, and an overall lack of urgency plagued the team and made them look exactly what they have been and still are at this point – a .500-team on the path to mediocrity.
Yet the pull is too strong. I sense a team coming together. Optimism swells in my chest (or is that the recurring angina from the jalapeno poppers and queso dip?).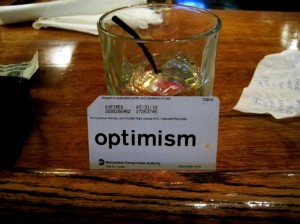 So this morning I turned to my co-worker and said, "Do you want to switch the bet? I'll take the 10 wins or more?"
"Nope," he replied.  "I haven't lost faith, although the Cowboys made too many mistakes. My biggest complaint is they just don't have the killer instinct."
He described how quarterback Tony Romo ended the first half by throwing a three-yard pass to Jason Witten when the team needed 10 yards to get into field goal position, and lamented the same cop-out at the end of the game, when Romo threw a short pass to a running back when he needed to throw a Hail Mary downfield and try to win the game.
"Well, if they lack the killer instinct and still can't find a decent play-caller, why won't you switch the bet?" I asked.
"This was just the wake-up call the Cowboys needed," he said.
What a sucker.