Rick Rainey, a vice president and spokesman for Enterprise Products, pointed to a National Academy of Sciences report released in June as proof that tar sands pipelines are no more dangerous than other petrochemical lines.
"When people use the phrase 'tar sands,' they think of thick, viscous material. But what goes into our line is actually pipeline-quality crude oil that's already been processed. It's really no different from moving some of the heavy crude we've been moving from Venezuela since the 1970s," he said.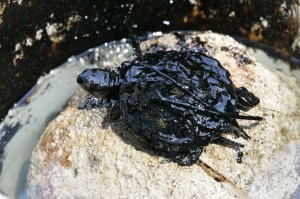 The central finding of the NAS report, commissioned by Congress in response to the proposed Keystone pipeline, was that there was no cause of pipeline failure that is unique to tar sands bitumen and no physical or chemical property of the bitumen that would make it more likely than other crude oil to cause problems.
But critics say the NAS was asked to study such a narrow slice of the problem that the primary issue was ignored. That is, what happens when a spill does occur? The tar sands alone — like a mix of tar, sand, and water — are much too heavy and thick to move through a pipeline without help. When bitumen spills, the toxic gases and liquids added to the tarry goop to make it light enough to pump through a pipe are released. The heavy tar sands material itself sinks into the ground rather than pooling on the surface and thereby poses a much bigger risk to the environment than other oil and gas spills.
Tar sands opponents also insist that, regardless of what the NAS reported, statistics do show that pipelines carrying that substance spill much more frequently.
Anthony Swift, a lawyer and pipeline specialist with the Natural Resources Defense Council, said comparisons of crude and tar sands pipelines show that the latter spill 3.6 times as often as the national average for ordinary crude oil lines.
Wilma Subra, a Louisiana chemist specializing in environmental and health issues related to the oil and gas industry, said tar sands lines "simply have a great many more ruptures in those old lines, and they will have severe environmental and human health impacts."
In a major spill in Michigan and in the Pegasus spill in Arkansas, she said, "Water bodies were affected, and they are much more difficult than ordinary crude to clean up without destroying the environment that was contaminated. To clean it up, you frequently destroy the entire ecosystem that was contaminated."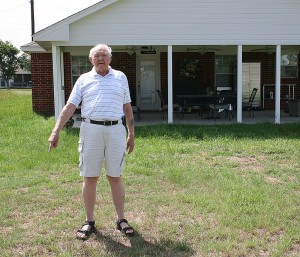 Royce Don Deaver, a pipeline specialist who worked with Exxon for 33 years, said the use of old pipe is a disaster waiting to happen. "The facts show that pipelines over 50 years old have 10 times the number of spills per mile than newer pipelines. You have metal fatigue, corrosion, [and] ground subsidence, which all increase the probability of failure.
"Now, put tar sands through that line, the heaviest material that lines carry, and you're adding to your potential problems," said Deaver, who now works as an expert witness in oil spill cases. "Add to that reversing the direction of the flow in the lines, like the Pegasus line in Mayflower was and the Seaway line running from [Oklahoma] to the Gulf Coast, and you increase your potential problems because it changes the pressure on some areas of the line. A bend in a line running north to south might have been a low-pressure curve for 40 years. Start running that material south to north, and that bend in the line might suddenly have very high pressure. That's a problem with any line reversal."
But Rainey said older pipelines present no added problems. "Age is not a determining factor in the quality of a pipeline," he said. "As long as they are inspected properly, they can last indefinitely. There's no timeline for a pipeline. And Seaway has been inspected top to bottom."
As for reversing the direction of the flow in the Seaway line, Rainey said, it's simply a matter of doing due diligence on the line before putting it into service. "We inspected the line thoroughly, addressed areas that needed to be addressed, changed valves," he said. "The reversal is not an issue."
Rainey minimized the effect of additional pressure needed to move the tar sands bitumen. He said that the line will run at 700 pounds of pressure per square inch, "not much different than it ever was." He acknowledged that Seaway traditionally moved light and heavy crude at pressures no higher than 600 psi. But he stuck by his statement that the increase to 700 psi won't affect the integrity of the line.
In its first year of operation, TransCanada's Keystone 1 pipeline — which runs from Alberta, Canada, down through Steele City, Neb., then east to refineries in Pakota, Ill. — had 12 spills in the U.S. portion alone. That was all new steel pipe –– and a record for spills by a new pipeline in this country. In the Canadian portion of the line, with a combination of old and new pipe, there were several dozen more toxic spills.
The Keystone XL line, from Cushing, Okla., to the Texas coast, is being built of all new steel pipe. It isn't in operation yet, but already dozens of lengths of pipe in just one 60-mile section north of Winnsboro, Texas, have had to be replaced. Some of the pipe was dented, some had faulty welds, and at least one pipe had a hole in it large enough that protesters who had locked themselves inside the pipe could see the sun rise through the opening.
Those flawed sections, say opponents, are just the ones TransCanada found. "Most of the time," said Deaver, "it's a farmer out in a field or a flyover that actually spots a leak. And by the time they do, well, thousands of barrels might have spilled over the course of months or years."
Deaver said leaks in remote areas can go on for years before they're noticed. And the older the pipe, the older the welds and the bigger the cracks.
 ********