Enterprise's Rainey said that the company plans to move the current Seaway line from under the Richland-Chambers Reservoir. "That lake … was built after the pipe was in place," he said. "Both the existing line and [a planned] sister line will be rerouted around the lake to ease the residents' concerns."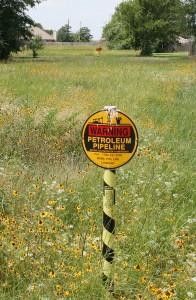 Price Howell runs the Home Medical store in Gun Barrel City. His house backs up to the Pegasus easement. He joined forces with DaSilva of Safe Communities Alliances in fighting to keep that line from reopening, through a petition drive and town hall meetings. And he's disgusted at what he calls "rich cats putting people at risk."
"Until the Mayflower spill, I had no idea there was a pipeline in the neighborhood," Howell said. "But I'll tell you how bad it is: I tried to sell my house and was told not to even bother putting it on the market because of all the publicity about the Mayflower rupture. No one would want my house. And my house isn't even near the spill. It's just that everybody now knows that that old line is a time bomb."
Howell, 82, said that in his opinion a rupture under Cedar Creek Reservoir would be disastrous. "Without this lake the whole region will die. People cannot survive without the water supply from that lake."
Chad Lorance, spokesman for the Tarrant Regional Water District that owns the Richland-Chambers and Cedar Creek reservoirs, said that protecting the quality of water in those reservoirs "is one of the district's top priorities. We don't see any reason to oppose the operation of this pipeline as long as it meets applicable federal and state rules and regulations."
Deaver said that to really provide adequate oversight of pipelines, government agencies need staffers who "know metallurgy, pipeline integrity, stress analysis, and a host of other pipeline aspects. And nobody's got them, certainly not the federal or state regulators."
The current regulatory approach, he said, has been to allow pipeline companies to make decisions regarding pipeline safety, with ostensible oversight by agencies that have neither the knowledge nor the muscle to do the job. "What else can those agencies do? They haven't got the specialists," he said.
Swift, the National Resources Defense Council's specialist, said such delegation of responsibilities to pipeline operators "is putting the fox in charge of the chicken coop. What it means on the ground is that when a pipeline company makes one of these reversals [of flow in a pipeline], it's under very little pressure to improve or update the line.
"We're in a world where our federal pipeline regulators don't currently differentiate between tar sands crude and conventional crude," he said. "We're beginning to find there are different risks. And our pipeline system is aging, and we don't have a national plan in place to deal with 40-, 50-, 60-year-old pipelines that are not up to the job they were built for, let alone up to moving materials with a higher set of risks."
None of which matters to most pipeline companies because of the low cost of noncompliance. "The fines are a fraction of the cost of repairs," Swift said. "For every year they delay those repairs, it's money in the bank because of the tens of millions of dollars they keep in their pocket instead of paying interest on capital loans. That's a major financial incentive to delay repairs."
In the Kalamazoo spill, he said, Enbridge "was in violation of two dozen regulations that led directly to a spill that cost them one billion dollars — and they were fined just $3.7 million."
Swift noted that, given the cost of the cleanup, Enbridge probably regretted not having fixed the line earlier. But he also said the true cost of the spill goes beyond the fine and the cost of the cleanup, to encompass the spill's "long-term impact on the people, community, and environment in the Kalamazoo River region."
In both Kalamazoo and Mayflower, many residents have exhibited acute symptoms of exposure to toxic chemicals. "Many of those chemicals are associated with long-term health problems, whether respiratory or cancers or other things. And there is no legal mechanism to hold companies responsible for those long-term health conditions. That's the real cost of those spills, and we won't even see it for years," Swift said.
********

Eleanor Fairchild, who had a section of her property seized through eminent domain by TransCanada for its Keystone XL pipeline, knows what feeling expendable is like. The land the Canadian company took from her included a fast, clear-running stream.
"You remember when they came in and ruined my creek because they put their pipe in the wrong way?" she asked a reporter. "Well, they've come and fixed it and fixed it, and it's still not fixed.
"Their pipe down here is all rotten and had to be replaced. Then they've ruined my freshwater creek. You know, not long ago they said they'd finally found the right people to come and fix the creekbed up. Well, I asked them who the outfit was, and they told me, and I looked them up on the Better Business Bureau, and the company has a D+ rating. D+! Can you imagine ruining someone's land and then hiring a company like that to come and fix it?
"I don't want them near my land. They've done enough damage," she said. "And how much worse will it get for everyone when they actually start running that stuff through the pipe?"
"It gets a lot worse," said Deaver. "And it will keep getting worse until we start putting some of these people in jail."