Fort Worth's Candy Clark couldn't wait to skip town when she was a teenager in 1965 and freshly graduated from Fort Worth Technical High School, now known as Trimble Tech.
She headed to New York and established a modeling career, and then moved to Hollywood. In the past four decades she's made more than 50 movies, including American Graffiti, which earned her an Academy Award nomination.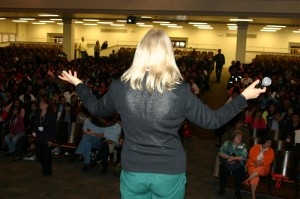 Cowtown, however, never left Clark. Her mother and other relatives still live here, and Clark has been making regular visits for years.
One place she's always wanted to revisit was Trimble Tech.
"This is the first time I've walked these halls since 1965," she said at Trimble Tech this morning while discussing her life and career with students.
She encouraged students to establish career goals and to maintain healthy lifestyles.
A self-made entrepreneur in addition to being an actress, Clark stressed the simple things — show up every day, be prepared, work hard, be patient, and have a good attitude.
She also described what it was like to grow up poor in a single-parent home while overcoming a learning disability.
The Tech students listened intently for the entire hour-long program, participated in a Q&A session, watched clips from several of her movies, and then went outside with Clark for a huge group photo in front of the school.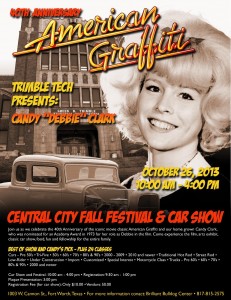 Later, Clark ate a lunch of pumpkin soup and pork medallions prepared from scratch by the school's culinary students.
Fort Worth Weekly profiled Clark this summer ("Graffiti Artist," July 3, 2013), and in the article her brother William Clark lamented that Candy is rarely recognized in her hometown and had never been invited back to her alma mater.
Rev. Kyev Tatum saw the story and took action. Tatum, a Trimble Tech graduate who oversees a youth program at the school, contacted school and city officials and helped establish Oct. 26, 2013 as Candy Clark Day in Fort Worth.
He chose that date because American Graffiti was first shown in Fort Worth on Oct. 26, 1973 at the Ridglea Theater.
While in town this week, Clark received recognition from the city council and the school board.
Tomorrow she'll be the honorary guest at a family-friendly outdoor festival featuring a classic car show, food vendors, and music by Latin Express.
Money raised from the event will go to various Trimble Tech school programs.
The Central City Fall Festival & Car Show is from 10 a.m. to 4 p.m. Saturday at Trimble Tech, 1003 W. Cannon St.