The man pulled an old brown book out of a denim satchel with care, cradling it like a newborn. As he slowly turned the pages of the smoke-stained album –– loose sheets, press clippings, old photographs –– it seemed as though, for him, the walls of the nearly empty coffee shop had dissolved, and he was back in the restaurant he owned and operated for 30 years.
"This is what I encourage some of the guys who open restaurants to do: Get a guest book," Walter Kaufmann said, in an accent that still carries regal Germanic tones. "Once you retire and get out of the business, it's nice to look back. It brings you such happy memories."
Perhaps more than any other chef, Kaufmann helped shaped this city's palate. He brought European-style cuisine to Fort Worth's non-country club members at a time when the dining-out choices here consisted of steak houses, barbecue joints, and Tex-Mex restaurants. His Old Swiss House was a culinary station of the cross for area restaurant-goers, and Kaufmann's charm in the dining room was as famous as his temper in the kitchen, where he was a technically exacting chef and emotionally tempestuous master.
The Westside eatery closed in 1993, and Kaufmann, now 85, hung up his chef's coat long ago. But he didn't exactly head for the beaches of Florida. Most people in their 30s would love to have his energy.
Kaufmann figures he still puts in about 30 to 40 hours every week. He's constantly on the move, working his part-time gig as chef ambassador for the FreshPoint food service distributorship, serving as a board member for the Tarrant County chapter of the Texas Restaurant Association and the Fort Worth chapter of the Texas Chefs Association, and organizing on behalf of two nonprofits, including one he founded.
These days, Fort Worth has become one giant social mixer for Kaufmann. There's almost nowhere in the city he can go without being stopped for a handshake or a hug, which he's quick to repay with his characteristic easygoing charm, big smiles, and peals of laughter.
During an interview with Fort Worth Weekly, two friends stopped by to say hello.
"I'm celebrating," Kaufmann told the couple. "I got out of bed this morning."
 ********
Thousands of Fort Worth residents of a certain age celebrated a birthday, anniversary, engagement, and/or prom at The Old Swiss House. The memories that several customers recounted could have been ripped from the pages of a Cowtown version of The Great Gatsby.
The spacious dining room with fabric-covered walls, live piano music, and tableside flaming desserts was the setting for more than the best dinner in town. It was a see-and-be-seen place where Fort Worth's social elite gathered to eat, drink, and sometimes misbehave.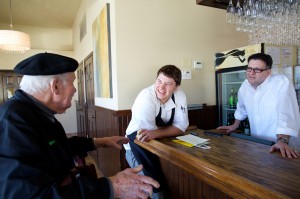 Texas Rangers owner Brad Corbett famously made a trade with Cleveland Indians General Manager Gabe Paul while both were standing at urinals in the bathroom there. In his book Blood Will Tell: The Murder Trials of Cullen T. Davis, author and former Fort Worth Star-Telegram reporter Gary Cartwright wrote that Kaufmann turned down an offer to join Davis' estranged wife and her boyfriend at her home one evening a few hours before her daughter and the boyfriend would be murdered. Cartwright called Kaufmann the "luckiest man on Earth."
(Several years later, Kaufmann, ironically, would become a managing partner of a short-lived restaurant that occupied the Davis' notorious Stonegate mansion, where the murders occurred.)
Kaufmann "retired" after The Old Swiss House closed, but he didn't stay on the golf course for long. After the Stonegate venture, he ran the dining room at Bistro Louise, another longstanding beacon for local foodies. Chef and owner Louise Lamensdorf, who trained under the same chef who taught Kaufmann, had been trying to lure him to her restaurant for years.
"He was an absolute master with the customers," she said. "He understood to the nth degree what a dining experience should be."
To the current generation of Fort Worth chefs, Kaufmann is a mentor and a link to the city's fine-dining history.
Jon Bonnell of Bonnell's Fine Texas Cuisine and Waters: Bonnell's Coastal Cuisine called Kaufmann "the godfather of the Fort Worth food scene.
"He was running fine-dining restaurants while most of us [today's chefs] were in grade school," Bonnell said. "A true legend."
In his current position of chef ambassador for FreshPoint, Kaufmann gets to do what he enjoys most: talking shop with other area chefs. He stops at five to seven restaurants a day to touch base with chefs, cooks, managers, and staff.
"It's the perfect job for me," he said. "It gives me the opportunity to meet with chefs and witness innovations in food and service."
Among the press clippings folded up in the guest book was a faded article from the Star-Telegram with a picture of a 40-something Walter Kaufmann.
"He has aged," the older version said, laughing. "He was a happy guy. He enjoyed what he was doing."
 ********