At age 16, Kaufmann already knew he wanted to be a chef and restaurateur.
"My mother didn't cook, my father didn't cook, so I did a little cooking at home," he said. "The more I did it, the more I liked it."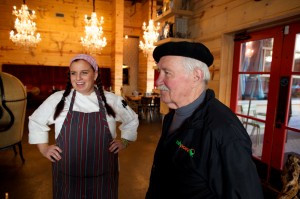 In his hometown of Lucerne, Switzerland, he apprenticed for three years under American Academy of Chefs hall-of-famer Charles Finance. Afterward, he moved to London and worked in the kitchen at the storied Grosvenor House hotel. He wanted to learn English, but most of the kitchen staff was from France. So he moved to the dining room to bus tables –– the first of many times he'd yo-yo from the back to the front of the house –– and then to be a waiter. He willingly spent three years at those modest jobs in order to learn how the whole restaurant –– not just the kitchen –– operated.
Back in Lucerne, Kaufmann was eager to open his own restaurant but didn't have the money. When a New York couple hired him to run a Lucerne restaurant they'd inherited, it became clear that, at 22, he didn't have the discipline either.
"I didn't want to be nailed down working six days a week, 12 hours a day, at that age," he said. "I was too young to take on that much. I wanted to go skiing with my friends."
He hit the slopes, but his passions for cooking and for wandering took over again after a few months. He answered an ad in a Swiss newspaper for a job as a sous chef at the Petroleum Club in Houston. (The head chef, from Switzerland, wanted to work with a fellow countryman.)
When he got off the airplane, "I thought I was going to faint because it was so hot," Kaufmann said. He resolved to move to a milder climate. Fortunately, his mentor, Finance, had been hired as chef of the then-new Ridglea Country Club in Fort Worth. Kaufmann visited him and was hired on the spot.
A few years later, his cooking career took its last detour from Fort Worth. After a short stint in New Mexico, he was hired as food and beverage director for Fort Worth's Colonial Country Club, and he's been here ever since.
Kaufmann became a rock star among the country club elite, gaining enough of a following to warrant beginning his own restaurant. In 1964, he opened The Old Swiss House on Camp Bowie Boulevard, near the current location of Uncle Julio's.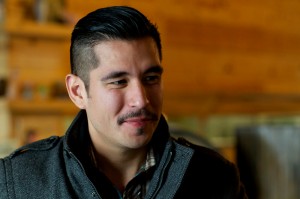 "Being at the right spot at the right time helped me a lot," he said. "My competition was steak and baked potato. I had everything different. I had Dover sole and chateaubriand. Nobody had it."
Lamensdorf, who moved to Fort Worth with her husband in 1966, echoed Kaufmann's sentiments. "It was really the only European-style restaurant in Fort Worth," she said. "There were only two fine-dining restaurants. One was the Carriage House, where they had American fish and steaks, and his restaurant.
"I told him the other day that my favorite dish was veal Oscar," she said. "It was beautifully prepared, and it was always a treat."
In 1982 the expansion of I-30 forced Kaufmann to move the Swiss House to University Drive, where it operated until he closed the doors in 1993, when he decided to retire.
But retirement didn't suit him. It wasn't long before he and Lamensdorf were planning to open a restaurant together.
Lamensdorf had also been trained by Finance. In 1977 she and two partners opened The French Apron Cooking School, though she had no prior restaurant training. Lamensdorf credits Finance with taking her from an accomplished teacher and home chef to the ranks of professionals. Thanks to Finance's culinary cachet, she was able to train at several world-famous European restaurants. She was drawn to Kaufmann, who shared her love of European food.
"Since he [Kaufmann] was so classically trained, and I was doing European cooking, he had insight into what I was trying to do," she said.
But before Bistro Louise opened on Hulen Street, Kaufmann was offered the chance to help turn the Stonegate mansion into a restaurant. He found the offer too enticing to pass up.
Though the place held a fascination for most Fort Worth residents, the restaurant lasted only a few years. A combination of stress from trying to keep a struggling restaurant afloat and some unhealthy eating habits led Kaufmann to suffer a heart attack. After about a year, he split with the ownership group over creative differences.
Lamensdorf, at last, was able to persuade him to run her dining room.
"I needed someone who was very experienced and could create a European ambiance in the dining room that I wanted so much to bring to Fort Worth," she said. "I approached him and asked him to help me and run the front, and he agreed."
For Kaufmann, the position was a relatively low-stress way to keep a hand in the restaurant business. He ran the dining room for Lamensdorf for several years, seeing it as a chance to reconnect with his Old Swiss House customers. The bistro occasionally hosted "Old Swiss House Night," when Kaufmann would don his white chef coat and serve classics from his old menu.
He left Bistro Louise briefly to work as a managing partner of The Balcony, another Westside fine-dining staple, but stayed only about a year before returning to Lamensdorf's dining room in a limited management role.
"I loved the job," he said. "It kept me from being at home on a rocking chair."
 ********