Only a few years ago, The Orbans might have been the biggest band in North Texas, packing shows across the region, everyone no doubt drawn by the quintet's polished, melodic, and smart yet rugged pop-rock. And if you missed a show, you didn't have to wait long for another, even though frontman Peter Black, guitarist Kenny Wayne, bassist Cliff Wright, drummer Blaine Crews, and keyboardist Justin Pate were gigging constantly all over, from the West Coast to the East and lots of places in between.
The year was 2010, and the guys had just released their debut album. Recorded at Cedar Creek Recording in Austin and Fireproof Recording Studio in Los Angeles, When We Were Wild is still one of the best platters ever to come out of Texas. Tracks from that monster are regularly spun on KKXT/91.7-FM, and you can hear some in snippet form on a few national TV shows. The band was playing so much that writing new material took a back seat. It wasn't until the guys had settled in at home and after Black had become the primary caretaker of his now-3-year-old son Aiden that The Orbans began writing again.
As they were woodshedding at Blue Smoke Studios in North Fort Worth, though, the scene kept turning, producing new headlining bands and pushing The Orbans further and further into the past. "That's just how we are," Black, 31, said over beers recently. "It takes a long time. … I think we just kind of accept it, and what's the rush, really?"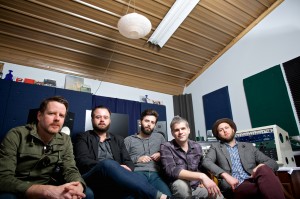 For a guy whose band name probably draws blank stares from most early-twentysomething musicians in town, Black is utterly calm. Maybe he knows that once The Orbans' sophomore album comes out this week, he and his bandmates will be back on top again. Vedere (Italian for "seeing" and/or "sight") is just that good.
Recorded last year around this time, mostly with producer Chad Copelin (The Flaming Lips, Sufjan Stevens, Burning Hotels) and mostly at his Blackwatch Studios in Norman, Okla., the 13-track opus manifests everything that's great about The Orbans –– especially their mellifluous verses and Wayne's colorful, dynamically textured fretwork –– while also departing quite a bit from When We Were Wild. "Vocally [Vedere] is a lot more interesting, a lot more challenging," Black said. "Rhythmically it's more interesting. Even the slower songs … have a lot of energy to them."
With Vedere, The Orbans simply have raised the bar. The first track, "Backlit Eye," is also the first single (and is getting airplay on KXT), and it's consummately delicious, sugary even. Bright, rippling, Asian-sounding chimes from Wayne's guitar lead to a brief vocal passage before a military beat and a series of siren-like twangs explode. The chorus is right in your face, Black's light but masculine voice ascending briefly into falsetto territory and also commanding attention, "Get it out!"
The rest of the album is equally stellar. The band cruises through moments of waltzing folk ("Getting Ahead to Nowhere") to sweeping grandeur ("Waste," the Rubber Soul-esque "Before Its Time" and "Come to Let You Down") to New Wave (parts of "Bah Bah") to even a little yacht rock (the intro to "Island of Me") without ever sounding like anyone but The Orbans.
In the years between When We Were Wild and Vedere, The Orbans underwent some changes. Drummer Crews, keyboardist Pate, and bassist Wright were replaced by Jordan Elder, guitarist Taylor Tatsch (Shadows of Jets), and Danny Balis (Calhoun, The King Bucks) respectively, and the band left Blue Smoke to practice at AudioStyles. The newish Colleyville studio owned and operated by Tatsch is equidistant for Dallasites Balis and Black (who lived in Fort Worth from 2007 until 2011) and the rest of the group.
The new blood has been inspiring, Black said. The first newcomer, Elder, got things started. He had just returned from a stint in New York City and was itching to work with Black. The initial result of their collaboration was Heads Many Hands, Black's 2011 debut solo album, "just a bunch of songs that didn't seem like they were Orbans songs necessarily," Black said.
The Orbans didn't make recording Vedere easy. Along with work at Blackwatch, they also laid down tracks at Barry Eaton's Justin studio with producer Jordan Richardson, a.k.a. Son of Stan, and at Redwood Studios in Denton with producers/engineers Joey McClellan and Jordan Martin. "There definitely were points where it was 'Is this all going to come together? Is this all going to have continuity? Is it going to sound the way we want it to sound?' " Black said.
The wait for the next Orbans recording might not be as long as this one has been. And what they pump out might not even be an album. "There's something about having an album, the challenge of an album that has continuity," Black said. "That being said, I don't know necessarily what we'll do next."
The goal with Vedere is simple: "I think we just want to share it," Black said. "People are still downloading When We Were Wild, and I'm, like, 'Good God.' If you could put this one alongside [When We Were Wild] and just put that in the channel, then hopefully [Vedere] will get shared along with When We Were Wild."
The Orbans also want to tour but not in the style that they used to. "Shit," Black said. "It used to be we'd sleep in the corner with a towel, and then you get to that point where it's 'We're gonna have beds,' and then you get to that point, 'How soft are the beds?'
"The main thing," he continued, "is that I'm still having a whole lot of fun with it. I know [Wayne] is too. … As you get older, you love music more. When you're young, being in a band is fun, being in a band is cool, but you have to really love music to keep doing it, and I think that's where people go different ways."
[box_info]
The Orbans
Sat w/Foxtrot Uniform, The Venetian Sailors at The Live Oak Music Hall & Lounge, 1311 Lipscomb St, FW. $10. 817-926-0968. • Sat, Mar 8, w/Calhoun, Oil Boom at The Kessler Theater, 1230 W Davis St, Dallas. $17. 214-272-8346.
[/box_info]