The Lego Movie (PG) The funniest movie so far this year is this animated spectacular about a Lego construction worker (voiced by Chris Pratt) who becomes the only figure capable of stopping a tyrant (voiced by Will Ferrell) from supergluing the universe into place. The movie isn't short of action sequences, but filmmakers Phil Lord and Christopher Miller (21 Jump Street) prefer to generate their frenetic pace with the sheer number of exquisitely timed gags that they throw at us. With its subversive wit taking shots at consumer culture, this movie is almost avant-garde. The climactic live-action sequence goes on too long, but the enviable voice cast more than makes up for it. Listen for Tegan & Sara's earworm of a techno jam "Everything Is Awesome." Additional voices by Elizabeth Banks, Morgan Freeman, Liam Neeson, Will Arnett, Alison Brie, Charlie Day, Nick Offerman, Jake Johnson, Will Forte, Dave Franco, Billy Dee Williams, Cobie Smulders, Shaquille O'Neal, Channing Tatum, and Jonah Hill.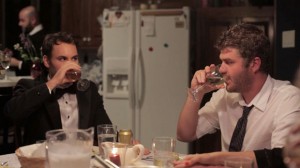 Lone Survivor (R) This movie tries to celebrate the heroism of Navy SEALs but winds up as a glorified recruitment commercial instead. This film is based on the real-life story of Marcus Luttrell (played by Mark Wahlberg), who was on a reconaissance mission in Afghanistan in 2005 with a small team of other SEALs when it went bad. Writer-director Peter Berg (Friday Night Lights, but then again, Battleship) does well by the sweaty dread as the SEALs wait to engage the Taliban and by the bone-crunching impact when the soldiers hurl themselves down the mountainside to escape death. Yet Berg doesn't apply much critical thinking to the material, and we get little sense of the soldiers as people. The patriotic sentiments in his movies have gotten so woolly that Berg has turned into a more respectable version of Michael Bay. Also with Ben Foster, Emile Hirsch, Taylor Kitsch, Ali Suliman, Rohan Chand, Yousuf Azmi, Alexander Ludwig, Jerry Ferrara, and Eric Bana.
Mr. Peabody & Sherman (PG) In adapting Jay Ward's series of cartoon shorts, the filmmakers turn the erudite, hyperintelligent, time-traveling dog (voiced by Ty Burrell) into a befuddled, emotionally distant, somewhat overwhelmed adoptive dad to Sherman (voiced by Max Charles). It works surprisingly well until the last 20 minutes or so. The script features surprisingly literate references amid the ear-meltingly bad puns that Peabody is given to. Additional points for a nifty 300 parody and some child-rearing advice from Leonardo da Vinci (voiced by Stanley Tucci): "But Peabody, a child is not a machine! I should know. I tried to build one once. Oh boy, it was-a creepy." Additional voices by Ariel Winter, Allison Janney, Stephen Colbert, Leslie Mann, Dennis Haysbert, Stephen Tobolowsky, Lake Bell, Patrick Warburton, and Mel Brooks.
The Monuments Men (PG-13) A well-intentioned exercise in overreach. George Clooney stars in his own war film as the leader of a real-life group of artists, historians, and curators who went into a combat zone to preserve masterpieces of Western art during World War II. At 118 minutes, the movie feels inexpertly hacked down from something longer — we're not properly introduced to the characters before they're split up and flung to corners of the western front. Clooney's trying to make a larky war movie with undercurrents of seriousness and danger, but the comic moments aren't funny despite the ample talent in the cast, and the reverent speeches about the importance of art come off as sanctimonious. It's frustrating, because you can easily imagine the better film Clooney was trying to make. Also with Matt Damon, Cate Blanchett, John Goodman, Jean Dujardin, Bob Balaban, Hugh Bonneville, Dimitri Leonidas, and Bill Murray.
Non-Stop (PG-13) Slightly less implausible than Snakes on a Plane, though better made. Liam Neeson plays an alcoholic air marshal who tries to thwart a plot to kill the passengers on his transatlantic flight one by one. This thriller is smoothly directed by Jaume Collet-Serra, and it plays like one of those 1970s Airport movies without the big stars, which is both a good and a bad thing. It might have gone over better if Neeson hadn't turned into Mr. Crappy Action Thriller during the last few years, but he's gone to this well once too often. It's good enough to kill 100 minutes on a long flight. Also with Julianne Moore, Michelle Dockery, Nate Parker, Corey Stoll, Scoot McNairy, Omar Metwally, Linus Roache, Shea Whigham, Anson Mount, and Lupita Nyong'o.
Philomena (PG-13) Based on a real-life story, this dramedy stars Judi Dench with an unsteady Irish accent as a woman who teams up with a down-on-his-luck English journalist (Steve Coogan) to travel to America to find the son she was forced to give up for adoption decades ago. Coogan's a well-known comedian in the U.K. who does well acting in a more serious piece. He also wrote the script, and while he and director Stephen Frears make an effort to balance the humor with the more serious parts, it doesn't always come off. Still, the thing opens a window onto an ugly part of Irish history, and does it with skill and a minimum amount of weepiness. Also with Sophie Kennedy Clark, Mare Winningham, Barbara Jefford, Anna Maxwell Martin, and Michelle Fairley.
Pompeii (PG-13) The love story is so boring that you can't wait for the volcano to erupt, and when the thing does erupt, it's so badly done that you wind up feeling cheated by the whole thing. Paul W.S. Anderson directs this terrible-looking historical epic about a gladiator (Kit Harington) who falls in love with a rich man's daughter (Emily Browning) just before the eruption of Mount Vesuvius in 79 A.D. The acting is wretched, especially from Kiefer Sutherland as a lecherous Roman senator, and the CGI-generated eruption doesn't even look as real as your kid's science project. This is disaster porn, and it's not even any fun. Also with Carrie-Anne Moss, Jessica Lucas, Adewale Akinnuoye-Agbaje, and Jared Harris.
Ride Along (PG-13) Kevin Hart is the only sign of life in this listless comic thriller as an Atlanta police academy trainee who tries to impress his fiancée's cop brother (Ice Cube) by spending a day on the job with him. The comic chemistry between the two leads is nonexistent, and the detective story that they get plunged into is uninteresting in the extreme. Hart always works hard to squeeze laughs out of his material no matter how bad it is, but here he's fighting a losing battle. Also with Tika Sumpter, John Leguizamo, Bryan Callen, Bruce McGill, Dragos Bucur, Jay Pharoah, and Laurence Fishburne.
RoboCop (PG-13) It doesn't suck. This remake of the 1987 thriller stars Joel Kinnaman as the future Detroit cop who's turned into a crime-fighting cyborg after an attempt on his life leaves him crippled. The parts involving the cop's home life and his attempts to unravel a criminal conspiracy are riddled with cliches, but director José Padilha (Elite Squad: The Enemy Within) does well with the future tech and the action sequences, and Kinnaman does terrific work as a man struggling to piece himself back together. Watch the satirical original, and it seems to foretell this remake coming to pass. Also with Gary Oldman, Michael Keaton, Abbie Cornish, Jay Baruchel, Jackie Earle Haley, Michael K. Williams, Jennifer Ehle, Marianne Jean-Baptiste, Aimee Garcia, Douglas Urbanski, John Paul Ruttan, and Samuel L. Jackson. — Cole Williams
Son of God (PG-13) This two-hour biography of Jesus was cut down from a 10-hour TV miniseries, which is probably why it plays like Jesus Christ's Greatest Hits. Diogo Morgado stars here, and he has the prophet's gentleness and magnanimity without his ferocity or his gravitas. Director Christopher Spencer looks hamstrung by his budget when it comes to evoking the wondrousness of Jesus' miracles. This is strictly for those who already believe. Also with Sebastian Knapp, David Rintoul, Gary Oliver, William Houston, Nonso Anozie, Langley Kirkwood, Darwin Shaw, and Amber Rose Revah.
That Awkward Moment (R) That awful movie. Zac Efron, Michael B. Jordan, and Miles Teller star in this fatally sensitive and unfunny romantic comedy as three pals who find themselves at a crossroads with their relationships with women. The cast is stellar. I thought Efron would be outclassed by the other two actors, but he's actually rather good. Their efforts, though, are all for naught. The filmmaker throws in a few sequences built around nudity and penises to convince us that this is a raunchy comedy. That doesn't work either. Also with Imogen Poots, Mackenzie Davis, Jessica Lucas, Addison Timlin, and Josh Pais.
3 Days to Kill (PG-13) This misconceived thriller stars Kevin Costner as a dying CIA agent who's offered a life-saving drug in exchange for performing a hit in Paris on a shadowy international terrorist. Working with a relatively subdued color palette, director McG loses control of the tone of this piece as he tries to balance the thrills with soapy comedy about the agent trying to reconnect with his estranged, troubled daughter (Hailee Steinfeld, giving the movie's only semi-palatable performance). The result is disjointed in the extreme and more than a bit of a snooze. Also with Amber Heard, Tómas Lemarquis, Marc Andréoni, Richard Sammel, Jonas Bloquet, Bruno Ricci, and Connie Nielsen.
300: Rise of an Empire (R) This sequel never escapes the haunting shadow of Zack Snyder's 2007 original. Taking in events both before and after the Battle of Thermopylae, this one stars Sullivan Stapleton as the Athenian general Themistocles, who tries to rally his fellow Greeks against an impending invasion by the Persians. Director Noam Murro follows too closely in Snyder's footsteps, imitating the original's look and feel without the flair for action, and the script is once again filled with bloviating about the warrior ideal. In a cast made up mostly of anonymous Australian guys, Eva Green easily steals this movie, bringing tons of badassery and her usual fierce sexuality to the role of the Persian naval commander Artemisia. The filmmakers should have had the sense to keep this character around for the third movie. Also with Rodrigo Santoro, Hans Matheson, Callan Mulvey, David Wenham, Jack O'Connell, Andrew Tiernan, Ashraf Barhom, and Lena Headey.
12 Years a Slave (R) Even more significant than Schindler's List. Steve McQueen's epic tells the story of Solomon Northup, a real-life free black New Yorker who was abducted in 1841 and forced to work as a slave on a Louisiana plantation. McQueen directs this with his typical austerity and rigor and pulls off an extraordinarily powerful long take in which Solomon (Chiwetel Ejiofor) is strung up from a tree branch and suspended on his tiptoes while the other slaves go about their work, afraid to offer help. Screenwriter John Ridley draws a vivid, panoramic view of all the twisted human specimens that the slave economy produces, and McQueen and his actors flesh them out beautifully, with a terrifying Michael Fassbender as a sadistic slavemaster and Ejiofor giving the performance of his career. This wrenching film is crucial to understanding America's heritage. Also with Sarah Paulson, Lupita Nyong'o, Paul Dano, Benedict Cumberbatch, Paul Giamatti, Michael K. Williams, Scoot McNairy, Taran Killam, Adepero Oduye, Garret Dillahunt, Alfre Woodard, Brad Pitt, and Quvenzhané Wallis.
The Wind Rises (PG-13) This wondrous Oscar-nominated animated film will make you glad that Hayao Miyazaki hasn't really retired. Based on the early life of Japanese aviation pioneer Jiro Horikoshi, it features Joseph Gordon-Levitt as the voice of Jiro, who designs airplanes for a Japanese government that's gearing up to conquer the Pacific in the 1930s. Miyazaki has never been afraid of ethically complicated places, and he heads straight for the thicket that greets Jiro, who's well insulated from the death and destruction that his planes will cause. Miyazaki puts warning signs all around his hero, but nevertheless glories in his craftsmanship and depicts his dreams of flight as beautiful, soaring things. This is a work of transcendent grace wedded to an appreciation of a man with infinite ability to take pains. Additional voices by Emily Blunt, John Krasinski, Martin Short, Stanley Tucci, Mandy Patinkin, Mae Whitman, Werner Herzog, Jennifer Grey, Darren Criss, and William H. Macy.
The Wolf of Wall Street (R) Not Martin Scorsese's best film, but definitely his funniest. Leonardo DiCaprio stars as Jordan Belfort, the real-life fraudster whose firm made more than $1 billion in the 1990s manipulating penny stocks. The movie is structured too much like Goodfellas, with its high-living band of outlaws wielding phones instead of guns. Still, after playing a string of intense, tormented heroes, DiCaprio is revelatory in his first out-and-out comic performance, blending well with a cast full of experienced comedians (including Jonah Hill as his nebbishy right-hand man) and executing a great piece of slapstick involving Quaaludes and a car. Scorsese may be repeating himself, but his story hasn't lost much in the re-telling. Also with Margot Robbie, Kyle Chandler, Rob Reiner, Jon Bernthal, Jon Favreau, Joanna Lumley, Cristin Milioti, Shea Whigham, Katarina Cas, P.J. Byrne, Kenneth Choi, Brian Sacca, Henry Zebrowski, Ethan Suplee, Jean Dujardin, Matthew McConaughey, and an uncredited Spike Jonze.
DALLAS EXCLUSIVES:
Awful Nice (R) James Pumphrey and Alex Rennie star in this comedy as two estranged brothers who are forced to travel together to Branson, Mo., to sell the family's vacation home after their father dies. Also with Christopher Meloni, Keeley Hazell, Laura Ramsey, Brett Gelman, Henry Zebrowski, and D.C. Pierson.
The Bag Man (R) John Cusack stars in this thriller as a gangster who's summoned to a remote motel by a crime lord (Robert De Niro) and instructed to wait. Also with Rebecca Da Costa, Dominic Purcell, Sticky Fingaz, Martin Klebba, and Crispin Glover.
Omar (NR) Nominated for an Oscar for Best Foreign Film, Hany Abu-Assad's thriller stars Adam Bakri as a Palestinian freedom fighter/terrorist who agrees to work as an informant for the Israelis. Also with Waleed Zuaiter, Eyad Hourani, Samer Bisharat, Essam Abu Abed, and Leem Lubany.