The Lego Movie (PG) The funniest movie so far this year is this animated spectacular about a Lego construction worker (voiced by Chris Pratt) who becomes the only figure capable of stopping a tyrant (voiced by Will Ferrell) from supergluing the universe into place. The movie isn't short of action sequences, but filmmakers Phil Lord and Christopher Miller (21 Jump Street) prefer to generate their frenetic pace with the sheer number of exquisitely timed gags that they throw at us. With its subversive wit taking shots at consumer culture, this movie is almost avant-garde. The climactic live-action sequence goes on too long, but the enviable voice cast more than makes up for it. Listen for Tegan & Sara's earworm of a techno jam "Everything Is Awesome." Additional voices by Elizabeth Banks, Morgan Freeman, Liam Neeson, Will Arnett, Alison Brie, Charlie Day, Nick Offerman, Jake Johnson, Will Forte, Dave Franco, Billy Dee Williams, Cobie Smulders, Shaquille O'Neal, Channing Tatum, and Jonah Hill.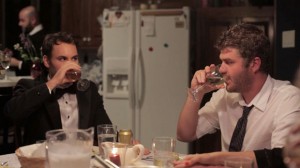 Lone Survivor (R) This movie tries to celebrate the heroism of Navy SEALs but winds up as a glorified recruitment commercial instead. This film is based on the real-life story of Marcus Luttrell (played by Mark Wahlberg), who was on a reconaissance mission in Afghanistan in 2005 with a small team of other SEALs when it went bad. Writer-director Peter Berg (Friday Night Lights, but then again, Battleship) does well by the sweaty dread as the SEALs wait to engage the Taliban and by the bone-crunching impact when the soldiers hurl themselves down the mountainside to escape death. Yet Berg doesn't apply much critical thinking to the material, and we get little sense of the soldiers as people. The patriotic sentiments in his movies have gotten so woolly that Berg has turned into a more respectable version of Michael Bay. Also with Ben Foster, Emile Hirsch, Taylor Kitsch, Ali Suliman, Rohan Chand, Yousuf Azmi, Alexander Ludwig, Jerry Ferrara, and Eric Bana.
Mr. Peabody & Sherman (PG) In adapting Jay Ward's series of cartoon shorts, the filmmakers turn the erudite, hyperintelligent, time-traveling dog (voiced by Ty Burrell) into a befuddled, emotionally distant, somewhat overwhelmed adoptive dad to Sherman (voiced by Max Charles). It works surprisingly well until the last 20 minutes or so. The script features surprisingly literate references amid the ear-meltingly bad puns that Peabody is given to. Additional points for a nifty 300 parody and some child-rearing advice from Leonardo da Vinci (voiced by Stanley Tucci): "But Peabody, a child is not a machine! I should know. I tried to build one once. Oh boy, it was-a creepy." Additional voices by Ariel Winter, Allison Janney, Stephen Colbert, Leslie Mann, Dennis Haysbert, Stephen Tobolowsky, Lake Bell, Patrick Warburton, and Mel Brooks.