According to multiple sources, including a classmate, Ashley was 17 and still a student when her affair with Vianes began.
A source close to Ashley's family said her parents had complained to the school's principal in 2012 that the sergeant was spending too much time with their daughter. The source told the Weekly that the principal explained that it was necessary that the two spend time together because Ashley was so involved in the school's ROTC program.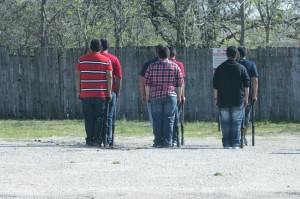 Since the parents didn't make a formal complaint, their concerns never made it to the district administration to be investigated. By the time officials learned of the relationship, Vianes was gone.
District spokesman Clint Bond called the issue a "personnel matter" and declined comment.
Jacinto Ramos, the school board trustee who represents the Diamond Hill-Jarvis area, wouldn't comment either. He told the Weekly he did look into the district's hiring practices for ROTC instructors.
Those instructors, he said, must have at least 20 years of military service. After being hired, Ramos said, they receive 12 hours of training annually, including an online ethics course and an additional six hours of training delivered by the staff of the district's ROTC program, "dealing with ethics, relationships, sexual harassment, prevention of sexual harassment, and how to intervene with peers if there are suspicions of anything that is improper."
For the whole length of Vianes' relationship with Ashley, until he left Fort Worth, he was still seeing Stephanie and still living with his wife. The texts that Stephanie found on Vianes' phone began in 2012, when Ashley was a 17-year-old senior and one of Vianes' ROTC students.
In many of the texts, the two referred to their past sexual encounters. In tamer exchanges, they wrote about missing each other:
"Yes baby I want u [sic]," the student wrote.
"I'm sorry baby and I want u [sic] real bad," Vianes responded.
In the final message, Vianes apologized for not immediately messaging his student back, because he was working on her college recommendation letter.
"Sorry baby I was finishing up ur [sic] recommendation letter online it is due today," he wrote. "Yes we're alike baby we wait until the last possible moment but it's a awesome one baby."
According to Vianes' arrest warrant, the two exchanged more than 24,000 text messages between March 2012 and February 2013.
Stephanie, furious, confronted Vianes about the messages. He didn't deny the relationship.
"He got on his knees and apologized," said Stephanie. And, she said, Vianes swore never to see Ashley again.
Stephanie said she was gullible enough to forgive Vianes and continued to see him for another year or so after that. But she didn't entirely trust him. She took screen shots of the time-stamped messages, which she later turned over to the police.
 ********
On Jan. 11 of this year, according to the arrest warrant, Vianes' wife found a receipt for a hotel room in her husband's pants pocket. When she questioned him about it, he was evasive and told her he had to go in to work, even though it was a Saturday.
After he left, his wife went to Diamond Hill-Jarvis, but Vianes wasn't there. She found him at the hotel room the receipt had been for, with Ashley.
Three days later, he resigned his ROTC job.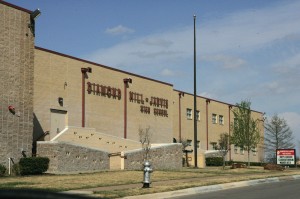 Stephanie said it was then Vianes sent her a cryptic message saying he was headed north to start a new life. She said she knew intuitively that it meant he was back with Ashley.
Upset, Stephanie went to Vianes' house and confronted his wife. Stephanie told her about her own affair with Vianes and about the texts. She said that Vianes' wife initially didn't believe that her husband would have slept with someone who was still his student.
Stephanie then tried to contact Ashley's parents. Their phone had been disconnected, so she found their address and confronted them in person.
She said Ashley's parents were shocked but told her about their own renewed suspicions: Ashley had left hurriedly, allegedly for Huntsville, where she had told her parents she'd been accepted to Sam Houston State University. Her parents had planned to take her there, but she had left on her own a day early.
Stephanie had already spoken to Ashley's sister and cousin. She said she told the couple, "Your daughter never got accepted to that school."
Now scared for their child's safety, Ashley's parents filed a missing-persons report. A source said the couple also went to the school principal and complained. The principal apologized to them for not taking their earlier concerns more seriously.
The source said the parents also confronted Richard Crossley, Vianes' commanding officer in the district's ROTC hierarchy, who encouraged them to pursue legal action.
On Feb. 7, San Antonio police arrested Vianes at his cousin's house. Ashley was with him. He was released on bond the next day, allowed to remain in that city, where he has family. No date has been set for his trial.
 ********
The current Diamond Hill-Jarvis student quoted at the beginning of this story said that before Vianes left town, she too had been developing a close relationship with "Sarge," but it never became inappropriate. She found out about his sexual misconduct through rumors. She is 17.
"We were close," she said. "He was like a father to me." Toward the end, shortly before Vianes left town, "he started pushing me away. He made me feel like I was doing something wrong.
"Once I heard the truth, it all made sense," she said.
She said she just wants the truth about Vianes to come out. "I feel bad that people are feeling sorry for him when I know what he's doing."