The phone rings. A woman wearing a flowered blouse and black slacks rolls her office chair across the room and snatches up the receiver.
"Ema's Enterprises," she says in a loud but friendly voice.
LaVon Rosenauer has answered her phone that way for more than 40 years — Ema (pronounced "Emma") is the name bands have always known her by. She runs a booking agency that provides everything from pop bands to clowns to celebrity look-alikes to orchestras to comedians.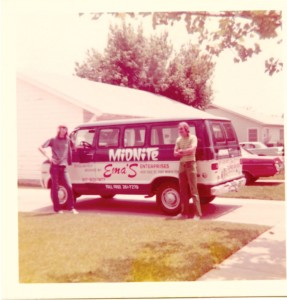 "For the best in entertainment, you can depend on Ema," is her longtime slogan.
Her phone doesn't ring so often these days. But when it does, Rosenauer answers with the same enthusiasm that fired her in 1971 when she created the company. She had no idea then that she would become a major force in the local rock 'n' roll scene during the roaring 1960s and 1970s, back when bands like Texas, Lynx, Lo Della, Savvy, Jamm, and Pantera ran wild.
"When I started, I really didn't know what I was doing, but it was so interesting because I loved music," she said. "The bands kept calling me. It developed into an incredible journey."
Old rockers remember her with fondness.
"She was a trip –– Fort Worth's godmother of rock 'n' roll," former Savvy guitarist Steve Jones said.
"Godmother" is a catch-all term that covers the jobs of manager, driver, seamstress, cook, security guard, and chief disciplinarian to a stable of this area's early rock heroes. Rockers in their teens or early 20s might be filled with passion and spirit, but they're typically clueless about running a band.
"She had the vision," said Mike Johnson, who worked with Rosenauer in the 1970s and later managed local clubs, including the memorable West Side Stories. "Her philosophy was to get these guys to look at their band like it was a business instead of four or five guys having a good time playing music and chasing women."
That philosophy translates to herding some pretty crazy cats, but Rosenauer pulled it off by being tough as a football coach, demanding accountability, and offering higher-paying gigs. If she caught her bands drinking, smoking, or cursing onstage, they were out. Her tough love worked most of the time.
"It's been a great journey; I wish I could do it another 40 years," she said on a recent afternoon, sifting through mounds of photo albums, publicity stills, news clippings, and mementos.
One of the treasures in that stack is a copy of Pantera's first album, Metal Magic (1984), the cover autographed to her by all the band members, including guitarist Darrell Abbott back when he was still calling himself "Diamond" instead of "Dimebag." Rosenauer handled Pantera's local bookings for about a year before the group exploded into a national phenomenon.
Now 84, she's past retirement age, but a hard worker who loves what she does can't put on the brakes so easily. She plans to keep booking gigs and enjoying life for the foreseeable future.
"I'm going to live to be 105 and be shot by a jealous wife," she said.
 ********
A strong work ethic comes naturally to someone raised during the Great Depression. Rosenauer grew up on a 50-acre farm in Ennis, picked cotton, fed chickens, and drove a team of mules before she was even school age. She had big dreams –– she wanted to attend beauty school in Dallas and become a hairdresser. But her family was poor and couldn't afford tuition. Instead, she worked low-paying jobs in Ennis and went to polka dances for fun.
"I'd rather dance than eat," she said.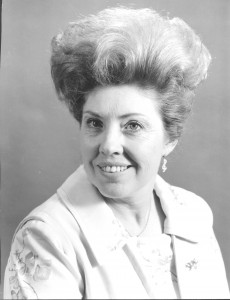 A Czech-American named Dan Rosenauer met her at one of those dances and swept her away.
"I was 18 and in love," she said.
Soon she was married. Their first child was born in 1951 in Fort Worth, where the couple had settled. Nobody knew it at the time, but the year was important. It meant Danny Jr. would be an impressionable kid of 13 when Beatlemania struck America in 1964. By then he'd already shown an innate sense of tempo; he was a rocker in the making.
"He spent a lot of time in the principal's office for drumming on his desk with pencils, so I knew the rhythm was there," Ema said.
Most parents in the 1960s clenched their teeth when their sons began growing long hair. Dan Rosenauer was no different. He glared at Danny Jr.'s long locks. But Ema liked the new style. And when Danny Jr. sought permission to buy a drum set, she encouraged him. Her second son Rodney picked up an instrument as well. Both boys were allowed to invite musician friends over to rehearse in the garage. A band was born.
The boys came up with the name Creations, later changed to Lead Stamp. By the late 1960s, they were playing for live audiences. Rosenauer grabbed the reins, just as she had years earlier when she drove her daddy's team of mules.
"At that time there were about 14 teen clubs around," Rosenauer said. "I started calling. I didn't know how to book anything."
Finding gigs was easier than she'd expected. Demand for bands was high, if they sounded tight and acted professionally. Rosenauer bought a public address system, rented a trailer to haul it behind her car, and drove Lead Stamp to gigs.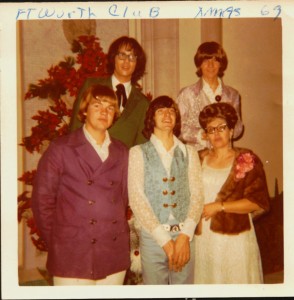 Teen clubs were clean and safe, with rules against smoking, drinking, and fighting. Many parents would drop off their children and leave. Rosenauer, with her beehive hairdo and cat-eye glasses, stood out –– kids weren't used to seeing a middle-age woman enjoying rock music. Before long they wanted to know her story. Danny Jr. was horrified.
"He didn't want everyone to know his mother was driving him around," she said.
At his urging she began introducing herself as band manager Emma Jean; she later dropped the Jean and one "m," to go by Ema. She was at ease with musicians, patrons, parents, and club owners and helped bridge gaps between them.
"Somehow I had to book these young kids who had long hair," she said. "Back then you were nothing if you had long hair. But I was the rogue mother. I loved it."
Other bands starting asking her to do their bookings, and in January 1971, she created Ema's Enterprises with $50 in start-up money. The company facilities consisted of a desk in the living room of the family home.
"I bought notepads, pens, and files," she said. "I already had the phone. And I got a list of TCU fraternities."
By then, teen clubs were fading, and adult clubs weren't yet enamored of young rockers. Then the liquor laws became more relaxed, and the minimum drinking age fell, from 21 to 19 to 18 by the mid-1970s. The club scene blossomed. So did sex, drugs, and rock 'n' roll.
Rosenauer booked bands into Spencer's Corner, I Gotcha, Omar's, The Hungry I, and other clubs but early on expanded her network of venues to encompass frat parties, student centers, military bases, high school dances, outdoor festivals, country clubs, and corporate affairs willing to pay a premium.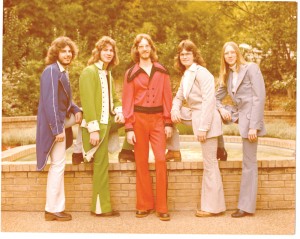 She remembers making one of her first nervous calls after starting the business. The Texas Christian University fraternity member who answered the phone might remember it as well. Rosenauer has a temper and doesn't suffer fools:
"I said, 'This is Ema with Ema's Enterprises. Could I please talk to the person who handles your entertainment?' He yells to someone, 'Hey, there's an old lady here that wants to book entertainment.' I said, 'Let me tell you something, young man –– I'm not an old lady, I'm a booking agent, and I have talent for your fraternity. Now may I talk to the right person please?' From then on I didn't have any problems."
John Laird was bassist with Lo Della back then. These days he plays in country singer Janie Fricke's band. Rosenauer's early insistence on professionalism is what helped keep Laird and others in demand as professional players for life.
"She gave all of us young boys a good foundation to get started," he said. "She would get contracts and do the whole bit and do it right. She was the only game in town through the late 1960s and the 1970s."
She was a surrogate mother to her bands. After a gig one night, Lead Stamp didn't bother changing clothes, and so they turned a few heads when they stopped for late dinner at a restaurant. A table filled with uniformed soldiers began mocking the musicians' clothes and questioning their sexual orientation. Ema marched up to the table, lit into the soldiers like a drill sergeant, and ran them out of the joint.
Rosenauer usually had half a dozen rock bands under exclusive contract at any point, and she helped many other local and national bands find gigs.
She booked Fats Domino at I Gotcha in the mid-'70s and grew concerned after he walked offstage during his set. She and her youngest son, Duane, went backstage to check on the famous singer. They discovered Domino crouching over a mound of cocaine.
"He had it all over his face," Duane said. "[Mom] was coming unglued. She told him to get up off his ass and get out and sing, because people paid good money to see him. He got up and put on a hell of a show."
Local bands scrambled to get on her roster, but it wasn't easy. She demanded auditions and rejected far more bands than she accepted. The members of Chateau tasted her gentle but firm brand of rejection. They were motivated rather than discouraged by it.
"When I first got in the band in 1975, we were rehearsing in the back of a shoe store in Arlington," said bassist Jeff Peters, who was 16 at the time. "She came to a rehearsal and checked out the band, which nowadays is unheard-of. She said, 'You guys aren't ready yet.' She wouldn't book us for a while."
She encouraged them to keep practicing. The next year she gave them another listen.
"She was my first agent and booked all different incarnations of that band for about 14 or 15 years," Peters said.
Years later, Peters joined Dash Riprock & The Dragons, and Rosenauer booked that band as well. She charged 20 percent commission, higher than most booking agents. But bands didn't howl, because she was adept at finding big-money gigs, and she was honest. Some booking agents might get a $500 contract for a band but then write their own contract for the band to sign, offering them $400 and pocketing the other $100 plus the commission. Not Rosenauer.
"She was always aboveboard," Peters said. "Everybody signed the same contract, which always made you feel like you weren't getting ripped off."
 ********