Being an outspoken liberal is not a good career path in Texas. But Fort Worth's Lon Burnam has stood toe to toe with the state's most conservative politicians and earned grudging respect from a lot of them.
In March, after nine terms in the Texas Legislature, Burnam lost a primary challenge and is on his way out of the statehouse. On May 30, when the Texas Supreme Court declined to hear his appeal of a lower-court decision on mail-in ballot applications, the curtain officially came down on Burnam's long career in the House.
Burnam had known there was only a slim chance he'd be able to get the election results overturned, but then he's used to fighting uphill battles.
"You fight for what's right," he said recently. "At the end of the day, that's what you have to live with."
At 60, with 20 years' experience in helping other campaigns before he ran for office himself, Burnam has learned a lot about winning and losing. Most of the bills he introduced never got a hearing; his voice was often one of only a handful raised against awful legislation. At the same time, the people of his district sent him back to Austin over and over. Fort Worth Weekly named him "Best Public Official" in 1997; Texas Monthly named him the "Worst Legislator in Texas" in both 2003 and 2013. Talk with people who've worked with him, and some think he's fantastic. Others say his arrogance makes him difficult, if not impossible, to work with.
His lawsuit dealt with the way in which applications for mail-in ballots for the District 90 seat were gathered. Burnam contended that campaign workers on behalf of his Democratic primary challenger, Ramon Romero Jr., had voters fill out mail-in voter applications on electronic tablets, such as iPads, a practice Burnam said is illegal.
"Texas doesn't allow vote-by-mail ballot applications to be delivered electronically," he said, "because electronic signatures are impossible to verify."
Burnam lost the primary by only 111 votes. Of the 5,078 votes cast, 951 were mail-in ballots.
An employee of the Texas Secretary of State's Elections Division, who spoke on the condition that her name not be used, said election laws do not address the issue of electronic signatures on mail-in ballot applications.
"Some people think that because it's not written into the law as acceptable, it's not acceptable," she said. "The other side of that argument is that it is not explicitly forbidden — which could make it legal."
She predicted correctly that the state's top court would decline to take the case because it is so fraught with political ramifications.
"If the court ruled those applications were submitted illegally, what should they do? Toss those ballots? Disenfranchise those voters? More likely they would let them stand, no matter how they were acquired," she said. "Which, of course, could be cheating Burnam out of an election victory. It's … easier to just not hear the case."
Burnam doesn't know who sent the canvassers out to collect those ballot applications, but the two most obvious possibilities both said they had nothing to do with it.
Romero said his campaign was too poor to have iPads. "We hardly even had people collecting paper signatures. We had nothing to do with that."
An outside group that put money into Romero's campaign also denied involvement with the mail-in ballot applications. Education Reform Now is the political action committee of Democrats for Education Reform, a New York-based group, backed by hedge funds, that advocates for charter schools. The PAC paid for several mailers to help elect both Romero and Erika Beltran, who won the Democratic nomination for a slot on the State Board of Education.
"We sent mailers out on behalf of Ramon Romero Jr. without his knowledge or permission," said Jennifer Khon Koppel, Texas director of Democrats for Education Reform. "And we will be engaging in [other] races to support Democrats in Texas who believe in forward-thinking ideas to ensure Texas children are not stuck in failing schools."
Burnam believes he was targeted because he helped kill an application for a Texas charter school made by a group from Arizona. "The whole charter school industry is a corporate giveaway rivaling the public-sector giveaways to the railroad robber barons of the 19th century," he said.
 ********
Burnam's hair may be turning white, but the handsome man with blue eyes and a distinctive mustache is still full of energy. Trying to catch up with him is like trying to catch a gnat.
He describes himself as an activist who uses his legislative office as an organizing tool. "Most representatives don't do that," he said.
Legislation is important, but the primary focus of his job has always been the community he represents, he said. During the few hours that a reporter spent with Burnam recently, several constituents approached him seeking help or to say thanks. He ran into one former intern and talked to a woman about a future internship for her son.
"During the past 18 years, I've probably had close to 100 interns," he said. "You need them to get the work done because you certainly can't do it all yourself."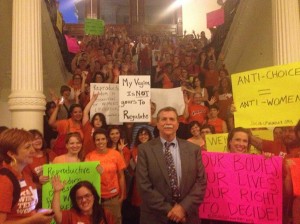 The former intern he ran into was James Russell, a journalist who spent his mornings in 2010 working at Burnam's district office.
"There was a lot of work to do," Russell said. "I'd take calls from constituents and then try to solve problems for them. People needed assistance to get Medicaid; people wanted to know about gas drilling and what could be done about compressor stations. Calls came in all day, and Lon treated those people like he had a moral responsibility to them."
Russell said Burnam was tireless. "He was going to meetings all the time over a host of issues: education, civil rights, clean air issues, women's rights, all sorts of things."
Burnam said that some of his regular staff called him "the tornado" because of the way he likes to get into things, stir them up, then get out.
"You can make so many important changes by getting involved with the community and getting the community involved in pushing for those changes," he said. "And some of them are important, and it doesn't take legislation to get them done."
One example: Elementary school kids have to walk across the I-35 overpass at Ripy Street to get to school. "Well, parents pointed out that it was a dangerous situation because there was no fencing up above the railing," he said; "so we got fencing put up." It wasn't the sort of thing that drew a lot of attention, but it helped a lot of people.
Russell said that one of the legislative changes Burnam made during his internship was getting Erik's Law passed, with the help of State Sen. Wendy Davis.
"A constituent named Erik got shot in front of a local bar," Russell said. The bill Burnam introduced prevents bar owners whose permits were pulled as a result of violence on their property from getting new licenses for three years.
"It might seem fairly insignificant, but it closed a Texas Alcohol and Beverage Commission loophole that was permitting people who had their licenses pulled as a result of violence in their bars to simply reopen with a new name," Russell said.
Chief of staff Conor Kenny said working for Burnam can be a struggle. "He talks with so many people in his district and then finds news stories that catch his eye, and it becomes difficult to narrow down what we're going to work on," he said. "And the problem is that with the dearth of progressive legislators in the House, well, there are an awful lot of issues that come up that if Lon doesn't work on them, no one will."
Burnam's detractors have always pointed to the small number of bills he got passed, but Kenny disagreed with that assessment of a legislator. "Stopping bad bills is as important as passing good ones. When it comes to voter ID, cuts to education, those things are important to stop, and Lon stood up to oppose them — and often succeeded," he said.
Craig Adair, who worked as Burnam's chief of staff from 2007 to 2012, said that one of the bills his boss stopped would have prevented Austin and other Texas cities from banning plastic supermarket bags. "That may not look it, but it's a huge step environmentally," he said.
Another bad proposal Burnam killed, Adair said, would have made it harder for some immigrants to get driver's licenses.
Renny Rosas, a Worth Heights activist and longtime friend of Burnam's, said that one of the most important bills Burnam had a hand in promoting involved, of all things, garden hoes.
That may sound like small potatoes, but in a state where migrant laborers work vast fields, it's not. Burnam was still a community organizer working to elect Democrats around the state when he joined with others in 1983 to push for a law to require that hoes used in commercial farming be at least four feet long. It took years of work, but in 1993 Texas made it illegal for an employer of agricultural laborers to require them "to use a hoe that has a handle shorter than four feet … ." The law came out of the United Farm Workers' fight for better conditions.
"The big agriculture corporations in Texas wanted to save money" by shortening the hoe handles, Rosas said. "That would have made the Mexicans working on the farms bend over to use the hoes rather than being able to stand up. That's a bigger deal than you might first think if you imagine people working all day, every day. And Lon helped get that finally passed into law."
Interestingly, 20 years after first pushing for long-handled hoes as a community organizer, Burnam found himself on the Agriculture and Livestock Committee, banished there after casting the only vote against Tom Craddick for Speaker of the House.
Burnam laughed at first when asked about a city boy winding up on that committee, then grew serious. "That was the most important vote I cast in my entire career," he said. "I knew there would be a price to pay for it, but I also knew that the speaker sets the tone for the House and its entire operation — and Craddick was the wrong choice, period.
"I think my position was borne out by Craddick's behavior over six hears as speaker — with him gone, the House is a much more civil place to work."
Russell called his former boss "one of the last of the wild, wild West populist progressives. He is not afraid to be a thorn in anyone's side."
********