On the first day of early voting in the primary, Burnam was second in line at the Worth Heights Community Center. First in line was his old friend Rosas, a bear of a man who served in Vietnam and came home an activist. He ran for the District 90 seat in 1990 and lost in the primary to Willis.
He said that Burnam's defeat means the whole community will lose a valuable ally.
"What Lon did was make it possible for undocumented immigrants who graduate from high school to go on to college," Rosas said. "Texas is one of the few states that allows that, and it's a vital element for our people. And Lon helped make that happen."
Burnam worked closely with Rick Noriega, a Democratic legislator from Houston, to craft a bill that became the TEXAS Grants program. It allows qualifying high school graduates, including undocumented students, to attend state universities and colleges at in-state tuition rates, and then helps support those in financial need.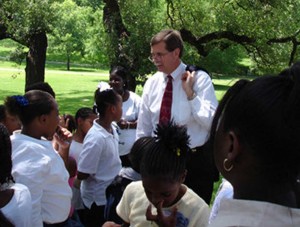 "Rick Noriega was the author of the bill, but I worked hand in glove with him on it," said Burnam. "And then, surprisingly, we got Gov. [Rick] Perry to sign it into law."
He's known Burnam for nearly 30 years and never ran against him, Rosas said, because "he voted right on the issues most of the time. I think my running in 1990 pushed him to run the next term."
Rosas said that Burnam was the key to bringing Cesar Chavez — the United Farm Workers co-founder — to Fort Worth on three occasions. "Now Chavez was one of my heroes, and Lon raised the money to get him here and had a private home opened up, and people like me got to meet him and talk with him one on one. Lon won't brag on that, but it's still true."
Which doesn't mean Burnam doesn't have his faults. "I don't agree with him all the time, and sometimes he's pretty arrogant, which turns people off," Rosas said. "He's sort of like a pit bull that gets hold of a leg and won't let go. I'll tell you one thing: I'll bet there are a lot of people in Austin who are probably happy as hell that he won't be there anymore."
Rosas said that the Romero campaign urged people to vote for Romero because he's "one of us."
"But just being one of us, a Mexican, doesn't mean you're with us. What's important is what have you done for the community in the past, what are you doing for the community now, and what are you going to do for the community in the future? And Lon's done a lot for us. Aaron Peña, a state rep from South Texas, once said that Lon votes more Mexican than the Mexicans in South Texas."
********
Not everyone feels the way that Rosas and Peña do about Burnam's commitment to the Mexican community. One local activist who's unhappy with Burnam is Raul Duran, who worked with the Fort Worth school district for 18 years as a counselor on various issues.
In 2001 Duran filed a grievance with the district regarding the number of Hispanics employed in supervisory and administrative positions.
"The number of Hispanics in the district was growing, but the supervisors and administrators were all white, and none were bilingual. We had issues with drugs and gangs, and there needed to be some leadership sensitive to the emerging Hispanic school population," Duran said.
The complaint fell on deaf ears, and Duran was eventually fired in 2010. He called his termination an act of retaliation for pushing for a larger Hispanic presence in the upper levels of the school district ("Counseling for Controversy," June 13, 2012).
"A number of us brought the issue to Lon's attention over the years — I know it was a school district issue, but he was in a position to knock on some people's doors," Duran said. "And I think he should have done that, but I didn't see him do it."
Burnam said recently that simply asking him to knock on doors and demand more Hispanic hires was unrealistic. "Without specifics, it was an impossible task," he said. "You can't just order a school district to start hiring people because someone asks you to. That's not how it works."
Romero said that what Duran saw in Burnam's diffidence regarding his request was the same thing that made him decide to run against Burnam in the primary.
"I think Lon and I are similar in a lot of ways but different in others. The first person who ever came to my door to say he wanted my vote and to find out what was important to me was Lon, years ago.
"But I think he's out of touch with the real issues of the Mexican community now. He went so long without an opponent that I think he forgot to ask the people what they want. What the poor people in this community want is economic development; they want jobs. And Lon was not getting those jobs for them."
Romero, who has no opponent in the general election, said economic development and job creation will be his primary goals in office, helped by his experience as a business owner. "I know what it takes to build a business and make jobs happen. And that's what we need in this district."
 ********
One major difference between Burnam and Romero is their stance on charter schools. Romero is for them; Burnam is dead-set against them. It's an issue that has been raging in Texas and elsewhere for years now.
Burnam thinks backing charter schools is terribly misguided. "I have been a staunch advocate for quality public school education all my life. My mother taught in the Fort Worth public school system, and my brothers and I attended those schools."
Charter schools, he said "are the single worst thing for public schools that has been discussed in this state in this decade. They simply siphon money out of the public school system so that the for-profit school industry can make money at the expense of our kids' education. The solution is adequately funding public education."
Romero, who describes himself as "that poor boy from Poly," also attended public schools and promised to do his best to strengthen them. He said he sees no conflict between that promise and supporting charter schools. "I don't see it [charter schools] as privatizing public education," he said.
"My experience here in Fort Worth is that a charter school in my neighborhood is doing incredibly well. But I am doing everything I can to educate myself on charter schools and normal public school funding," he said.
Despite Romero's experience, Texas Education Agency records show that in 2012, regular public schools had a graduation rate of 89 percent, compared to charter schools' rate of 53.9 percent.
The statistics were similarly disparate for student dropout rates: 5.7 percent for regular high schools versus 21.6 percent for charter.
"It just doesn't make sense to take money from public schools and give it to private corporations," Burnam said. "Their job is to make money for their stockholders, which is very different from the job of the board of education."
Romero said he is in no way beholden to Education Reform Now, despite the organization having sent mailers on his behalf. "I didn't even know about it," he said, "so how could I owe them anything?"
Koppel agreed. "Mr. Romero had no knowledge of our efforts on his behalf," she said.
"I would in no way support any charter school not performing at its very best," Romero said.
"I think Mr. Romero is incredibly naïve on the issue," said Burnam. "Yes, there are some huge grants from wealthy private citizens going to charter schools, and there can be prudent experimentation with private-sector participation in public education. But most of the financing comes right out of the school fund and goes into the pockets of the people who run those schools. So yes, it's privatization."
Education has been one of the hallmarks of Burnam's tenure. He's pushed for and gotten increased funding for adult basic education and for at-risk students — for tutoring, summer school, and other initiatives to help keep kids in school all the way to graduation.
In 2013 he was a leader in the Democratic caucus effort that blocked the funding of state water projects until the legislature agreed to raise public education funding by $4 billion.
"I have worked very hard on the issue and am proud of what I accomplished," Burnam said. "Of course, there is always more to be done with public education."
Romero called Burnam "a tough act to follow. He did tremendous work for the people of Fort Worth and all of Texas. I hope I'm up to the challenge and will work hard to succeed him well."
 ********
What's next?
"I'll do the same thing I did before I was elected," Burnam said. "I'll be an activist. I'll help promote candidates I think would serve us well. I'm working with a civil rights group; I met with two people yesterday on funding a study on clean air. I've been an activist since sixth grade. It's been a useful tool to have been a rep for 18 years — and if I can't do that anymore, I'll still be active."
State Rep. Charlie Geren, a Republican who represents District 99 in North Fort Worth, said he disagreed with Burnam on almost everything. "But he was a good, hardworking member of the House. He represented his constituents aggressively. Some people in Austin might be glad if he doesn't come back; most of us had a lot of respect for him."
Adair said Burnam is part of a dying breed of Texas legislators. "He worked not just for his constituents but for what was best for the state. He often championed lost causes, but they were worthy causes. For me, it will be a sad day when Lon is no longer in the legislature."
"Don't you worry about Lon," Rosas said. "He'll land on his feet."