Burnam is Fort Worth through and through. His dad retired from Lockheed Martin after 37 years. His mom taught in Fort Worth schools for two decades.  Both his parents graduated from Texas Christian University. Lon and his two brothers went to public schools on the city's West Side.
"In our house it was all education, education, education," he said. "I knew by the second grade that I was prepared for a life in politics. I'm not sure how I knew that; I just did."
His first foray into the political arena was doing volunteer work for Lyndon Johnson's 1964 presidential campaign. "I was in sixth grade then," Burnam said. He later helped Ann Richards in her first run for political office, when she was elected county commissioner in Austin.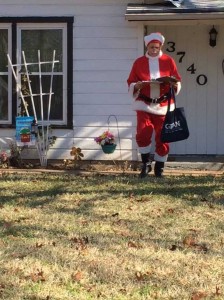 Following high school, where he said he was a mediocre competitor on the Western Hills High School swim team, Burnam attended the University of Texas at Austin, graduating in 1975 with honors and a bachelor's degree in government. He went on to earn his master's degree in city and regional planning from the University of Texas at Arlington in 1979 before starting to work as a city planner, helping community organizations to revitalize neighborhoods. He later worked as a special assistant to the regional administrator of the Texas Department of Human Services.
All the while, he was also working in election campaigns. Finally, he said, "After 20 years of working to get other people elected, it was time for me to run or quit doing electoral politics."
He ran in the District 90 primary in 1992 and 1994 and lost both times to longtime incumbent Doyle Willis. When Willis decided not to run again in 1996, the door was open for Burnam, who won the primary and general elections and began serving in 1997.
It's a lot of work for a job that pays $7,200 a year. Even with a per diem while the House is in session, it only comes to about $35,400 for two years of work.
"My wife, Carol Roark — she worked as an archivist at the Dallas Public Library for 20 years — supported me for a lot of years," he said. "Plus, we bought a house for $24,000 in 1981. We never had kids, so we didn't need a lot of money. Still, the only thing that pays worse than the Texas Legislature is community organizing jobs like running the Dallas Peace Center, which I did for 12 years."
He described the peace center as "in the broadest brush, [aiming] to avoid wars by seeking justice at home and abroad.
"My time there was punctuated by George Bush starting two wars," he said. The job included raising money to remove landmines in Cambodia and working on a variety of human rights and civil liberties issues, including public school education and women's rights both in the United States and other countries.
Some politicians are motivated by prestige or power or the friends they can make who will pay them handsomely as lobbyists once they retire. Those who've worked with Burnam say he is motivated by a zealous need to help people.
Democratic legislators in red-state Texas "have to be smarter, work harder, and maintain our cool," he said. "I'm just a straightforward progressive Democrat, and in Texas that can leave you frustrated a lot of the time. I've stood up to special economic interests so often that I think I've made a number of political enemies over the years— at least I hope so."
One group that hated him enormously was the major insurance companies. While serving on the House Insurance Committee, he submitted a bill that particularly set the industry off.
"At the time, insurance companies had to get you to the hospital and save your life, but they wouldn't cover rehab for people. So I pushed for that, got a Republican to join me, and we got it passed," he said. "That was a huge legislative battle — and I know the insurance companies hated me because at one point the seven biggest companies all sued me to try to prevent me from getting the information I needed from them."
Another group that dislikes Burnam is the Texas Right to Life Committee, which gave him a zero rating for his support of abortion rights.
"You're always going to have people upset with you, particularly if you vote your conscience and do not compromise the values of your constituents. That's the nature of the game," he said.
Some people were also upset with him for holding 17 community meetings to get people signed up for Obamacare. "But I feel really good about that work," he said.
Burnam acknowledged that most of the bills he's introduced never made it out of committee. He didn't see that as a reason not to introduce them.
"Look at all the bills on oil and gas I introduced to make them clean up their act. They were never going to pass, because there was enough money from special interests to kill them," he said. "But by introducing the bills, we still advanced the issue for people in other parts of the state by getting the information out there, getting the issues talked about."
One bill he introduced that did get passed ended up as one of his regrets. "The worst bill I ever got passed was the fracking fluid disclosure legislation. Now I knew I'd never get that passed in Texas without a Republican signing on, and so I got Jim Keffer from Granbury. But by the time the thing was actually passed into law, it had an exemption so big you could drive a Mack truck through it. It was a piece of crap."
He said he's used it as an example for new legislators who come into the House eager to get their names on laws. "You get too eager to pass legislation, and in the end it's not worth having passed."
He still respects Keffer and thinks Keffer respects him as well. He just doesn't like the way that particular bill came out.
"Over the years I've worked with hundreds of people in the House, and I've managed to get along with both Republicans and Democrats," Burnam said. "But the House is like the general population. Out of the 150 people in it, some are good people, some are pathological liars, some are open and funny but still wrong most of the time.
"I got exasperated a number of times when people were aggressively ignorant," he said, "but I never felt like quitting."
********