Greetings. Welcome to your guide to Fort Worth Weekly's 12th Annual Music Awards Festival (4-10 p.m. today/Sunday at eight venues in the West 7th Street corridor). To ensure your party is as awesome, safe, and non-annoying as it can be, please consider the following.
– Here's a capital idea. Have someone drop you off at the festival, and instead of driving home tonight after a couple of cocktails, call Uber Fort Worth. New users who enter the promo code "FWWMusic14" will receive $20 off their first ride. Simply download the app, enter the promo code, and request your ride.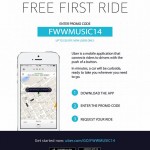 – Getting dropped off and later using Uber also will save you from having to deal with the perennial headache that is parking in the West 7th Street corridor. If you see a no-parking sign, read it carefully. If it says "no parking anytime," it really means "no parking anytime," including Sundays –– the owners of the lots pay tow-truck companies to hire scouts, who will sit in unmarked vehicles all day and night to nail violators. The cost for getting your ride out of the pound is about $300.
Parking in the area will be at a premium today. U.S.A. is playing Portugal at 5 p.m. in the World Cup, and there will be a watching party at The Abbey Pub, right in the middle of the action.
Montgomery Plaza, with its dozens of empty spaces, will look tantalizing, but just know that if you park in Montgomery Plaza and do not patronize a Montgomery Plaza tenant, you will be towed with the quickness.
– Part of what makes the festival worthwhile is its charitable component. Every venue –– Capital Bar, Fred's Texas Café, The Grotto, Lola's Saloon, Magnolia Motor Lounge, Poag Mahone's, The Pour House, and Rodeo Goat –– will be staffed by friendly Weekly volunteers just aching to sell you a copy or two of Frequencies, Vol. 5. Recorded in one May weekend at Eagle Audio Recording on the Near Southside, the album features 12 new or previously unreleased tracks from select nominees, including Ronnie Heart, Jetta in the Ghost Tree, FOGG, Slumberbuzz, and Leon Bridges. Proceeds from the $5-a-pop sale of the disc will go toward our charity sponsor, the Tarrant Area Food Bank. Through the sale of the previous four comps, we've raised nearly $7,000 for our assorted charities, including the food bank.
Thanks, all, and have a good time.