A mammoth slab of concrete known as the Chisholm Trail Parkway runs toward the horizon on her right. A colossal, rolling pasture wishfully known as Fort Worth Prairie Park stretches to her left. In the middle stands JoAnn Collins, one of a growing number of impassioned environmentalists trying to straddle the line between urban development and the state's rapidly disappearing prairie land.
"We have to coexist," Collins said. "We have to figure out how to make development and land preservation work side by side. There has to be reconciliation between development and nature for our air to be cleaner."
Collins' connection to prairies goes back to her childhood in the Fort Worth area, where her parents farmed prairie land, but she became especially interested in prairie preservation nine years ago after reading a Fort Worth Weekly profile of activist Jarid Manos ("Great Pains for the Great Plains," June 1, 2005). She joined Manos' Great Plains Restoration Council, a group attempting to protect the prairies from Mexico to Canada, claiming that prairies nourish the environment and the soul while also reconnecting urban and tribal youths to the land.
Marked by its native grasses, bushes, and wildflowers — and near absence of thick stands of trees — prairies fed the millions of buffalo that roamed the Great Plains 200 years ago. However, farmers and ranchers, with their fences, then towns and cities, cut up and then covered the buffalo's sea of grass. The natural wildfires –– and ones intentionally set by Native Americans –– that once swept the plains each year can no longer keep it free of forests.
Manos, Collins, and other environmentalists worked for years to save as much as they could of a 2,000-acre prairie remnant near Old Granbury Road in far south Fort Worth that was being split in two by the Chisholm Trail Parkway. Watching highway workers cut a swath through a pristine prairie was painful for them. But the new toll road might just be a rallying cry for a new generation of prairie protectors.
The irony of it is, if the parkway had not been built, then the idea of saving the prairie would never have happened. "It would have just been a prairie on the outskirts of Fort Worth," Collins said. "If this wakes up the area, and we can use this as an education to tell people about the importance of prairies, it's going to be a good thing."
The area appears to be waking up.
In May, hundreds of people from across Texas, Oklahoma, and Louisiana came to the Fort Worth Botanic Garden to participate in the Fifth Annual State of the Prairie Conference, a three-day symposium hosted by a statewide collaboration of private individuals, associations, government agencies, institutions, and landowners. The conference, organized by the Native Prairie Association of Texas and Coastal Prairie Partnership, did much to reinvigorate already impressive efforts by local environmentalists.
Michelle Villafranca, natural resource specialist for the Fort Worth Nature Center & Refuge, said that Fort Worth was chosen as the conference location because of the city's large presence of prairie land and advocacy.
"It was a really successful conference, and it brought in all types of people, from prairie enthusiasts to professional practitioners," she said. "It was a diverse group of people, a lot of master naturalists as well, so it kind of covered the range of anyone who might be interested in prairies."
As it turns out, it's a pretty big range. The conference also drew biologists, state and local nonprofit organizations, and representatives from different groups like the Native Plant Association, Texas Bison Association, and the Native Wild Turkey Federation.
"All of those people came together for that conference, and the Native Prairie Association of Texas used that synergy of the event to establish two chapters in North Central Texas," Villafranca said, "one in the Dallas area and one in Fort Worth."
********
A dark, rainy Monday night isn't the perfect time to get out of the house and drive to a meeting. But it didn't stop about 40 people from making their way to a small church in West Fort Worth recently to listen to Collins and Pat Merkord, executive director of the Native Prairie Association of Texas, talk about establishing Fort Worth's own association dedicated to saving prairies through coordinated efforts.
"There are so many people here!" event organizer Collins said to the crowd in the small room. "I'm so excited. Hopefully this will do nothing but grow."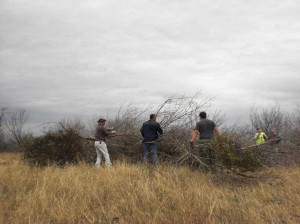 With such a group working toward the same goal, they can also focus on other, smaller prairies to save, including the small five-acre pocket prairie near where the meeting was held, plus the well-known, bigger prairie sites.
Eleven counties were represented at the meeting, with visitors from as far as Granbury and Dublin there to learn from Merkord how to begin forming local NPAT chapters.
"We're very, very excited about the interest in native prairies here in the Fort Worth area," Merkord said, "and, of course, that's been going on for a long time. We knew that there were a lot of people who were interested in prairies, and what better place than Fort Worth?"
Throughout its history, Fort Worth has carried many nicknames. There's "Cowtown," "Panther City," and "Where the West Begins," but one of the earliest, and now least known, is "Queen City of the Prairie."
In North Central Texas, vast prairies filled with native plants and species pre-dated our current tangle of highways and subdivisions. Today, less than 1 percent of original native prairies remain in the country.
Since Fort Worth was once considered the prairie's "queen," it's no surprise that local activists like Manos have put so much effort into trying to conserve the little remaining remnant of true prairies in the area.
Residents, especially those who grew up here, probably recognize the names of the natural regions that come together in and around Tarrant County, names like the Fort Worth Prairie, Blackland Prairie, or the Cross Timbers. Villafranca said the combination of these different ecosystems that cover large portions of the state is unique to the Fort Worth area.
"These ecosystems are unique, and they define why the city of Fort Worth was even established in the first place," she said.
The Blackland and Cross Timbers ecosystems are primarily found in Central Texas, and Fort Worth lies where the two prairies intersect. With such a large portion of two shrinking prairies in one area, conservation efforts throughout Fort Worth are crucial.
Villafranca said prairies are one of the elements that help give residents a sense of place — and that's one of the reasons it's important to promote prairies to the public.
If people know about the surrounding ecosystems, and if they have a strong sense of place, they're more likely to protect them, improve them, and take ownership of their community, she said, and prairies play into that.
Villafranca has noticed a growing interest in conserving local prairies, crediting the Nature Center's efforts as well as the Friends of Tandy Hills Natural Area's annual Prairie Fest for bringing awareness to prairies and the history of Fort Worth's natural habitat.
********