At the first meeting of Fort Worth's new prairie association, Collins spoke about the heartbreaking loss of the Prairie Park and about plans to woo Walton Group officials into saving some of the prairie. She said her Great Plains group will approach the new property owners with the idea of incorporating portions of the prairie into development plans, which they say will increase property values.
"Walton has a good track record from what we've seen so far," she said. "They have not said no, and the city is showing signs of supporting us, so there's a big possibility."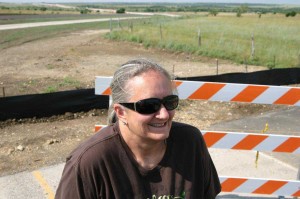 Collins praised the Canada-based company for incorporating open green space in some of its other developments and said she hopes they continue to follow that kind of model.
"We're hopeful that all of their values coincide with what we want here in Fort Worth," she said. "It's a great fit. We have a good possibility of making great things happen for Walton and the people of Fort Worth."
Adapting prairies to urban environments is on the upswing in other areas as well. The MD Anderson Cancer Center in Houston offers a seven-acre prairie as part of its hospital campus.
"It's beautiful, a great place for the cancer patients to stroll," Collins said. "The prairie provides water filtration and water quality improvement. Prairie will give you more carbon retention than trees."
Environmentalists raised almost $4 million in 2013 to buy a 51-acre prairie that was tucked away amid housing subdivisions and industrial businesses outside of Houston, in Deer Park. Labeled a "platinum prairie," the pristine land boasts more than 300 native species of plants and various kinds of wildlife. Developers were looking to build more houses on the prairie and were willing to pay $4 million for the land. Regional and statewide advocacy groups combined efforts and raised $3.8 million.
Merkord said the owner decided he would sell the land to the NPAT group for the lesser offer if they would stick his name on the front. Thus the land became the Lawther-Deer Park Prairie Preserve, and its grand opening was celebrated earlier this year.
"I would say that's a pretty good success story," Merkord said.
A prairie might appear to be nothing special on the surface, just a grassy field with splashes of color from wildflowers and shrubs. But it's an ecosystem that attracts a wide variety of animals and insects. For instance, monarch butterflies lay their eggs on milkweed, a plant common to prairies. Monarchs migrate to Mexico each winter from as far away as Canada and throughout the Great Plains. Fewer habitats along the way mean fewer butterflies making it to Mexico.
"The monarch population was decimated last year," Collins said.
Merkord praises prairies for a variety of reasons: "One of the really key things, particularly here in Texas, is that they're good for water resources. We know that we've got water shortages everywhere and a growing population, and [prairies] help with the absorption of water."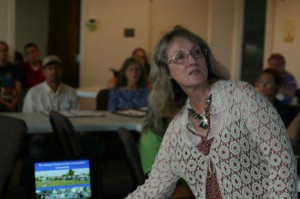 When a heavy rainstorm comes through Texas, the water runs off the ground surface instead of soaking into the soil. The heavy plant cover in prairies holds onto the soil and keeps the surface less compacted and hard than dried-up, empty dirt. Merkord said prairie land is more suited for absorption and transferring rainwater through the soil to be stored underground in the water table and aquifer.
Keeping the natural soil present is also essential to preserving vegetation, which plays a huge role in the prairie ecosystem.
"When you drastically alter the vegetation — which is what happens with all of these invasive [plants] that have come in — it changes everything," Merkord said. "It changes all of your insects. It changes your birds. It changes every kind of species out there and often in ways that we don't understand."
Introducing exotic species can also bring in diseases that can wipe out native vegetation and animals.
"We think it's really important to keep the native ecosystem present," she said. "That will be the healthiest thing for everybody."
For instance, one of the important species dying out due to the loss of their natural prairie habitats is very close to most Fort Worthians' hearts –– the horned frog.
"That was a species that at one time was spread all over Texas," Merkord said, "and now it's gone from probably a good two-thirds of the state."
Horned frogs (also referred to as horned lizards) are just one of many species that have all but disappeared in Texas, after its natural food source, the red ant, was killed off by non-native fire ants. One of the NPAT preserves in Mitchell County, Tex., near Colorado City, is home to a large population of horned frogs, and the habitat is monitored closely to make sure the species remains stable.
"I know a lot of people know what that little toad is and really like it," she said, "so we try to focus on these things that are lost out because of the loss of prairies."
Horned frogs are not the only species threatened by the loss of their natural prairie habitat. Merkord said the grassland birds have declined more than any other group of birds in the United States.
Keeping an eye on species in danger is one of the countless preservation attempts NPAT provides, which all come at a cost. Merkord said the biggest challenge that the organization faces is raising money.
"We do have memberships and fund-raising events, and we have to ask people for donations," she said. "We really depend on them to keep this whole program going, or we wouldn't be able to do it."
Friends of Tandy Hills also relies on donations and sponsors to continue its efforts. Partnerships with the city and other local entities help maintain outreach programs.
In 2010 the organization partnered with the Fort Worth school district to start the Kids on the Prairie education program with the hopes of inspiring a passion for prairies in a younger generation and securing preservation efforts for years to come.  Students from all over the district take field trips to Tandy Hills to spend a day with a master naturalist, learning about the native grass and flowers.
Merkord said she would love to see more students become interested in prairies.
"Those kids at that age, if you can get them involved with that, that's something they carry with them for the rest of their life," she said. "I can tell you right now that, for most of them, what they're getting hooked on is not even outdoors. It's computers. They're just missing –– literally — the world."
As a teacher, Collins especially believes in the value of educating young people about environmental conservation and the importance of prairies. She started a club at Paschal High School focused on preserving prairies and saving their many species, which inspired one of its teenage members to attend the new NPAT chapter meeting to start trying to make a difference.
Collins said educating people about the natural history of the land they live on is important and not just for students. She told the new members that one of the best things they can do is to take a minute in the checkout line at the grocery store, turn to the person behind them, and say, "Did you know Fort Worth used to be a prairie?"
"We've lost our land heritage just from the development of Fort Worth," she said, "If we want to show, for history's sake, what Fort Worth used to look like, we need not just to preserve our Western heritage —– this is where the West begins — but we need to know what the West was, what it looked like.
"If we don't go back and consider all of those pieces, then we really don't have the true heritage of what Fort Worth is."
Fort Worth Weekly staff writer Jeff Prince contributed to this article.