Fans of Japanese cuisine may already be familiar with the term izakaya: a casual bar that also serves food. It's the kind of place that might be popular after work. At Hanabi Ramen and Izakaya, though, the concept has been expanded to also include a ramen house. The combination proves to be pretty great.
Hanabi's interior is soothing, the walls painted in subdued beiges and reds. There's also an open kitchen, where three bustling chefs recently chatted with customers. The menu is vast, offering a mix of traditional Japanese and Korean fare, including squid salad. Served in a densely packed mound in a small bowl, the seafood was firm without being chewy and was made zesty by sesame seeds, red pepper flakes, and a light ginger-based seasoning.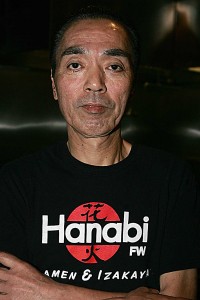 Two tempura items were just as tasty. Topped by finely diced scallions and a pinch of sesame seeds, the oysters, golden and silver dollar-sized, were thick, meaty, and mild (no saltwater aftertaste to speak of). The crispy panko coating added a welcome crunch. The two large asparagus spears, dressed in a paper-thin coating of batter, were crisp and wonderfully salty.
Two entrées were superb. The square-cut chunks of grilled bird in the karikara chicken would have been more interesting if they'd been fried as described on the menu, but they were saved by a mouthwatering, spicy red bean sauce. The four bacon-wrapped cherry tomatoes in the yaki (grilled skewer) were explosively juicy, tart, and smoky.
The Willow Leaf Fish entrée was a bit of a letdown. The three sardine-sized fillets were surprisingly bland.
Hanabi serves up several takes on ramen, everything from soup-less pasta styles to miso-based. The Tonkotsu was a delectable blend of tender slices of pork, a boiled egg, bamboo shoots, green onions, strips of seaweed, and a mound of fresh, diced cabbage and carrots, corn, and bean sprouts, all swimming in creamy, rich, and savory pork broth. The noodles were about the same shape and size as linguini but were much more filling and chewier. As you may discover, one bowl of ramen can easily serve two.
The service, attentive without being intrusive, was impeccable.
[box_info]
Hanabi Ramen and Izakaya
3204 Camp Bowie Blvd, FW. 817-420-6703. 11am-2:30pm & 5-10pm Mon-Thu, 11am-2:30pm & 5-11pm Fri-Sat.  All major credit cards accepted.
Karikara chicken ……………. $5.50
Tonkotsu …………………….. $11.50
Fried oysters ………………… $6.00
Squid salad …………………… $5.50
[/box_info]