Ah, the first Sunday of the new National Football League season promises to be a glorious day; I settle onto the couch for pregame shows at 11 a.m. with plans to watch the noon, afternoon, and evening games back to back to back in a personal marathon of laziness, sloth, and nonproductive nirvana.
I flick the TV remote to channel 11, but instead of seeing old coaches and former players wearing fancy suits and screaming about football, I find myself watching a rerun of the HBO show True Detective with a grim Matthew McConaughey driving into the night and babbling about something.
Or, wait, is this The Lincoln Lawyer?
After five minutes spent trying to figure out which movie I'm watching, it turns out to be a bizarre commercial for Lincoln automobiles.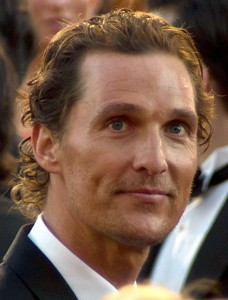 McConaughey is king of commercials and voice-overs — he made 3,827 new commercials during the time it took me to write this sentence.  The guy gets $20 million a film but he's determined to work in every commercial ever made.
I don't get it. Bongos are cheap, and he doesn't wear clothes; why's he need all the mad commercial money?
How's Sam Elliott supposed to survive?
I've had mixed feelings about McConaughey. The Austin native started out great 20 years ago with his film-stealing role in Dazed and Confused, then went on a decade-long spell of churning out one bad movie after another. Combine that with his "awwriight, awwriight" schtick and his I'm-so-damn-cool persona, and I was sick to death of that hack by the 2000s.
And then, boom! He turned into the new Robert De Niro with a string of weighty star turns in Killer Joe, Mud, The Dallas Buyers Club, The Wolf of Wall Street, and True Detective.
Unfortunately, he can't play quarterback.
And neither could Tony Romo when the Cowboys took the field in Arlington on national TV.
The game begins with  announcer Troy Aikman saying, "This offense and Tony Romo are expected to carry this team."
Romo carried them to the edge of a cliff and threw them over.
I thought Brett Favre had retired, but that sure looked like him wearing No. 9 with the Cowboys, misreading plays and throwing balls up for grabs at the worst possible moments.
Let the quarterback controversy begin.
"We want Weeden! We want Weeden! Or even Favre! Or even Favre!"
OK, Romo had a bad day. But there's no qb controversy. No. 9 will be back to his old self next week, torching the Tennessee Titans. Just you wait.