Signs surfaced early that Willis Alan Ramsey's show was going to be interesting.
Ramsey and his wife (and opening act) Alison Rogers Ramsey limped literally and figuratively into their sound check at 5 yesterday afternoon at Shipping & Receiving in Fort Worth.  Disheveled clothes, unruly hair, and raspy voices were evidence of their 900-mile trip from North Colorado to Fort Worth, including delays for mechanical problems. Rogers limped with an injured knee wrapped in a brace (and her mind seemingly nestled in a cloud of medicinal help for the pain).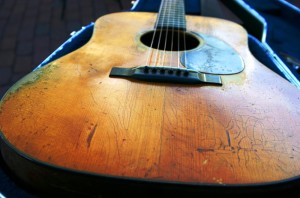 Ramsey set his battered guitar case on a table and snapped open the latches. I halfway expected his face to be hit by a bright glow, like when John Travolta opens the briefcase in Pulp Fiction. Inside was a 1943 Martin D-18 (if you want one of your own, here's one selling for $15,000).
"Don't most musicians leave their vintage Martins at home and play their Yamahas on the road?" I said to Rogers.
"He's got to have that sound," Rogers said.
Ah, sound. The word comes up a lot when Ramsey is concerned. He's notoriously picky about his stage sound at shows, and his tuning, and he seldom hurries himself until things sound just right to his ear. But more on that later.
Ramsey spent 10 minutes attaching a pickup across the sound hole of his guitar, screwing it down, running a cord through his guitar strap, and then securing everything down with electrician's tape that he snipped in little pieces with scissors. He could install a permanent pickup and greatly simplify the process of getting ready for a show, but that would require drilling a hole in the guitar.
"You try to keep them as original as you can," he said.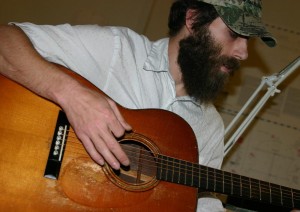 Texas String Works owner Travis Django Wade builds guitars and leases office space next to Shipping & Receiving. His father had given him an old guitar a few years back and told him it once belonged to Ramsey. Wade, who'd never met Ramsey, asked if he recalled owning a guitar made by luthier Max Krimmel in 1972. Ramsey remembered it well and described it in perfect detail as he followed Wade to the guitar shop to take a look.
Turns out Ramsey purchased the guitar new from Krimmel in 1972 and then sold it to Jerry Jeff Walker in 1974. Ramsey got a kick out of seeing it again, and played "Spider John" on it for an impromptu performance.
"It's always been an inspirational guitar to me," Wade said.
After sound check, Ramsey and Rogers had about an hour or so to clean up and get ready for their performance. At about 8, Rogers limped onto the stage, sat down, and strapped on the old Martin (she and Ramsey use the same guitar; both play solo sets and travel light).
Rogers' set was awkward from the start. She forget lyrics, and her right (strumming) hand was out of sync with her left (chording) hand.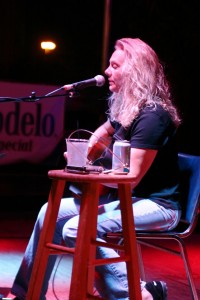 "This is subpar," she said after finishing a song, looking sheepishly at the crowd.
The sound system was quiet, but, since Rogers was struggling, nobody complained. After a few songs, however, the good medicine must have kicked in or the bad stuff wore off, and she blossomed. By the time she played "She told Me" about 20 minutes into her set, Rogers had begun channeling the magic that helped her to charm the crowds back in her Dallas folkie days.
After a couple more songs, however, she began to falter again. She looked stage right to see if Ramsey were there to save her. He walked onstage, put his arms around her, led the audience in applause, helped her unstrap the guitar, and held her hand sweetly as he walked her down the stage steps.
Ramsey kicked off his set with "Watermelon Man" and the crowd came alive. But he was jetlagged as well. And the volume on the P.A. system was too low. Some of Ramsey's stage patter between songs was hard to hear.
At one point he moved his mike stand backward a few inches, then to one side, then another, each time stopping in the middle of his song. The sound system was feeding back just a hair, and he wanted it fixed. The crowd, which remained respectful and quiet throughout both performances, grew tense. Ramsey is known for having a low tolerance for sound problems, tuning problems, chattering crowds, and cigarette smoke. Was he about to blow?
Nah.
"It's cool," he told the sound man. "We were actually doing OK until I started moving things around."
He encouraged the crowd to give a round of applause to the sound man.
The show was held on the outdoor stage on a beautiful evening with a cool breeze blowing, but a food truck was parked nearby and the sound of a generator was annoying as hell for such a quiet and intimate performance. Between that and Ramsey's low-wattage performance, the show drifted through starts and stops.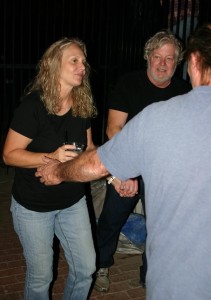 Rogers and Ramsey were both having throat difficulties, particularly Rogers.
"Does anybody have a cough drop?" Ramsey asked at one point.
After a half dozen songs, Ramsey took an unexpected break.
"I'll be back in five minutes," he said, thanking the crowd for coming and encouraging them to stick around.
Five minutes passed. Then 10. Then 20.
Finally, Ramsey returned. Who knows why, but he was suddenly back on his game. He knocked out several songs that don't appear on his one and only album Willis Alan Ramsey (1972), such as "Mockingbird," "Desiree," and "Boys Town." All were exceptionally written and performed, as good as anything on his first album, particularly "Desiree."
Ramsey described how a college teacher once told him to "write what you know." But Ramsey was only 19 at the time and didn't know anything, so he quit school to "go learn something."
Instead, he mostly wrote about things he had little knowledge of.
"For instance, I didn't know anything about muskrats," he said. "Still don't."
His biggest selling song is "Muskrat Love," which hit No. 4 on the Billboard Top 100 after Captain and Tennille recorded it in 1976. Ramsey doesn't play it much at shows, and he didn't play it last night either.
As his second set wound down at about 11 p.m., Ramsey thanked the crowd for being so attentive.
"I wish they had this kind of place in the '70s," he said. "It was a little louder back then."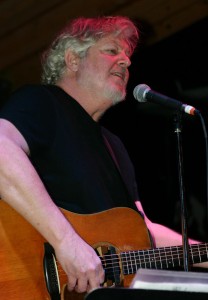 He played "Angel Eyes," the gorgeous ballad from his first album, and received a standing ovation.
"That's cool," he said. "Thank you."
Then he closed with "Satin Sheets" with its lyrics that, once again, describe something he knows little about: I wish I was a millionaire / I'd play rock music and grow long hair / I tell you boys, I'd buy a new Rolls Royce
Afterward, he and Rogers sat on a coach inside the bar and signed autographs and talked to fans. Rogers propped her injured leg on a table with a bag of ice resting on her knee. She loved the bar and the crowd, she said: "Everybody here is so happy."