Foxcatcher (R) Bennett Miller (Capote, Moneyball) directs this dramatization of the relationship between wrestler Mark Schultz (Channing Tatum) and billionaire John DuPont (Steve Carell) that ended in murder. Also with Mark Ruffalo, Sienna Miller, Anthony Michael Hall, Guy Boyd, Brett Rice, and Vanessa Redgrave. (Opens Wednesday in Dallas)
The Homesman (R) Tommy Lee Jones directs and stars in this adaptation of Glendon Swarthout's novel as a 19th-century lowlife who agrees to help a pious spinster (Hilary Swank) to transport three madwomen from Nebraska into Iowa. Also with Grace Gummer, Miranda Otto, Sonja Richter, Barry Corbin, David Dencik, William Fichtner, Tim Blake Nelson, Evan Jones, Hailee Steinfeld, James Spader, John Lithgow, and Meryl Streep. (Opens Friday in Dallas)
Penguins of Madagascar (PG) The four birds from the Madagascar films (voiced by Tom McGrath, Chris Miller, Christopher Knights, and Conrad Vernon) get their own animated spinoff. Additional voices by Benedict Cumberbatch, Ken Jeong, Annet Mahendru, Peter Stormare, John Malkovich, and Werner Herzog. (Opens Wednesday)
Pulp: a Film About Life, Death & Supermarkets (NR) Florian Habicht's documentary profile of the 1990s British band. (Opens Wednesday in Dallas)
V/H/S: Viral (R) The horror anthology series marches on with this collection of short horror films directed by Justin Benson, Gregg Bishop, Aaron Moorehead, Michael Sarmiento, and Nacho Vigalondo. (Opens Friday in Dallas)
Women Who Flirt (NR) Pang Ho-Cheung (Dream Home) directs this comedy about a Chinese woman (Zhou Xun) who must learn how to flirt to catch the attention of a handsome classmate (Huang Xiaoming). Also with Sonia Sui and Hsieh Yi-Lin. (Opens Wednesday in Plano)
NOW PLAYING:
Beyond the Lights (PG-13) This music-industry drama manages to be entertaining without degenerating into forced melodrama. Gugu Mbatha-Raw (Belle) stars as a pop music star under the thumb of her domineering momager (Minnie Driver) who falls for a cop (Nate Parker) after he talks her down from a suicide attempt. The story is strictly boilerplate and the movie has problems with pacing, but the characters are well-drawn. Parker makes a potentially saintly character into something human, and Mbatha-Raw makes her character's evolution something powerful. Be sure to stay for Mbatha-Raw's karaoke rendition of "Blackbird." Also with Danny Glover, Richard Colson Baker, Darryl Stephens, Elaine Tan, Isaac Keys, India Jean-Jacques, and Aisha Hinds. –– Cole Williams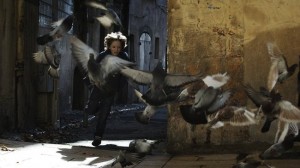 Big Hero 6 (PG) Disney's beguiling latest animated film is about a 13-year-old genius inventor (voiced by Ryan Potter) who uses a giant, inflatable, healthcare-providing robot (voiced by Scott Adsit) to find out who's responsible for the death of his older brother (voiced by Daniel Henney). The animators have great fun with the fat, huggable, slow-moving robot and the setting, a city that's a mash-up of San Francisco and Tokyo. The movie isn't as deep as it would like to be, but it's good fun. Additional voices by Jamie Chung, T.J. Miller, Genesis Rodriguez, Damon Wayans Jr., Alan Tudyk, Katie Lowes, James Cromwell, and Maya Rudolph.
Birdman, or (The Unexpected Virtue of Ignorance) (R) A hell of a ride. Michael Keaton stars in this theatrical satire as a washed-up Hollywood action star who risks the last of his fortune to mount a Broadway play that will get him taken seriously as an actor. This is easily the best work by director/co-writer Alejandro González Iñárritu, who finally gets in touch with his sense of humor and stops trying to tell us about the state of the world in favor of telling us a story about a somewhat deluded showbiz guy. The long takes and cleverly disguised cuts create a hurtling sense of momentum that replicates its main character's disintegrating sense of self. It also keeps the actors on their toes, with Keaton, Edward Norton (as a Method diva of a fellow actor), and Emma Stone (as the hero's drug-addicted daughter) all delivering career-best performances. The movie's ideas are undercooked, but at least González Iñárritu has discovered a sense of joy to go with his technical gifts. Also with Naomi Watts, Zach Galifianakis, Andrea Riseborough, Lindsay Duncan, Jeremy Shamos, and Amy Ryan.
Gone Girl (R) This movie tastes like death, and I mean that in a good way. David Fincher's complex, black-as-the-grave murder mystery stars Ben Affleck as a man who becomes the publicly demonized prime suspect when his wife (Rosamund Pike) disappears. Gillian Flynn adapts this from her own bestselling novel and writes like a seasoned veteran, while Fincher expertly tightens the screws. Supporting actors (Tyler Perry, Kim Dickens, and Carrie Coon especially) give tasty performances, and composers Trent Reznor and Atticus Ross provide a fearsomely detached score. Both Fincher's nihilism and Affleck's talent for playing flawed, self-loathing guys receive a great showcase in this movie that flatly dismisses the illusions peddled by romantic movies. Also with Neil Patrick Harris, Patrick Fugit, David Clennon, Lisa Banes, Missi Pyle, Emily Ratajkowski, Boyd Holbrook, Lola Kirke, Scoot McNairy, and Sela Ward.
The Hunger Games: Mockingjay Part I (PG-13) The latest installment does a perfectly fine job of setting us up for the series' end. Newly installed as the face of the anti-government rebellion, Katniss (Jennifer Lawrence) leverages her position to get the rebels to rescue Peeta (Josh Hutcherson) and the other captured former Hunger Games winners. Director Francis Lawrence botches the climactic scene and runs into trouble with pacing early on, but the filmmakers keep adding telling details to Suzanne Collins' novels that deepen our understanding of her fantasy world. Also, Julianne Moore is a nice addition as the rebels' leader. Bring on the big finale. Also with Liam Hemsworth, Woody Harrelson, Donald Sutherland, Willow Shields, Sam Claflin, Natalie Dormer, Mahershala Ali, Jeffrey Wright, Stanley Tucci, Jena Malone, and the late Philip Seymour Hoffman.
Interstellar (PG-13) Wonderful, but also not so good. Matthew McConaughey plays a pilot who leads a small crew of astronauts outside the galaxy to save the human race from going extinct on Earth. It's hard to blame Christopher Nolan for wanting to make something hopeful and optimistic the way his Batman movies were doom-laden and despairing, but the material about an astronaut separated from his daughter needed a refined understanding of domestic relations, and that's just not what we go to Nolan for. He and cinematographer Hoyte van Hoytema do an amazing job of creating the different planets in outer space, and their visual virtuosity will root you to your chair, especially if you see this on IMAX with the sound cranked up. Still, a movie that's supposed to be uplifting instead turns out stubbornly unmoving. Also with Anne Hathaway, Jessica Chastain, Casey Affleck, Topher Grace, Wes Bentley, David Gyasi, Mackenzie Foy, William Devane, Ellen Burstyn, John Lithgow, Michael Caine, and Matt Damon.
Mea Culpa (R) Vincent Lindon stars in this French thriller as a disgraced ex-cop who must redeem himself when his family is placed in danger. Also with Gilles Lellouche, Nadine Labaki, Gilles Cohen, Max Baissette de Malglaive, Medi Sadoun, and Velibor Topic.
Nightcrawler (R) Jake Gyllenhaal has never been more horrifying or hilarious than in this black comedy thriller. He plays a psychopathic criminal who becomes a freelance video journalist to make money off his thirst to film fires, traffic accidents, and violent crimes in progress. The movie is a nice satire of the TV news business, but you'll remember a slimmed-down, ponytailed, manically grinning Gyllenhaal spewing business-speak and self-help jargon as he becomes a new kind of monster: a parasitic journalist who uses his self-employed status to flout all kinds of ethics and laws so he can satisfy his bloodlust. The novelty of that gives this thriller an extra kick. Also with Rene Russo, Riz Ahmed, Ann Cusack, and Bill Paxton.
Ouija (PG-13) Olivia Cooke stars in this deeply moronic horror flick as a girl whose best friend (Shelley Hennig) appears to kill herself, so she tries to contact her friend's spirit by using a Ouija board. "I don't think we should do this," somebody says. Well, duh! Does anything good ever happen when movie characters play with Ouija boards? Cooke is a promising talent with a pretty good American accent, but this movie's just too stupid to be scary. Also with Ana Coto, Daren Kagasoff, Bianca Santos, Douglas Smith, Lin Shaye, and Matthew Settle.
Rosewater (R) For his directing debut, Jon Stewart sets himself a difficult task with this drama about Iranian-Canadian journalist Maziar Bahari (Gael García Bernal), who was arrested and tortured for 118 days while covering the Iranian election of 2009 and the resulting protests against the government. With a film that takes place so much in one setting, Stewart seems reluctant to either embrace the monotony and claustrophobia or fully open things up with nonrealistic sequences. The main character's mental chess game with his interrogator (Kim Bodnia) gives the movie its modest power. Also with Dimitri Leonidas, Haluk Bilginer, Golshifteh Farahani, Claire Foy, and Shohreh Aghdashloo.
St. Vincent (PG-13) This movie should be unbearable Hollywood-style melodrama, but it's made into something rather enjoyable by the efforts of its actors. Bill Murray stars as a mean old man whose financial difficulties spur him to take a job watching over the 11-year-old boy next door (Jaeden Lieberher). The young Lieberher does more than hold his own amid a cast filled with Oscar nominees, while Melissa McCarthy turns in a gratifyingly understated performance as the boy's mother and Naomi Watts does a tartly funny slapstick turn as a pregnant Russian stripper. Writer-director Theodore Melfi doesn't come up with the best material, but he directs with a dry style that keeps this just on the right side of sentimentalism. Also with Chris O'Dowd, Kimberly Quinn, Lenny Venito, Nate Corddry, Ann Dowd, and Terrence Howard.
Saving Christmas (PG) Kirk Cameron stars in this Christian film as a man who helps his brother-in-law (Darren Doane) see the true meaning of the holidays. Also with Bridgette Ridenour, Raphi Henly, and Ben Kientz.