If the calendar is to be believed, it's December. And if curses are to be believed, the Dallas Cowboys will soon crumble. The curse appears to have rubbed off on me, as I'm pulled over for speeding on my way home from work to watch tonight's game.  (That is not an admission of guilt, your honor, should you be reading this.)
The 'Boys must win every game in December to get in the playoffs, barring an unlikely Eagles collapse.
This is a big game with capital letters. (In other words, a Big Game.)
The Cowboys win the toss and get in a shoving match with the Bears on the opening kickoff. Tension is high. It's freezing in Chicago; the 'Boys look cold with their hands stuffed in their jersey pockets. The Bears beat the Cowboys handily on this same field on Dec. 9 of last year.
My dog, Hazel, would be very nervous if she weren't asleep.
I'm nervous for both of us. The Cowboys aren't the only ones under the gun. I've been told that I don't use enough statistics to be considered a credible sports columnist. Being thought of as a credible sports columnist is my dream. Expect more statistical due diligence from now on.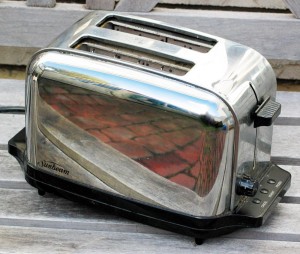 The Cowboys are toast if they lose this game.
More than 7 million pop-up toasters were sold in the United States in 2010.
Both teams struggle back and forth during the first quarter. It's smash-mouth football. The Cowboys need to get mean, and they do, driving 51 yards in the second quarter, and going for it on fourth and goal to take a 7-0 lead.
The success rate on fourth and short for NFL teams is 62 percent, which is the exact same percentage of Americans who believe there was an official cover-up to hide the truth about  JFK's assassination, according to a Washington Post-ABC News poll in 2013.
The Bears drive right back down the field, convert on a fourth down, and score on a pass to Martellus Bennett — aka Marty B, the former Cowboy who was too goofy for Dallas. The Cowboys drafted him in the second round in 2008, hoping to create a titanic tight end tandem with Jason Witten.
But Bennett is too quotable, too happy, smiley, and easy going. Coaches questioned his work ethic, while local fans criticized him for posting silly videos of homemade raps.
Marty B. left Dallas in 2012 but is still smiling and rapping in Chicago. And scoring touchdowns.
Yay! My main man Cole Beasley catches a touchdown in the closing seconds of the first half to give the Cowboys a 14-7 lead. Coal provides 30 percent of the world's primary energy needs.
You know, these stats are really breathing fresh life into Off Asides. (Is it appropriate to use the cliché "breathing fresh life" to describe being creatively reinvigorated? I imagine 62 percent of Americans would say, "sure, why not," and so I let the cliché stand).
Statistics are cool. I spit in the face of Vin Scully, who once had the gall to say, "Statistics are used much like a drunk uses a lamppost; for support, not illumination." They ought to kick that hack out of the Broadcasters Hall of Fame.
A field reporter interviews head coach Jason Garrett on his way to the locker room. Coach says the Cowboys made mistakes but "I like the spirit of this team."
Garrett takes the blade-of-grass approach during camera interviews. He fixates on a blade of grass while talking, never looking at the interviewer or the camera. He's all business. Some coaches and players stare directly into the eyes of the reporter, usually leaning in to talk due to crowd noise. I imagine lots of spittle ends up on the reporter's face. Other interviewees tend to look upward at the fans in the stands, while others, the brash ones, talk directly into the camera.  I search frantically for statistics on this, but can't find any.
My Wikipedia search is interrupted because Bears running back Matt Forte fumbles the ball on the opening drive of the second half and the Cowboys recover. (I become happy on 70 percent of Cowboys fumble recoveries; the other 35 percent of the time, I'm napping.)
No napping tonight!
Touchdown No. 2 for Beasley!
Beautiful throw by Romo under pressure!
21-7!
Ninety-nine percent of exclamation points are deemed unnecessary by professional grammarians, but all of them agree this touchdown and resulting slew of sentences falls into the 1 percent category!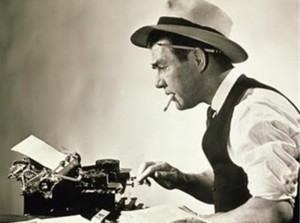 The ink ribbon on my typewriter is worn out by all the exclamation points. The ribbon tears to shreds when I use 489 exclamation points to describe the Cowboys next drive, featuring a 44-yard pass to Dez Bryant, and a 6-yard touchdown pass to tight end Gavin "Pablo" Escobar. (Note: I write all my columns on an old-school manual typewriter while chain smoking unfiltered Pall Malls and wearing a detective's hat with a "Press" sticker in the hatband, and a Spandex skin suit with a leopard skin cape. Hazel wears a pillbox hat autographed by Bill Bates.)
The Cowboys keep scoring touchdowns.  I lose count. Hazel's hat requires constant adjusting. Zero percent of dogs have the paw-eye coordination required to properly adjust their pillbox hats.
Uh oh, Escobar fumbles an onside kick with seven minutes left in the game, and the Bears recover. Suddenly, a comfortable 38-21 lead turns into a 38-28 nail biter with 6:09 remaining in the game. Nearly one in three French people are nail biters.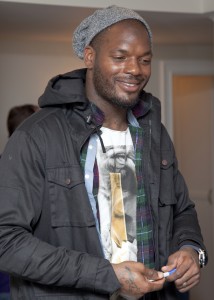 Bennett has a big game and is obviously having a great year – the announcers say he set the single season mark for passes caught by a Bears tight end, surpassing Mike Ditka's record.
How do you uptight fans like the kooky rapper now?
But forget Marty B, this is the night of the Cowboys, the end of December curses, and the start of a Super Bowl run.
I'm distracted by game's end, but I'm 83 percent sure the Cowboys won the game.