The muffled sounds of laughter and chatter broke through the chilly, quiet air on Magnolia Avenue. In houses and condos up the side streets, neighbors were settling in for the night. But at The Bearded Lady gastropub, festivities were just beginning.
Much like other parts of the Near Southside, the Bearded Lady is a melding of the new and trendy with parts of the past that have lasted long enough to be appreciated again. A renovation last year kept many of the 1920s features of the former home, like hardwood floors and broad cottage windows. And like a small but growing number of bars in town, The Bearded Lady has a whole array of local and regional brews on tap — something that hasn't been true in this part of the country in more than half a century.
The bustling crowd wasn't there to hear a local band or take advantage of drinks specials. They had gathered to try a rare artisan ale brewed as a joint venture between Odell Brewing Company (based in Fort Collins, Colo.) and Boulevard Brewing Company (based in Kansas City, Mo.) to commemorate both companies' 25th anniversaries. The dozens of craft beer enthusiasts filling dinner tables and benches split their time between chatting with local brewery representatives and trying the newly released brew.
A pint of golden-hued anniversary ale in hand, Bearded Lady co-owner Eric Clayton talked about how the thirst for craft beers in Fort Worth has outstripped supply until recently.
The availability of craft brews has grown exponentially in the past three years, thanks to the arrival of new breweries like Panther Island Brewing and gastropubs like The Pour House; the help of craft beer-themed festivals; and recent changes to state law.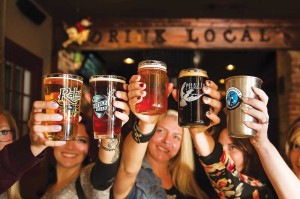 Craft beers (also referred to as microbrewed or artisan beer) are brewed in smaller batches than industrially produced brands like Budweiser and are characterized by strong, complex flavors and higher alcohol content than mainstream beers. The typical alcohol-by-volume (ABV) percentage of brands like Budweiser and Coors is 4.5; stouter craft beers regularly reach 10 percent, and some are even stronger.
Ryan Deyo, co-owner of Near Southside-area brewery The Collective Brewing Project, said Fort Worth is becoming the go-to place for craft beer in North Texas. The city is home to four of 21 breweries in the region, along with  brewpubs.
As with many trends, Texas has come late to the craft beer craze, and Fort Worth has been even slower than some other cities. However, beers made in and around North Texas are now garnering international attention and snatching up national beer competition prizes.
"That's how Fort Worth does things," Deyo (pronounced "day-oh") said. "We're kinda more laid-back here."
He describes craft brewers as a quirky mix of blue-collar work ethic and creative artistic vision and, interviewed at his brewery and taproom, Deyo looked the part.  His jeans bore no designer touches, and the sleeves of his plaid shirt were rolled up. Pointing out things at the newly opened business, he explained with pride that he and co-owner Mike Goldfuss had built everything.
"I think we're at the ground level of a really exploding scene," he said.
Tony Drewry has helped shape that growth, first as a beer peddler at Rahr & Sons Brewing Company, then as a freelance beer consultant for The Live Oak Music Hall & Lounge, The Pour House, and The Bearded Lady.
His devotion to the craft beer community has even spawned a craft brew-themed band, Shotgun Friday, in which he plays banjo and sings. The quartet performs regularly at breweries like Revolver Brewing in Granbury. Drewry described their sound as an eclectic mix of bluegrass and hip-hop he calls "beergrass." One of their most popular songs, "Velvet Hammer," is an ode to his favorite beer from Dallas-based Peticolas Brewing Company.
"Fort Worth's been kind of a Miller Lite town for a long time," he said. "I think the movement here was just waiting to happen. Like most folks, I grew up drinking the same beer my father and grandfather did. When the opportunity came for folks to drink a better beer, people already wanted it, but they didn't have the access at first.
"Rahr really connected with the people, then when Martin House came along, it started the next big wave. Having the availability of craft beers is really opening things up," Drewry said. "I don't think we're anywhere near the number of breweries North Texas can support."
 ********