The November night was stormy, but that didn't stop more than 250 people from gathering inside the small white cottage off Camp Bowie Boulevard that is home to the William Campbell Contemporary Art Gallery. The place was packed with artists, collectors, friends, and fans who'd gathered for the opening reception of a retrospective show celebrating the big anniversary.
A jazzy R&B band played under a tent in the parking lot. Bartenders served two specialty mixed drinks, one called "Worth the Wait," the other the "Campbell 40." Tokyo Café chef Kevin Martinez' servers were offering raw oysters and Asian vegetable dumplings to the crowd.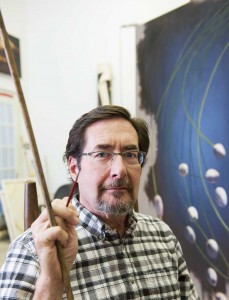 Many of the gallery's longtime North Texas artists, including painters Grant, Julie Lazarus, and Billy Hassell, were in attendance. Two other artists, Richard Thompson and Tom Hollenback, had flown in from Oregon and Wisconsin respectively.
Notably, the Campbells didn't make a speech or cut a cake to mark the beginning of their fifth decade as Fort Worth's most successful and admired purveyors of abstract and expressionist paintings, modern sculpture, photography, and mixed-media works. The evening's vibe felt more like a private party in their own home for Texas-based and Texas-connected artists and art lovers, many of whom have been patrons of the gallery for decades.
It's a long way from the days in 1968 when TCU fine arts student Bill Campbell and fashion merchandising major Pam Brazzil, both native North Texans, were introduced by one of Bill's high school friends at a fraternity party. He talked to her about modern art, and she told him how she'd always wanted to run a retail business. Pam admitted she didn't know much about contemporary art; he took her to some of his favorite artists' shows at the Modern, as eager to teach as she was to learn.
They married the next year, shortly before Bill was drafted –– just four days after college graduation –– to serve in the Vietnam War. It was scary but not surprising. Some young men they knew had been drafted, and others had managed to avoid it — but Bill didn't have any health issues or daddy connections or anything else that would've enabled him to get out of service.
Going to war does lots of things to and for people. Characteristically for Bill, one of the things it did was to teach him more about art.
The Army trained him as a helicopter mechanic, and he flew some dangerous missions in Vietnam. During the early months of stateside basic training, though, he was stationed at Fort Mead in Maryland, which allowed him a few visits to the thriving gallery and museum scenes in Washington, D.C., and Baltimore. Direct exposure to those bigger, more diverse art scenes only cemented his desire to bring that quality of work back to North Texas.
"The thing about seeing a lot of really great art is that it makes you expect more,'' he said. "Dallas had one or two galleries devoted to contemporary art, I think. Fort Worth galleries showed a little bit of it here and there, but they mixed it with Western and Southwestern art and a lot of craft-based work. Remember, this was the late '60s."
Bill survived the helicopter missions and everything else during more than two years in Vietnam. When he got out, he and Pam settled in Dallas.
While in college, Bill had helped at the Modern Art Museum of Fort Worth, setting up their contemporary art exhibits. In Dallas, he worked for a commercial art firm, while Pam was employed in various capacities at Neiman Marcus. That company also put her through an executive-management training program that would later be invaluable to running the William Campbell.
Bill lost his job a couple of years later. By then, the couple had a baby son. Feeling fearless, Bill borrowed some money from his dad and leased a small space off Camp Bowie that had housed another gallery. Bill and Pam opened Gallery One there in 1974, the first incarnation of William Campbell Contemporary Art. It was Fort Worth's first gallery dedicated exclusively to contemporary artists' work. The Campbells also offered framing and mounting services — and still do.
"There was a little bit of naïvete going into that," Pam said. "We did most of our learning on the job. If we had known all the work that it was going to take, maybe we wouldn't have done it."
Bill is more blunt about his own inexperience: "I was too stupid to know any better," he said, laughing.
********