What the Campbells did have was a fairly coherent vision of what they wanted to achieve: In addition to highlighting so-called modern art done by living Texas artists, they also introduced the "white-box" gallery concept to Fort Worth — bare walls and minimal interior furnishings, to put all the focus on the work.
From the start, they were determined not just to sell contemporary art but also to nurture the careers of talented young artists by establishing long-term business and personal relationships with them. And that's what happened.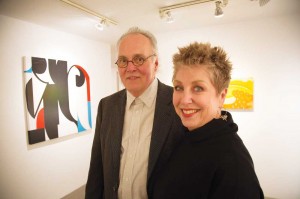 None of the dozen or so Fort Worth, Dallas, Houston, and San Antonio artists they represented at the start –– most of them acquaintances of Bill's from his college days –– are still with William Campbell. But many of the 40 or so painters, sculptors, and mixed-media artists they currently represent have been with the gallery for two or three decades.
Brad Alford graduated from TCU with an interior design degree and has been attending the Campbells' shows since Gallery One opened. He now runs G. Bradley Alford & Associates, a Fort Worth-based interior design firm with clients all over Texas and across the country.
He figures he's purchased hundreds of pieces of art from the Campbells for clients and for his own private collection, which is composed largely of Texas contemporary artists. He owns pieces by William Campbell mainstays like Grant, Benito Huerta, and Robert McAn. He remembers the sense of freshness Bill and Pam brought to the Fort Worth gallery scene.
"They were definitely the hot ticket in town," he said. "They had art that was sharp, clean, and modern. It was obvious as soon as you walked in the door that they were aiming higher than the 'bluebonnets on a landscape' crap."
While the Campbells struggled to get the gallery going, they stayed afloat with help from two sources — Bill's full-service expertise in framing and mounting artists' work and Pam's small art exhibition poster shop, which she operated at Hulen Mall from 1977 to 1981. There has never been a strict division of labor at the William Campbell –– they both dabble in the business and artistic sides –– but Bill insists that if it wasn't for Pam's business savvy and organizational skills, the gallery "would've sunk like an anchor" long ago.
Their careful cultivation of partnerships with artists they admired as well as with Texas collectors –– some of them wealthy but many not –– allowed them to move in 1981 to a larger gallery space a few blocks away. They renamed the business the William Campbell Contemporary Art Gallery, and it's been there ever since.
By then the couple had co-founded both the Fort Worth Art Dealers Association and the city's annual Gallery Night (which now happens twice a year) to help bring a sense of community and cohesiveness to the scene. But their lasting legacy is probably more broadly influential –– their mission to educate the patrons of their gallery about the latest in Texas art.
********