The artist named Vincent couldn't have had a good Christmas Eve. His head was bandaged, he'd been in a fight that day, and the police were on their way. He had very little money and wasn't sure anyone would ever pay attention to his work. And when he handed his ear — sliced off either by himself or another artist in the fight –– to a prostitute, she'd fainted at the gift.
Merry Christmas from the family, indeed.
During the holidays, folks' thoughts often turn to the less fortunate among us. Our version of that at Fort Worth Weekly is to consider the struggling artists in our town, particularly the musicians who inspire and entertain us all year long. We hope no one is contemplating an ear removal for Christmas, like Van Gogh, but the credo of the starving artist hasn't changed much since he did his thing back in 1888: Roll with the punches, and stay true to your talent. Many of them could be earning perfectly adequate livings at regular jobs, but, to a greater or lesser extent, they've chosen instead to give their best to their music. They burn their candle at both ends (or in Luke McGlathery's case, burn their candles to fry eggs) and it gives a lovely light to the rest of us.
Settle back with a hot toddie or a cold beer, and we'll tell you a few of their stories, starting with our own local battered Vincent. Listen for the sounds of tiny reindeer on the roof, or perhaps that's the cops knocking at the door or the band tuning up… .
********
A modern-day Vincent –– Vincent Neil Emerson –– patiently twists the tuning keys on his guitar until the instrument sounds right again. He talks in his slow, calm manner to the crowd at Shipping & Receiving Bar. His guitar is a beat-up 1960s Sears catalogue special, out of tune only three songs into his set.
"I chose this guitar because it means something," he said, explaining how he'd bought it from Justin Elliot, a friend and local guitarist who died a few months ago.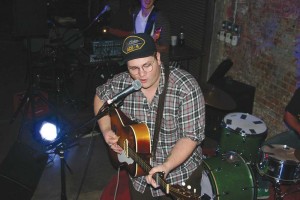 Bared feelings come naturally to Emerson. He speaks quietly but says what's on his mind, which can get him into trouble (see our cover photo). He pours raw emotion into his poems, artworks, and songs. He sends thoughts careening wildly on his Facebook page and shows his challenging nature up close at shows.
His band, The Old Souls, played a few more tunes, and bassist McGlathery encouraged the crowd to whoop it up. Instead, the audience sat mute. They'd been subdued for most of the evening.
"They're not into it," Emerson said, staring at the small crowd. "But y'all look pretty. Sitting there looking pretty."
The band kept the music going while Emerson stared at the floor and tuned his guitar. The crowd grew uneasy.
"I don't mean to sound like that," he said, finally. "I'm glad y'all are here, every one of you. This song is about ol' what's her name, whoever she is."
The Old Souls crashed into a honkytonk barn-burner, a prime example of the band's retro-fresh sound that has fans and critics taking notice. But this particular crowd on this particular night kept sitting and staring. A party was rumbling nearby at The Where House, and Emerson had been invited at the last minute to play a late set. He was the closing act at Shipping & Receiving and could have played a few more songs if he'd felt like it, but the audience seemed distant. No encores tonight.
Bandmembers packed up their instruments, crammed themselves into McGlathery's old Honda Pilot, and barreled down Hemphill Street, hustling from a low-paying gig to a no-paying gig. It's a way of life for these and many other young musicians in Fort Worth.
"I work really hard to not find a real job," McGlathery said a few days later, sitting on a worn couch in his one-room apartment above The Where House, where he's lived for several months. "It's a lot harder than people think."
Maybe one day they'll get discovered in a club by Bruce Springsteen's manager, or have one of their songs recorded by a superstar and earn some fat royalty checks, or become a YouTube sensation. If it happens, they'll jump aboard. But that's more of an afterthought, if a thought at all. They're doing what they love, no matter where it leads.
"It's not an easy game to be in; it's tough mentally," Emerson said before a recent gig. "I've been at this for about three years, and I've been able to do it without getting a day job.
"Sometimes you got to make a choice of whether you want to have a few beers or eat that night."
The unlit, half-smoked cigarette stuck behind Emerson's ear is a treat for later, testament to the economic realities of supporting oneself by singing songs. As one of the world's best songwriters, Tom T. Hall, once sang, "They're ain't no money in it; it'll lead you to an early grave."
No matter. Emerson is all in, for better or worse. The seasoned honkytonk crooner is only 22, but his life spills across the page like the lyrics of a Billy Joe Shaver song. Emerson was 10 when his dad hanged himself. His single mom was raising three kids by three different fathers in the tiny town of Myrtle Springs in East Texas. The last time Emerson saw his dad was on the day of the 9/11 attacks.
"The last memory I have of him is looking at him and seeing the TV screen with the twin towers going down," he said.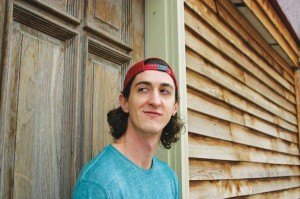 His mother moved the family to Dallas not long afterward, supporting them through bartending and various odd jobs. Emerson turned to booze and drugs early, moved out on his own at 14, and dropped out of school in the 10th grade. He sealed his musical fate several years ago, a story recalled by his first manager, Dan Hurshel of Fort Worth.
"I met Vinnie when he was 18," Hurshel said. "I heard him play at this party. The stuff he was playing was engaging, and people were digging it. He'd only been playing about a year at that time, but he had energy, and he was passionate. I had booked shows before, and I thought this kid was good. I wanted to do what I could for him."
Hurshel booked numerous gigs that first year and became a mentor, although not always a successful one.
"When Vinnie was 19, he told me he was going to get a tattoo," Hurshel recalled. "I said, 'Don't get any where people can see them because you've got to get a job.' The next time I saw him, he had his knuckles tattooed. He said, 'Fuck that, I want to play music.' "
"L-O-V-E" blazes across the fingers of one hand, and "L-I-F-E" on the others.
"They call them job stoppers," Emerson said. "I figured if I got these on my knuckles I'd have to be a musician."
He's taken odd jobs when financial desperation set in, as it typically does from time to time. Right now he's surviving on money from gigs and CD sales. Few people can pull that off without sacrifices. He's got no car, no phone. He leases a tiny apartment for $335 a month and relies on a roommate to split costs.
"With my roommate I'm only paying like $167," he said. "It's still hard sometimes to make that. I just spent all the money I had in the world making this record."
Emerson is about to release East Texas Blues, an album of original music recorded at Eagle Audio. The music combines Western swing, folk, and blues into a genre called Texas Music. The songs are honest, poetic, and seemingly written by someone far older than 22.
Caleb Stanislaw is a veteran guitarist much in demand for his tasty licks. He saw something special in Emerson and has been playing with him at live shows and on recording projects in recent months.
"I was struck by his genuineness and surprised by his young age, his worldliness, and his wisdom," Stanislaw said. "He is an old soul. Don't tell him I said he was wise."
This summer, Fort Worth Weekly became the first newspaper to review a Vincent Emerson CD. Music writer Jimmy Fowler complimented Emerson's "beautiful, lilting delivery" and noted his "rare ability to keep you hanging on every minor chord change and bluesy inflection." The Fort Worth Star-Telegram reviewed an EP version of East Texas Blues earlier this month, and music writer Preston Jones praised Emerson's "bruised-beyond-his-years songcraft," calling him "one of Fort Worth's most promising talents."
Getting the album made wasn't easy. Emerson relied on musician friends to play for little or no money, got a good deal on the studio time, and sold his car to help cover the costs. Now he catches rides to gigs, and tools around on a bike. Catching him on the phone isn't easy; he hasn't owned one in a while. "Some girl I was in an argument with threw it up against the wall, and I'm probably late on my bill too," he said.
Solo gigs pay the rent. A three-hour restaurant gig might earn him $150 to $200. Club gigs typically pay less, unless he pulls in big crowds. But solo gigs can get lonely. He sits in with other bands and regularly fronts the Old Souls. He's earned that title, but won't claim it.
"That title is good for the band, but I wouldn't call myself that," Emerson said. "It implies there is some sort of wisdom. I tread lightly when it comes to things like that because I was really cocky when I was younger, and I got put in my place by people who were older. They taught me respect."
It's a lesson he's still learning. Emerson was small for his age while growing up, with pudgy cheeks and a baby face. Kids picked on him. He fought back. He grew taller and thicker during his late teens, and relied on his fists to get him out of trouble. A front tooth was knocked out several years ago in a street fight in Dallas –– someone smacked him with a piece of concrete.
Earlier this year, he went drinking in west Fort Worth and, late in the evening, posted on Facebook, asking someone to come pick him up and take him to the hospital. He'd been hit so hard in the face that his right eye wasn't sitting in its socket correctly. Sure enough, doctors at John Peter Smith Hospital told him the bone below his eye was broken. If it didn't heal correctly, there was a chance his eye would sag for the rest of his life.
Emerson posted a photo of his battered face on Facebook a couple of days later but revealed few details about what had happened. Facebook friends pressed for information, and after refusing politely a couple of times, Emerson finally told people to shut up. He still isn't interested in sharing many details.
"I had a rough night," Emerson said. "There was a woman involved. The dude fractured my orbital floor. It was a cheap shot. I got my face broken but I didn't get my ass whupped."
His eye has since healed up nicely with no permanent mark.
Broke musicians depend on the free and popular Facebook to let fans know where they'll be performing and what's going on in their lives, and Emerson lets it all hang out. Songs, poetry, rants, and philosophical discourses with a scorching honesty make some readers uncomfortable. Fellow musicians have advised him to tone it down, but Emerson does what he wants.
"I make my own rules –– aside from being on time to the shows," he said.
Some people posted negative things about Robin Williams after the comedian killed himself in August, saying he took a coward's way out of his pain. Two days later, Emerson posted his own thoughts.
"I'm getting sick of hearing ignorant people bitch about Robin Williams' suicide," he wrote. "You're speaking bad words on somebody that you never even met. You saw his movies. So fucking what … shut your goddamn mouth for one minute and THINK before you speak. I'll be deleting a lot of people on here today, unfortunately.
"I hope they all burn in hell … ."
Remorse sometimes follows his rants.
"I apologize for my extremely negative posts," he wrote a few days after telling Facebook friends to quit badgering him about his black eye. "I actually had somebody tell me I hurt their feelings, and then they unfriended me. I've been really pissed off and drugged up out of my mind since I got out of the hospital. I'm sorry."
Those moods, however, can generate some great songs. No topic, including his father's suicide, is off limits lyrically. Where it all leads, who knows? But it's a safe bet Emerson won't be spotted in a work cubicle anytime soon.
"I don't take well to authority," he said. "I never had a father really. When somebody tells me what to do, I tell them to kiss my ass. It's gotten me into trouble. I've been arrested and put in jail. I've kind of mellowed, but every once in a while it pops up again."
He was at odds with his mother for a while, but they're close again, and Emerson plans to visit her and some of his siblings in Lewisville on Christmas. I asked him what that will be like, and his poet's mind took over:
"I finally get out of bed at 3 p.m. and walk downstairs to find my entire family singing around the piano, wearing mullet wigs and sipping hot Keystone Light. I look into my stocking, and I see something…it's a…it's a Martin D28. Everyone screams 'Merry Christmas!' like they're being murdered."
Then he rejoined reality. "My Christmas will probably be just like anybody else's," he said. "I've never been a big fan of Christmas, really. The only thing I really enjoy about it is getting to spend time with my mom and my little sister. I could do without all the gifts. I've seen people I love worried about having to get everyone something, or not being able to get anybody anything for Christmas too many times. Merry Christmas Mom, I love you."
 ********