On Monday the first college football championship of the post-BCS era will be played in Arlington at JerryWorld, which means that a bunch of out-of-towners will be here, presumably from Oregon and Ohio. While I'm tempted to frame the game in warmed-over Portlandia jokes and the assumption that TCU fans summarily despise Buckeyes, it would be nice if everyone visiting North Texas from out of state had a really nice time and told their friends back home about how much fun they had in "Dallas," even if they flew into Dallas/Fort Worth International Airport (in Grapevine) and actually stayed in Arlington or Fort Worth. Or Euless.
One group of sports tourists is already here, all the way from Enfield, Conn. I was driving around looking for a place to watch the Mavs game on Monday and noticed ESPN's trucks and broadcast stages looming in and around Sundance Square. I wondered if the orchestrators of the area's recent remodel from parking lot to plaza had Arlington's eventual sports importance in mind before the corny Butch and Sundance construction walls even went up. I also found myself wondering where the network's various pundits are spending their downtime. For some reason, I suspect Kirk Herbstreit is really excited that downtown Fort Worth has a Cheesecake Factory.
In these last few days leading up to the game, I'm sure your social media feeds will pop with stories about Lee Corso going wild over the calf fries at Reata or some such, but far more useful information (at least for people who aren't from here) is this: Where should you go to party before and after the big game?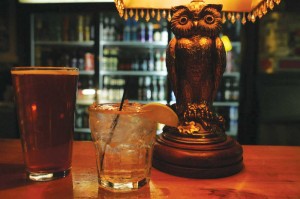 I've never been to Oregon, but the internet tells me that Oregonians prefer locally owned/grown/sourced/bragged-about consumables to the exclusion of all else, so any Ducks fans fitting my imagined stereotype will love the Near Southside, where most of the businesses are owned by actual people from Fort Worth and not nefarious, faceless corporations (like that one shoe manufacturer in Beaverton, for example). The Boiled Owl Tavern (909 W. Magnolia Ave., 817-920-9616), where I tend bar (but not on Monday night because game time!), has a great selection of craft brews, cheap PBR drafts, and a jukebox full of underground legends and obscurities. The awesomely smoke-free Usual (1408 W. Magnolia Ave., 817-810-0114) specializes in Prohibition Era cocktails (Aviations, Old Fashioneds, martinis), and Zio Carlo Magnolia Brew Pub (1001 W. Magnolia Ave., 817-923-8000) is a warm, homey, family-friendly environment for Texas craft drafts and craft pizzas.
I'd like to think that a lot of Buckeyes know deep down inside that TCU deserved a place at the big kids' table, so the red-and-silver-clad hordes might as well get a good look at where Fort Worth's blood runs purple. Good places to engage in spirited, nonviolent conversation about TCU's unceremonious dismissal from the college football playoff include Buffalo Bros (3015 S. University Dr., 817-386-9601), Dutch's Hamburgers (3009 S. University Dr., 817-927-5522), and the University Pub (3019 University Dr., 817-921-3332), where many a 21-year-old birthday has been celebrated.
I also bet the average Buckeye or Duck enjoys live, original music, so for him or her there's Lola's Saloon (2736 W. 6th St., 817-877-0666), where major underground acts like The Polyphonic Spree, The Sword, and Wolves in the Throne Room have played. Right down the street is local band hangout The Grotto (517 University Dr., 817-882-9331), and not too far away is Magnolia Motor Lounge (3005 Morton St., 817-332-3344), a bar/restaurant that caters mostly to the loud and rowdy Americana/blues crowd.
You Oregon and Ohio State bros have probably heard all about how attractive female TCU students are, and if you're curious to see how your girlfriend back in Eugene or Columbus reacts to the ol' "it's not cheating if it's not in the same zip code!" rule, I'd recommend a few West 7th Street corridor spots –– Capital Bar (3017 Morton St., 817-820-0049), Chimy's (1053 Foch St., 817-348-8888), Landmark Bar and Kitchen (3008 Bledsoe St., 817-984-1166), and Reservoir (1001 Foch St., 817-334-0560) –– plus perennial TCU standby The Aardvark (2905 W. Berry St., 817-926-7814). These places are generally Horned Frog meat markets on regular weekends, so I imagine their college-kid quotient over the next few days will reach unfathomable levels. I hope y'all are cool with North Face vests, though. You're going to see a ton of them. –– Steve Steward
Contact Last Call at lastcall@fwweekly.com.