Every once in a while, the eyes of the world focus on us: that Super Bowl in Arlington not long ago, the Van Cliburn International Piano Competition, my upcoming wedding. And by "us," I mean Fort Worth, the 16th-largest city in the United States, and Tarrant County in general. Not Dallas. If you're in from out of town for the college football championship game and refer to Fort Worth as Dallas, you will get a lot of dirty looks.
We take pride in our history, world-class museums, and blossoming restaurant scene. Out-of-towners generally expect to find only barbecue joints, Tex-Mex, and Mex-Mex in these here parts, and while we still have plenty of that, the area also offers a culinary scene full of foodie-approved must-try places.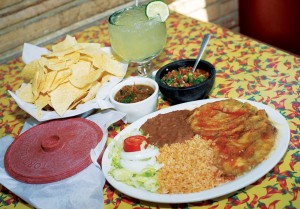 But let's start with the basics: There's no shortage of old- and new-school Mexican joints. The venerable Benito's Mexican Cuisine (1450 W. Magnolia Ave.) is great for a late-night bite. Buckeye fans, be warned: Your bland, Midwestern palates might wither from the spice of the tacos de puerco en salsa verde ($7.25). The Original Mexican Eats Café (4713 Camp Bowie Blvd.) has been around for the better part of a century — one dish is named after the meal that FDR had there. Joe T. Garcia's Mexican Restaurant (2201 N. Commerce St.) has also been around for decades; though the food is fairly vanilla, the atmo and drinks are spectacular. Critical darling Mariposa's Latin Kitchen (5724 Locke Ave.) offers an excellent gourmet take on traditional Mexican cuisine.
Barbecue joints and classic diners have never been more popular, and some of them are great. The critically lauded Angelo's Barbecue (2533 White Settlement Rd.), Cousins Bar-B-Q (6262 McCart Ave.), and the Woodshed Smokehouse (3201 Riverfront Dr.) are three of the better places for 'cue in Texas. Oregon hipsters might be a little horrified by the stuffed bear that greets Angelo's customers. Don't worry. He won't bite. But it is true that tons of animals were harmed in the barbecuing process.
If you're not into eating critters, head to the Near Southside and check out Spiral Diner (1314 W. Magnolia Ave.), our only vegan restaurant, true, but one whose top-notch cuisine is matched only by its laid-back feel.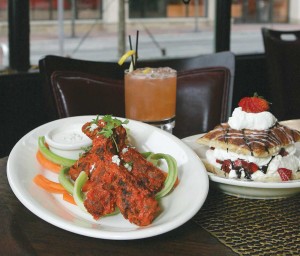 Some of the best culinary action in the city is happening in that area. It wasn't that long ago the hospital district was a convenient place to get stabbed and then stitched up. But it was redeveloped and is now home to arguably Fort Worth's most progressive neighborhood and a world-class restaurant row. Ellerbe Fine Foods (1501 W. Magnolia Ave.), with its   locally sourced menu, is consistently among the state's most highly rated restaurants. Your best bet for sushi in the Fort is Shinjuku Station (711 W. Magnolia Ave.); and one of the better small joints has to be Paco & John (1116 8th Ave.), where taqueria meets classic French cuisine. Where else can you get street tacos and traditional escargot (on some nights)?
Downtown, you'd be remiss not to try some of the excellent small plates at Bird Café (155 E. 4th St.). Duck fans might enjoy the grilled bobwhite quail ($16) with roasted pumpkin grits. Fans of duck should embrace the sesame duck wings ($10). The best view of downtown belongs to the birthplace of upscale cowboy cuisine, Reata Restaurant (310 Houston St.). Even the schmaltzy décor is museum-quality, including memorabilia from legendary roper Roy Cooper and bits and pieces from the movie set of Giant. The rooftop patio is breathtaking, and the food is outstanding.
The most concentrated cluster of restaurants in town is in the West 7th corridor. The whole area looks as though the developer was inspired by Ikea but then gave up on putting it together halfway through. Still, within its poorly designed boundaries sit not only the best white-tablecloth seafood place in town (Waters: Bonnell's Coastal Cuisine at 2901 Crockett St.) but also perhaps the city's best overall restaurant (AF&B, 2869 Crockett St.). Fred's Texas Café (915 Currie St.) is a throwback diner and purveyor of cold-ass beer and giant burgers.
The area around West 7th is hopping, too. If you find yourself at the Modern Art Museum of Fort Worth, check out the eclectic, seasonal menu at Café Modern (3200 Darnell St.). Clay Pigeon (2731 White Settlement Rd.) is a little off the beaten path, but Chef Marcus Paslay has one of the most intriguing fine-dining menus in Texas. For fans of organic, grass-fed, no-fat, free-range everything (I'm looking at you, Oregonians), Chef Lanny Lancarte's Righteous Foods (3405 W. 7th) has a menu that's easy on the waistline and your social conscience.
Like most tourists, you'll probably spend some time in the cowboy theme park known as the Stockyards, where people still pretend to herd cattle and shoot one another for your amusement. While there, be sure to sample the fine cuts of beef at Cattlemen's Steak House (2458 N. Main St.) and enjoy various cow parts at H3 Ranch, which is attached to Booger Red's Saloon (105 E. Exchange St.), home of the horse saddle barstools. (It's a mandatory tourist picture.)
Outside those districts are lots more great eateries, in less traditionally cool areas. In the mood for Asian? Stay in Arlington, closer to JerryWorld, and drive down Pioneer Parkway, lined with restaurants offering Chinese, Thai, and other Asian cuisines, including the fabulous King Chinese BBQ (907 E. Pioneer Pkwy).
If you're not a fan of chopsticks but want to stay close to the stadium, check out a hole-in-the-wall comfort-food standout, Fork in the Road (1821 S. Fielder Rd.), and get a sandwich as big as your head. Or, to really live on the edge, try Potager Café (315 S. Mesquite St.) and its small rotating menu of locally produced gourmet comfort fare, where you can set your own price. Yes, you read that right.
Be sure to tip your waiters and servers. And, whatever you do, don't ask about living in Dallas.
Contact Chow, Baby at chowbaby@fwweekly.com