The masked gunman paces in front of the government building wearing black coveralls and a white ski mask. A large man, he towers over the other armed supporters waiting patiently for their leader to determine their next move. He looks like he just climbed out of an episode of America's Most Wanted to unload violence on the masses.
Their normal targets are restaurants, retail shops, and traffic stops. Arriving in groups of two to a dozen, they walk into establishments with weapons loaded, frightening employees and patrons and leading several businesses to ban them from entering.
On this cold Saturday afternoon, Open Carry Tarrant County members have chosen Arlington City Hall for attention. The building is closed on the weekends, but that doesn't matter. They plan to show city officials that their group has had enough. The group's leader tells news reporters that he expects more than a hundred armed individuals to arrive at any minute, if the weather doesn't keep them away.
Kory Watkins, coordinator of Open Carry Tarrant County, had posted a video message to Arlington officials and police officers on Dec. 28, after one of his members was arrested for interfering with a police officer's duties: "You disobey the oath that you took, and you kidnap and harass citizens who are well within their rights, and this is what you get: pissed-off patriots. And we ain't going anywhere."
It's a battle that has raged for nearly a year between city leaders and the local Open Carry group who've designated themselves the watchdogs of the police. The statewide Open Carry organization says Watkins and his group aren't "nuts" or "loons." With each passing month, the gun advocates are becoming more aggressive, confronting police with tactics seemingly designed to provoke a response for the group's YouTube viewers.
Next, they say, they're heading to the front lawn of the Texas Capitol in support of HB 195, the Texas Constitutional Carry Act of 2015, one of several open-carry bills to be considered by the Texas Legislature, which went into session on Tuesday.
"All of this frustration has been building for a while," said Robert Harris, who ran last year as a Libertarian candidate for the  Texas House. He's been taking pictures of the gun advocates in front of city hall for his trip to Austin at the end of the month. The frustration, he said, comes from "all the threats of taking away guns and violating civil liberties, like trying to pass bans on large [ammunition] magazines, which is ridiculous." Arlington officials, of course, have nothing to do with laws regarding the size of ammo clips.
This "frustration," Harris said, is what has led Open Carry Tarrant County members to interfere with police investigations and to suggest overthrowing the government. Maybe it even played a role in the recent murder in Arlington of a father and daughter.
"Have you ever thought we might just need to organize a very large group of our own people, like 200 from each state, so we can march armed to D.C., take over the city, arrest the bankers, crooked politicians and restore liberty here in our country?" Watkins said in a posting on Facebook. He later claimed the quote was taken out of context.
Harris doesn't believe the gun advocates' actions are becoming more extreme, although he acknowledged that some of the group's recent behavior may not be helping their cause.
But Open Carry Tarrant County's extremism has led other gun advocates like the National Rifle Association to call them "weird," "scary," "counter-productive" and "downright foolish."
"Using guns merely to draw attention to yourself in public not only defies common sense, it shows a lack of consideration and manners," wrote officials at the NRA Institute for Legislative Action when gun advocates began openly carrying their weapons into businesses. "That's not the Texas way. And that's certainly not the NRA way."
********
In the YouTube video, Jacob Cordova looked almost excited as he turned and lifted his shirt, revealing his pistol to Arlington police officers who were initiating a traffic stop. It was a cold December night, and the open-carry supporter had been chasing police for several months with Watkins, his partner in cop-watching. Police said the two had been taunting officers by using a bullhorn to shout obscenities at them, a tactic perfected by the Black Panthers during the civil rights movement.
For months before that, under the aegis of the Tarrant County Peaceful Streets Projects, Cordova and Watkins had been spending their nights listening to police scanners while roaming the streets in search of police officers to film. They were upset at their treatment by Arlington police when they conducted open-carry walks, according to a source inside their group. So they decided to hold police accountable by filming them performing their duties.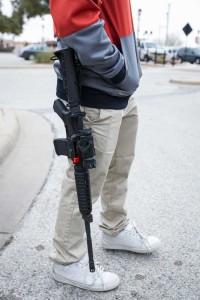 Neither Watkins, Cordova, nor several other cop-watchers that night felt it prudent to leave their weapons at home. It's a free country, and they had the right under Texas law to carry their guns, regardless of how uneasy it made officers and crime victims feel.
At first, police didn't know how to handle the armed cop-watchers. They weren't used to having people carrying weapons while recording them at the scene of traffic stops and service calls, trying to engage them in dialogue, or following them as they conducted their nightly patrols.
"They have become bolder and more confrontational," Assistant Police Chief Leland Strickland wrote in a memo in July. "Group members have increasingly encroached upon officers at scenes of law- enforcement activity."
Strickland warned officers not to assume that the local armed cop-watchers are harmless. He said officers across the nation have been attacked by people associated with such groups.
He further recommended that officers call for backup when armed observers appeared at a scene, notify supervisors, and consider assigning one officer to answer questions and provide officer identification information. He also mentioned having officers themselves record the encounters, just as the observers were doing.
At first police seemed to heed Strickland's recommendations, but then in August, officers began arresting cop- watchers, whose numbers were growing. Officers said the observers were not listening when they were told to stand back from the crime scenes.
On numerous occasions, police officials later said, cop-watchers responded to officers' instructions by shouting, "Arrest me!" and "It's legal to carry!" before slipping into a barrage of obscenities.
In early September, Watkins, his wife Janie Lucero, and Joseph Tye were arrested for interfering with police in the performance of their duties. According to police reports, the three were armed and ignoring officers' commands. Police also charged Watkins and Lucero with obstructing the highway and Tye with failure to identify himself.
"An officer has to be able to do the job that the community has asked them to do," Chief Will Johnson told reporters after the arrests.
The confrontations between cop- watchers and Arlington police seemed inevitable. Officers began requesting instructions in their start-of-shift briefings on how to handle such groups, according to an internal e-mail.
Lt. Donald Fulbright, commander of the department's South Patrol Division, told officers in September to give clear, specific directions when telling individuals where they want them to go and why.
"If we lose our temper and act unprofessionally, then we are only making the situation worse," Fulbright wrote.
But the situation was already worsening as Open Carry supporters shed their peaceful protest image and became armed, cursing nuisances begging police to take them to jail.
 ********